Millennium High School (MHS) Principal Shannon Fierro is determined to replicate MHS rituals as the Class of 2020 prepares to graduate in the middle of a public health crisis.
MHS, the alternative high school in the Piedmont Unified School District, is known for being small, interactive, and personalized. Unlike the majority of Piedmont High School's student body, MHS is a mix of students from Piedmont and other nearby school districts, who attend the school via inter-district transfer.
The close-knit community typically recognizes seniors by hosting a senior brunch with teachers, and a graduation where each student speaks and is honored by a teacher. MHS students are often very involved at Piedmont High School and the schools share a number of traditions including prom, and MHS students have the opportunity to participate in PHS graduation as well as MHS's.
Two ceremonies have been planned to honor the 23 members of the MHS class of 2020. The first is a pre-recorded ceremony that will be available to view on May 28 from 2 p.m. to 4 p.m. and features each student speaking and being recognized by a teacher (a hallmark of MHS commencement) as well as a slideshow and live comments from Principal Fierro. "We wanted it to mirror traditional graduation as much as possible," said Fierro. On the bright side, noted Principal Fierro, "the recorded graduation is a keepsake that other classes haven't been able to have."
The second component of the graduation is an optional in-person ceremony on May 28 at 5:30 p.m. at Witter Field where in order to adhere to CDC guidelines students are required to wear masks, stay six feet a part, and attend with just two members of their household. Principal Fierro chose to do this because "the physical thing of a graduation is important too," she said.
"I hope that the ceremony feels like the milestone that it is. That it allows students to take time with their families to appreciate the moment. That it is special, sacred, and joyful and commemorates an important transition."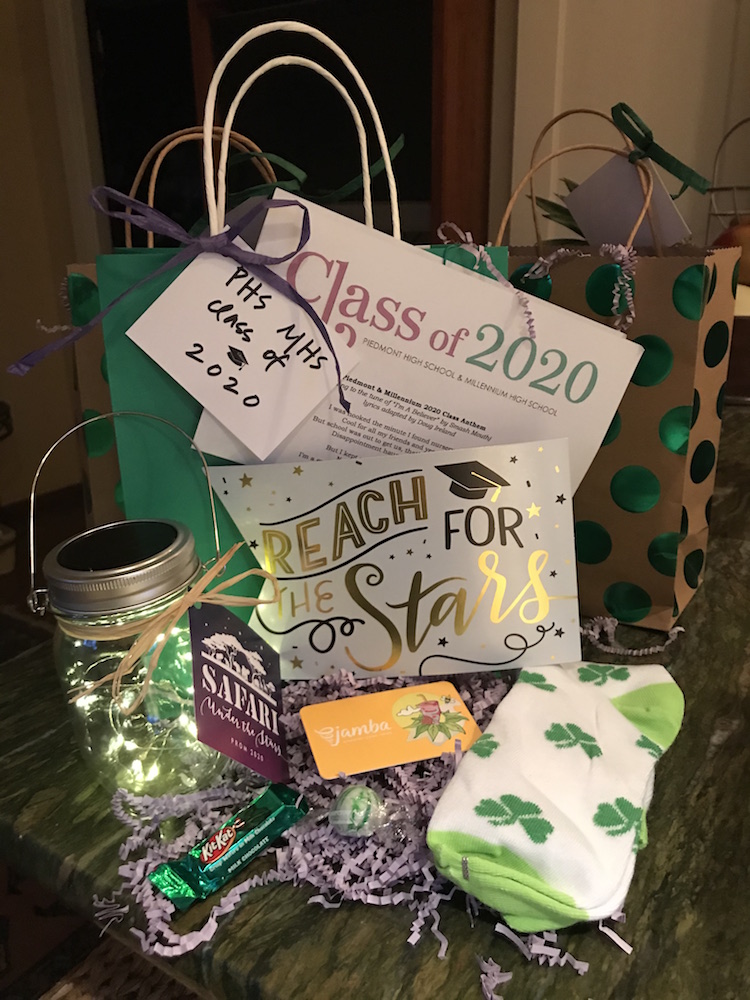 Alexandra Manolis, the mother of two graduating MHS seniors, Julia and Paul Pappas, spearheaded the planning of the virtual graduation. Manolis and other parents have been creative in finding socially distanced ways to make the graduating seniors feel special which has included delivering care packages and class of 2020 signs to students. "Piedmont collectively stepped up to celebrate this group of seniors whose lives have been upended by the coronavirus," said Manolis. "Our community really wants to recognize this group of seniors."
Manolis says the hardest part of the situation for her children is that they will never go back to school or be on campus again. "My kids aren't concerned about not getting to say goodbye to their immediate friends, it's about the person you have known since second grade who you were not necessarily close friends with, but now won't see again," she said.
Manolis' daughter Julia Pappas recognizes the hard work of the community to come together and celebrate their achievement. "We are getting a really good and positive thing out of the circumstances. I didn't expect to be able to walk and parents worked really hard to work within the CDC guidelines to give us that opportunity, " she said. "Walking is very important to me and my friends," said Pappas, who plans to play water polo at Diablo Valley Community College in the fall. MHS senior Kylie Halmi feels the same way. "Everyone is putting so much effort into our graduation," said Halmi, who plans to attend St. Mary's College in the fall. "I didn't expect to have an in-person graduation or to have presents dropped off by parents every weekend."
The Piedmont Exedra congratulates the following 2020 MHS graduates:
Ariav Asulin
Sophia Baker
Abraham Barnes
Daniel Bauman
DaRon Benson
Atticus Chavira
Cesar Cruz
Shemaya French
Sabrina Grammer
Miles Hall
Kylie Halmi
Elissa Laymon
Owen Liquori
Kelly Mitchell
Jesse Murphy-Stephans
Julia Pappas
Paul Pappas
Jake Proctor
Sydney Scofield
Carmen Soria-Gilman
Naimah Thompson
J.A. Thorsen
Isabelle Ziegler