This is the third in a series of articles profiling the four artists (Carl Heyward, Akiko Suzuki, Colleen Gianatiempo and Usha Shukla) who were planning to exhibit in a group show at the Piedmont Center for the Arts called "A Boundless Moment" during the final weekend of May 2020. The show has been postponed due to the current health crisis. The interviews for these articles are conducted digitally.

Her bags were packed, tucked in the trunk of the car, ready for her flight out of San Francisco Airport in mid-March 2020, when artist Usha Shukla heard the California Governor issue shelter in place orders due to the COVID-19 crisis. Up to that moment, Shukla had hoped to proceed with highly anticipated and meticulous plans to attend a coveted artists residency program in Kerala, India.

After a few days of SIP adjustment involving college aged kids returning to the nest, husband suddenly working from home, and the unexpected uptick in general household management, Shukla brought her bags back inside, rescheduled the residency and opened the door to her studio.

Shukla, an abstract painter based in Pleasanton, CA, is inspired by nature when creating her soulful, expansive works.  As a young girl, Shukla would go for long walks with her mother along the rivers and farms near Jaipur, India where she was born, taking note of the colors and light in the landscape.  As a young woman, she hadn't yet considered studying art; she earned a graduate degree in English Literature and a diploma in Computer Engineering. When she moved to San Francisco in 1996 with her family, nature hikes provided Shukla with a peaceful touchstone during a period of adjustment to her new surroundings.

Yarrow

Achillea

Flower of Life
With a unique process she developed while finishing her Masters of Fine Art degree at San Francisco Academy of Art in 2017, Shukla uses air and paint to interpret the way light, color and shadow move through the vastness of nature.  First using cans of compressed air, then moving on to an electric air duster and sometimes even using a leaf blower, Shukla masterfully manipulates paint across the canvas.  Color combinations are based on her personal color theory chart, but during a painting session they are emerge spontaneously, as memories of water and sunset colors become more conscious.

Abstract art comes from a very personal point of view, and it was during a 2005 trip to Europe when Shukla first began to imagine herself as an artist.  After visiting the Louvre and then strolling along the Seine, seeing all the artists on the street, something clicked for Shukla.  Upon return she enrolled in art classes at the local community college, Las Positas.  She had raised a family and had an earlier career in computer engineering; now it was her time for self-expression through art.  Inspired by Gerhard Richter's use of non-traditional tools for paint application, Shukla began to experiment with air as a way to move paint.  She was able to remove the traces of the 'artist's hand' in the final work, allowing the viewer a boundary free way to experience the breath of fresh air she feels when experiencing nature.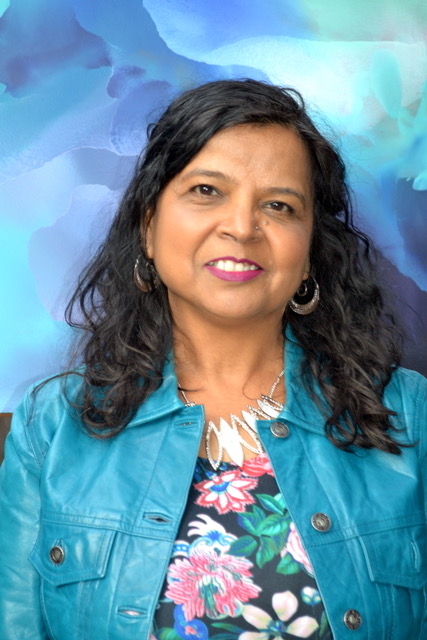 Now, with a substantial list of awards, exhibitions, collectors and professional associations to her name, Shukla is ready to delve more deeply into her artistic life by taking part in the artist's residency program she was invited to in Kerala. Once travel restrictions are lifted we can be sure that Shukla will be winging her way to new inspirations.

To learn more about Usha Shukla and see her art visit: ushashuklaart.com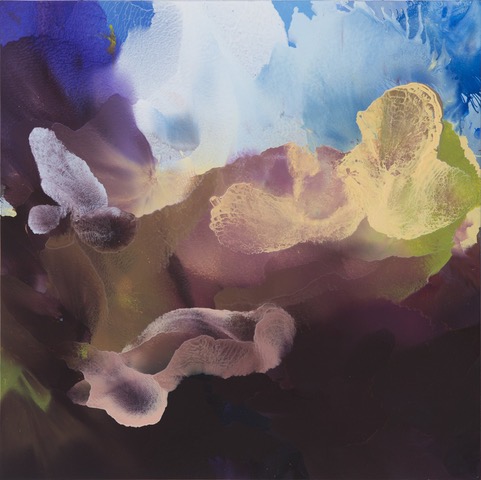 Photographs courtesy of the artist.