This is the fourth in a series of articles profiling the four artists (Carl Heyward, Akiko Suzuki, Colleen Gianatiempo and Usha Shukla) who were planning to exhibit in a group show at the Piedmont Center for the Arts called "A Boundless Moment" during the final weekend of May 2020.  The Piedmont show has been postponed due to the current health crisis.

Note: Works by Akiko Suzuki, Colleen Gianatiempo and Usha Shukla can be seen online and by private appointment in 'Gender GAP: The Women of the Global Art Project' at Gallerie Renee Marie in Benicia, CA. 

Appropriate to both the artist I was interviewing and to the times we are living in, cloth masks made it possible for fiber artist Akiko Suzuki to talk with me in person recently about her work and the current show she co-curated with husband and fellow GAP founder Carl Heyward at Gallerie Renee Marie in Benicia, CA. Last weekend, I was able to schedule a private appointment for a special advance peek of the ambitious and wide ranging 'Gender GAP: Women of the Global Art Project' show, currently on view.  
The show includes works from over 30 international women, and can be viewed online or in person through private, socially distanced appointments by contacting gallery manager Carl Heyward through this facebook link.

Akiko Suzuki, is a native of Osaka, Japan who now lives and works in Benicia, CA. Suzuki (b.1960) has used thread and fabric to build an international reputation as an artist making avant garde and award winning quilts. Her mother's embroidery skills and her grandmother's kimono designs influenced Suzuki to begin working with fabric about 20 years ago after a bout with depression and a hiatus from art making. Suzuki recalls that the touch of the fabric and the act of sewing reconnected her mind with healing memories.

In the early 1970's an art movement known as Pattern and Decoration grew out of first wave feminism. It was then that artists both male and female began to break away from restrictions on what was considered art by the dominant western, white male patriarchy of the time. Ever evolving art movements have unfolded since then, and Suzuki is on the forefront with her use of materials that in the past would have been considered for use in crafts but not art. Suzuki has taken historically feminine domestic skills into the realm of high art.

Although a chief characteristic of Suzuki's body of work is the manipulation of textiles, Suzuki could also accurately be described as a conceptual artist. Using photography, poetry and body art Suzuki interprets her reactions to the world around her.

Suzuki's quilts and collages can be enjoyed on the basis of their outwardly pleasing composition, color and technique, but it is through Suzuki's accompanying texts and poetry that the viewer can gain a full understanding of her intent. Suzuki has stated that "regardless of the content or materials, technique takes a back seat to message, idea or expression."
THE MYSTERY OF LOVE ANGER AND DELUSION – SOAP BUBBLES
Citing Yoko Ono and Kusama Yayoi as major influences, Suzuki frequently works with the themes of lonlieness, racial, gender and age discrimination and inequality and the misuse of power. In 'Mystery of Anger & Love & Delusion – Soap Bubbles' her largest quilt to date, a 5' x 32' masterpiece composed of fragments sent from GAP members all over the world, Suzuki explored the point of view of the oppressed. This piece debuted on May 19, 2016 at the Cowell Theater in the Fort Mason Center for Arts & Culture, and has since been exhibited elsewhere in the United States and internationally.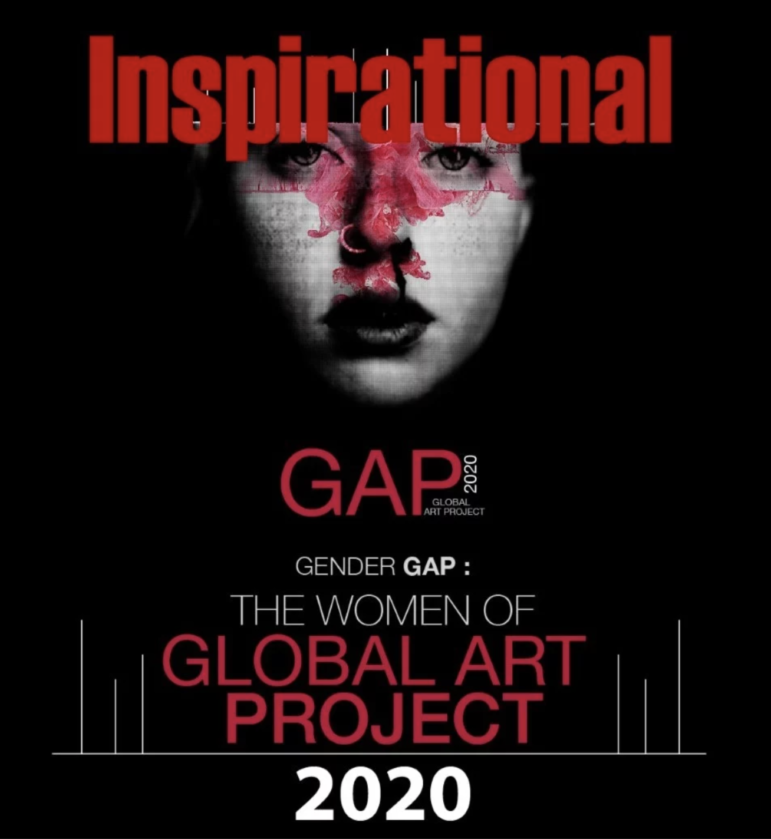 When not making art, writing poetry or curating shows for the Global Art Project with husband and artist Carl Heyward, Suzuki enjoys teaching artists how to sew and incorporate thread and fabric into their work. Along with Heyward, Suzuki is typically in the midst of planning or attending one of a number of international residencies their GAP project is known for. Several of these, such as one in Madrid, have been delayed due to shelter in place orders necessitated by the COVID-19 health crisis.

In the meantime, viewers can get a first hand look at work Suzuki conceived while participating in a 2019 GAP residency in Senegal.  The work, 'Songs of the Little Bird' is part of the current show at Gallerie Renee Marie in Benicia, and is evocatively composed of torn and sewn envelopes, thread and feathers, arranged in the form of miniature dresses.  Suzuki shared that the work 'expresses the power of the quiet voice, the voice of women and of children who have no power to express themselves'.  Suzuki proves that a very big voice can emerge using something as small as a needle.
Photos courtesy of Katie Korotzer and Akiko Suzuki.