Jeanine Holmlund's first track meet came around age 12. She was at a summer camp in Scranton, Pennsylvania, near her home town of Grants Summit. One year, one of the college students serving as a counselor at the camp decided to form a track team.
"He would pile 15 of us into a van," Holmlund said.
Holmlund said she was OK, but not that great. She ran the 400 meters, the 800 meters, and the mile into high school and college. Winning medals wasn't the point.
"I definitely liked the running," Holmlund said. "It was pretty country."
But there was also a problem.
"I would start out in the front, but when the pack passed me up I would walk," she said. "The coach wouldn't say anything. When I see students who don't really want to be there but they're there, I reach out to them. There are so many things you can do. Don't be here if you don't like it."
"I wish they would have kicked me off the team."
It's an interesting take for someone who is now a highly-successful track coach at Piedmont High School. But it also explains Holmlund's coaching philosophy: Have fun.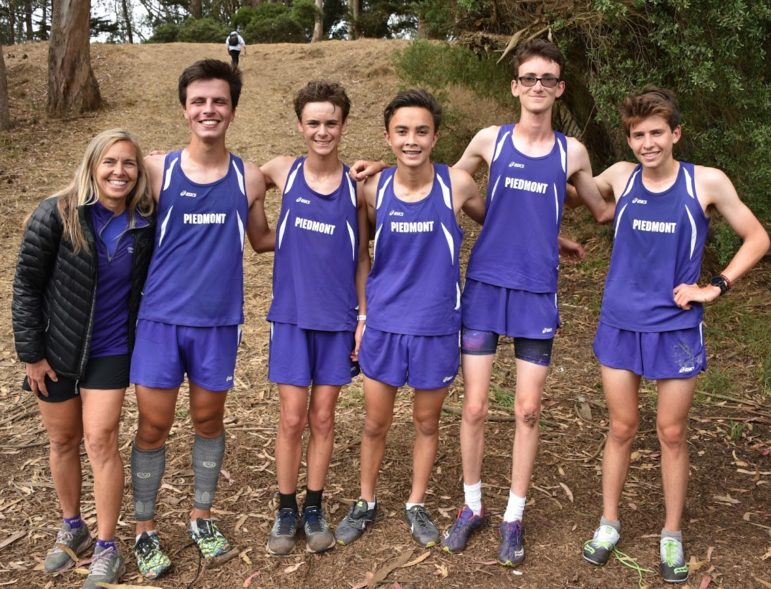 Holmlund got back into running about 15 years ago. She was biking and swimming, and decided to try a triathlon. Pretty quickly, she set personal-bests in running. Then, she tried a marathon and qualified for the Boston Marathon, a prestigious race that requires much better qualifying times than most similar races.
She realized, "It's all there, I have it in me."
Coaching started a few years later. Holmlund was serving as a long-term substitute French teacher at Stuart Hall High School in San Francisco, and began working with the team. After a few years, Chris Smith and Len Goldman recruited her to come to Piedmont High School.
"It was Len who connected me with Chris Smith, who said we need a cross country coach next week," Holmlund said.
Meantime, Holmlund was working on her coaching certifications, earning them through USA Track and Field, the national governing body.
The Highlanders have flourished under Holmlund. At the top level, Sophia Zalewski finished 11th in the California Interscholastic Federation Division 4 cross country championships in the fall, setting a record for Piedmont High School on the 5,000-meter course used for the state meet. Her teammates also dropped their times throughout the season, leading to the Highlanders finishing 11th in the team standings. A year ago, Zalewski made the North Coast Section Meet of Champions in both the 1,600 and 3,200 meter runs, and had an excellent chance to break 5-minutes in the 1,600 until the spring season was canceled due to the COVID-19 pandemic.
But the way Holmlund coaches goes well beyond just winning a race.
"I want positives," she said. "I just want them to have a positive sport experience. I think they can get so much more, they get lifestyle fitness, they make friends."
"It takes a lot of work. You learn perseverance and routine. It takes a lot to stick with the running. And it translates."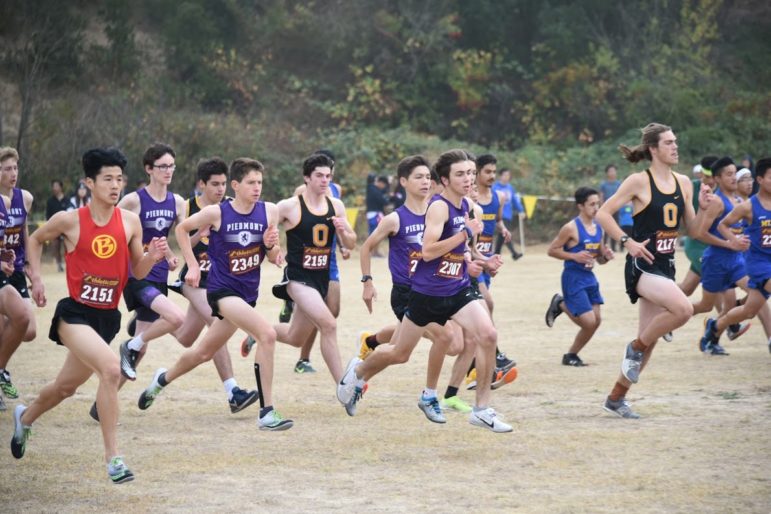 What made Holmlund especially proud? Zalewski was recently named Piedmont High School valedictorian. Maggie Black won a fitness award. Max Podell was recognized for his work on the school yearbook. The list goes on.
Sophia Zalewski

Maggie Black

Max Podell (2336)
"It's way bigger than sports," Holmlund said. "For me, that's the magic part. I don't know if I translate that enough for them. But I want to."
And when she saw all her athletes winning all those awards?
"I said, 'Oh my god! I know these kids!" Holmlund said.