Starship
A little white box with six wheels and an orange flag motors down the sidewalk and waits patiently at an intersection.
When the stop light changes to the walk symbol, the robot rolls through the crosswalk and pulls up alongside the door of St. Stephen's Green in Mountain View. There, it's wiped down with a sanitary solution-soaked cloth, unlocked with an app, loaded with takeout from the Irish pub, relocked and sent away to complete its delivery.
The machine is part of a fleet of contactless food-delivery robots pioneered in Mountain View this month by the company Starship, which is headquartered in San Francisco.
"It's definitely increased business," said St. Stephen's Green employee Jimmy Leonard. "Everybody asks about them."
St. Stephen's Green, which did not offer delivery service before the coronavirus pandemic, was one of the first Castro Street businesses to partner with Starship as a way to continue serving patrons in a safer way while shelter-in-place orders are in effect. It now houses six or seven of the Starship bots overnight so they can service the surrounding restaurants each day.
Starship has seen its deliveries more than double since the pandemic hit, said Eric Bolin, a spokesman for the company.
"Our delivery service has been providing flexibility and convenience to consumers for years, but at this moment in time we appreciate that our robots can play a particularly valuable role in the welfare of our customers and the community at large," Bolin said in an email.
The robots can make deliveries within a three- or four-mile radius and operate "almost completely autonomously." If a robot signals for help, a remote operator steps in to assist it.
"At Starship we've seen a general trend over the last few years, with people using our service to free up more time to do the things they love and spend less time running errands," Bolin said. "In this sense, we foresee robot delivery becoming even more important when this is all over in light of these evolving consumer behaviors, such as working from home."
Neonode Technologies Inc.
If food delivery robots stretch the imagination, Neonode Technologies Inc. may seem impossible. The U.S. company, which is headquartered and runs operations out of Stockholm and has an office in San Jose, has patents for an infrared touchless technology that it hopes will replace touchscreens in public domains.
The company in 2009 began implementing Neonode touchless technology sensors into existing products such as printers and infotainment screens in cars, said Neonode Marketing Manager Per Nohlert.
In action, Neonode technology can appear as a hologram that displays controls or as an invisible sensor field that hovers over a display screen. Interrupting the field with a finger, even one that is covered by a glove, selects the controls without having to make contact with a surface.
"We've seen a great demand for our products. It's an elegant, easy way to replace or supplement existing touch controls," Nohlert said.
The company markets public applications such as elevator buttons, vending machine controls, ticket kiosks and self-check-out stations as well as more specialized applications such as medical diagram displays.
Booster
Another Bay Area company, Booster, is hoping to revolutionize the gasoline industry by providing mobile contactless gas-filling stations.
Founded in 2015, the San Mateo-based company was conceived as a way to make car refueling more efficient by bringing miniature gas tankers to corporate parking lots during the day and delivery truck fleets overnight. Several Silicon Valley tech companies, including Cisco, Facebook and PayPal, partnered with Booster to offer employees their services as a work perk. Employees could request a fill-up through an app, leave their gas door open, and the notorious purple truck would come by while they were at work.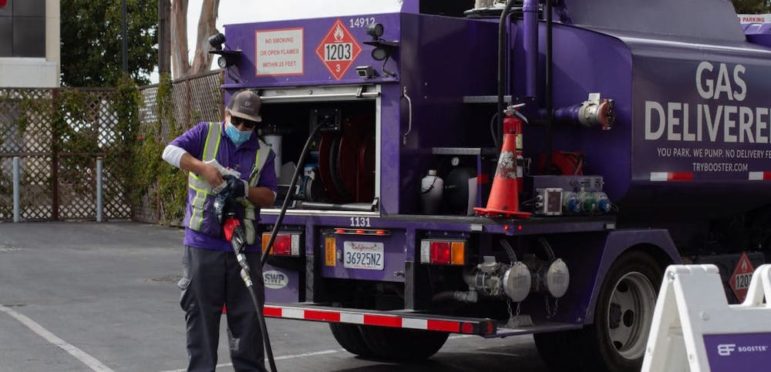 Now, Booster has become "essential to essential services," said Chief Marketing Officer Bennett Porter.
"When this pandemic hit and the campus side closed down, we started servicing essential workers," Porter said. "We saw that side of our business grow exponentially. Anybody who's delivering anything to folks needs fuel for their fleets."
That includes ambulances and other first responder vehicles as well as delivery trucks, Porter said. Booster aims to help these essential services be more efficient by eliminating from the workday the time it takes to drive to a gas station and refill.
While the fleet fueling side of Booster has expanded, the campus side is also growing slowly, especially with Bay Area biotech or biopharmaceutical companies such as Gilead Sciences in Foster City, Porter said.
"Corporate business, while it is a lot quieter, is by no means shuttered," Porter said. "People are still on the road and still working and showing up."
Booster has also begun making contactless gas stations available to anyone in parking lots near other essential services such as grocery stores.
"The contactless gas stations are to let people know we're still here," said Brian Messina, a lead service provider who was at the Millbrae Square contactless station last week. "People don't want to touch the nozzle at the gas station, so we do it for them."
Porter said the response from new consumers who were unfamiliar with Booster prior to the pandemic was "overwhelmingly positive," making her confident that business will continue growing during the shutdown and after shelter-in-place orders are lifted.
"I think that we will definitely be servicing the campuses that have been our customers as they bring their employees back," Porter said. "People that discovered it during this time will demand it and bring it to more campuses. I think the world needs contactless fuel now more than ever. My expectation is that what people used to see as a corporate perk, people will see as a corporate mandate. People want to stay safe."