Piedmont High School senior Tag Walter had really been looking forward to the spring 2020 swimming season. He was entering his second year as a team captain, and was hoping to help his teammates excel, whether leading practices, organizing team meetings, or pushing his teammates when needed.
"This was my second time as a captain, and I was really hoping to help improve my team and my teammates," Walter said. "Last year I dipped my toe in."
Of course, COVID-19 came and ended the season just as it was beginning. It also ended in-person classes and almost any other sense of normalcy.
Walter is, of course, bummed, but he tries to keep things in perspective.
"It's so hard to make a cake on that, because I don't want to sound selfish," he said. "My senior year second semester was taken from me and that sucks. But we all play our part in kicking this virus's butt and my part in that is staying home."
Walter is one of four children, with an older sister, a twin sister, and a younger sister. "So I have the trifecta," he said. He has always been into sports, running all over the place as a kid. His first love was basketball, but there was a minor problem. He kept getting hurt.
"I had knee surgery when I was 13 or 14, and my mom just threw me in the pool," Walter said. "I loved playing basketball, but I broke three bones playing it. My mom got sick of me getting hurt."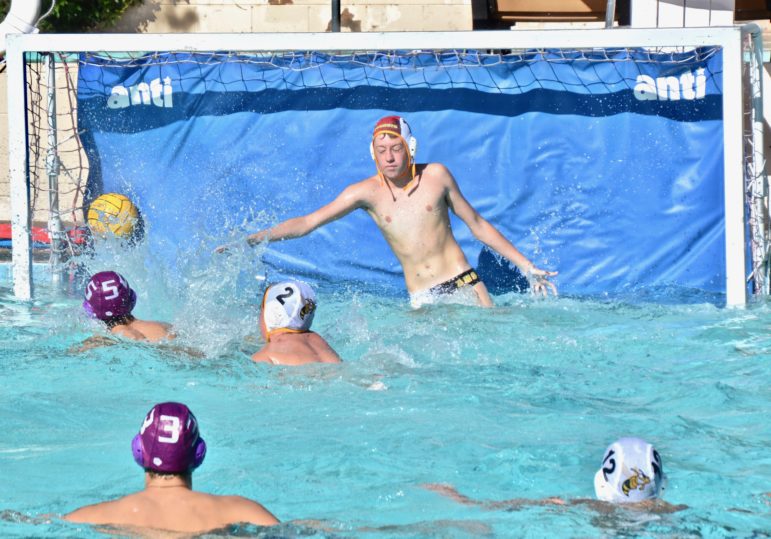 So, he took up water polo. When he got to Piedmont High School, his club teammates convinced him to go out for swimming.
Walter said he likes water polo better but enjoys both sports. In the fall, the Highlanders' water polo team went to the North Coast Section Division 2 quarterfinals, where it lost to eventual-champion Northgate. Walter was one of the team's best players at attacker.
"I prefer being the attacker because of the fast-paced, quick mindset of knowing when to leak out and when to strike," he said. "I tried two-meter defender but I didn't like it. It felt a little slow and too in the trenches."
During the spring, he swims the freestyle events and legs on relay teams. He specializes in the 50-, 100- and 200-yard freestyle.
"No distance," Walter said. "I swam the 500 free once and that did not go well."
Walter will attend the University of Oregon starting – he hopes – in the fall. He might play some club water polo but isn't sure yet. The plan is to major in Economics.
That depends on whether the school is even open for in-person classes. Like most colleges and universities, it's currently up in the air.
"They haven't come out with a statement yet," he said. "But they're staying hopeful, I'm staying hopeful."
Classes are scheduled to open in September. Walter said he plans to head up just before they open and wants to spend his first year as a Duck in the dormitories. If classes aren't held in person, some decisions will have to be made.
"If they say, 'Everybody stay home,' then deferral would be a big choice. (I would) probably work and pick up some community college credits (in the Bay Area)."