It was supposed to be a grand victory tour for Sophia Zalewski, valedictory even. No, the Piedmont High School senior would never refer to it as such. But after four years of earning almost every honor available to a high school runner, a senior season of track was a chance for Zalewski to shine one more time before heading off to college.
It didn't happen, of course. The shutdown of all sports this spring thanks to the COVID-19 pandemic pretty much canceled the track and field season shortly after it began.
"I'm disappointed, but I kind of expected track not to happen," Zalewski said. "I'm still running. I'm taking one to two weeks of lower mileage and then will start building towards running in college."
Normally, there would be races to run in the summer, but that schedule is unclear as well.
2019 NCS Champions, with Sophia Zalewski (4th from left)

2019 NCS Winners, with Sophia Zalewski second from left
There were so many reasons to be optimistic for the spring. During fall's cross country season, Zalewski finished 11th overall in Division 4 at the California Interscholastic Federation championships, lowering her personal-best time on the 5,000-meter course by more than 16 seconds. Her time of 18 minutes, 17.8 seconds at Woodward Park in Fresno is the fastest a Piedmont girl has ever run the state championship course. It also helped the Highlanders to finish 11th overall. For her efforts, Zalewski was named the Exedra's Athlete of the Season.
That wasn't an outlier. Earlier, Zalewski had won the West Alameda County Conference meet in 17:50.64 – more than 40 seconds faster than she ran the year before on the three-mile course.
Assuming Zalewski was able to keep dropping time, a sub-5:00 1,600 meters was in sight. A year ago, Zalewski ran a personal-best 5:09.24 at the North Coast Section Bayshore championships. Her opening season time in 2019 was 5:24.72, and she bested that this year with a 5:15.73 at the Skyline Invitational at the end of February.
In the 3,200, Zalewski ran a best of 11:19.42 at the NCS Bayshore meet.
Last year, Zalewski made the final day of the NCS Meet of Champions in both the 1,600 and 3,200. Perhaps this year she might have been able to squeak into the state meet in one of those events. Perhaps, but we'll never know.
Zalewski said she's not thinking about the missed personal opportunities.
"It's been really hard because we've all been teammates for four years, and I had my last day on the team without knowing it would be my last day," she said. "I was looking forward to my final season with them and getting to spend more time with my team. It definitely felt abrupt. Part of me doesn't accept that it's over, but I'm trying to accept that it's finally over."
Zalewski will continue her career at Carnegie Mellon University in the fall. Meantime, as she finishes up her classes online at Piedmont, she has a moment to look back on a career filled with honors and massive strides forward over four years.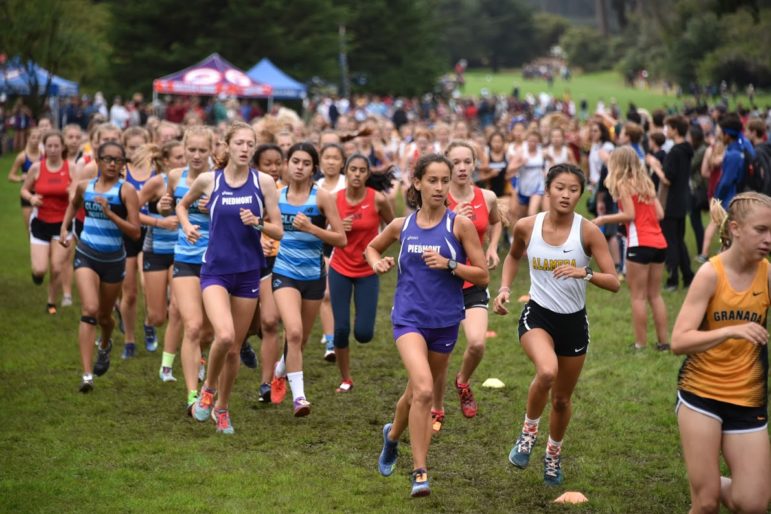 "I'm definitely looking back on it, and I'm really happy with how my running went and being able to constantly improve," she said. "And being able to do that in a great team environment where you can be yourself."