"Clank!"
It's the best sound of working out. You lift a new high and then you drop the bar bell. As it hits the mat, the iron rings out, filling you with satisfaction.
Yeah, that's not how it works in Jack Elvekrog's "weight room."
"No more clanging," he said. "If you throw it down, all you get is a crack. You have to go down the hill with a chainsaw and cut up another one."
Elvekrog is back home in Piedmont after his freshman year at Amherst College was cut short thanks to the COVID-19 virus. And while back home, he needed to figure out a way to keep in shape for football season in the fall (if there is one).
So he and his father Jon came up with the idea of building a weight room. But instead of using iron plates, they decided to cut up a Eucalyptus tree that had fallen down in the back yard into plates weighing from 15 to 50 pounds.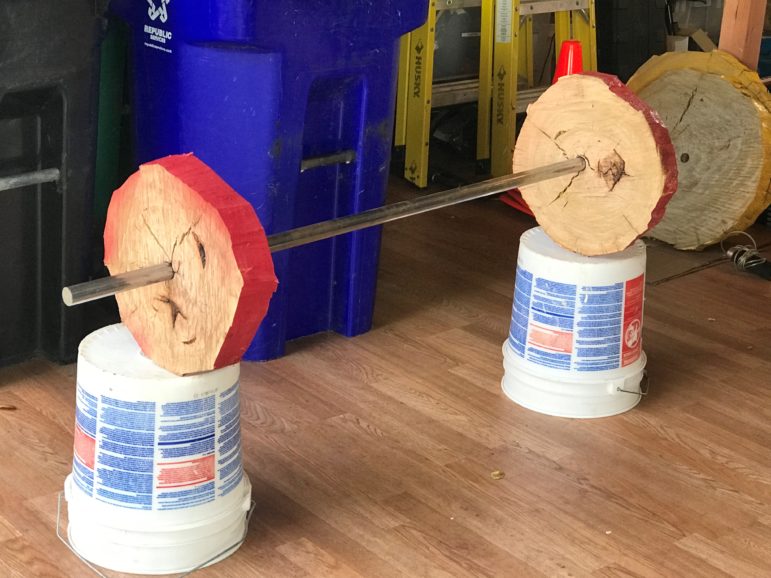 Blame the creativity on the pandemic.
"My dad and I were cutting down some trees out back," Jack said. "We kind of laughed about it. Said, 'What if we could make a weight room out of these tree trunks?' One day, we said what the heck. We cut them."
They ordered a bench off of Amazon – note: missed opportunity to cut a bench out of the tree – and got a steel pipe for a barbell. The whole project took about a day and a half.
They made five sets of plates, which involved trimming the slices of tree trunk down to make them match. Jack said the weight room (technically a garage) is fully functional. He and a buddy tried it out for the first time on April 24.
"You can do the whole deal," he said. "Cleans and squats and bench presses as well. We were lifting around 225. We've been pleasantly surprised."
Jack is the oldest of three. He said he hasn't gotten his younger sisters on the weights yet. Austen is a senior at PHS and played tennis. Tenley is a PHS sophomore on the lacrosse team.
Jack Elvekrog (center) with football teammates
Jack played football and lacrosse at Piedmont. He was a member of the boys North Coast Section Division 2 championship lacrosse team in 2019 before heading back east for college. He said he hasn't chosen a major yet, but has enjoyed being "all over the place" with political science, history, and Spanish. When the virus caused the college to shut down, Elvekrog and most of the other students were sent home within the week.
Elvekrog has weekly Zoom meetings with his teammates at Amherst. He said he has shown off his new setup to them, and wouldn't put it past a couple of them copying it.
"They got a kick out of it," Elvekrog said.
Not surprisingly, the team is hoping for good news that there will be a season come fall.
"Everyone's hopeful that things will proceed as normal," Elvekrog said. "Working out has definitely been a highlight of quarantine. You have to do something."
Even without the Clank!