For Patch Selna, it's all about the relationships. The Piedmont High School senior said he has gone back and forth about the disruption of his final high school months due to the COVID-19 virus.
"I've kind of fluctuated in my mind," he said. "Overall, it's obviously a pretty bad situation and not ideal in the slightest. Certain things like prom, I'm not too worried about at all."
"The main thing is the relationships and saying good bye to people I've known for so long. Getting to thank the teachers and administrators at Piedmont. It's less about the celebrations and more about the relationships I won't be able to bring to a close or send off in the way I want to."
Rushing the passer

Catching a pass
Selna has had a tremendous high school athletic career. At 6-foot-6 inches and 260 pounds, he was one of the best offensive line prospects in the East Bay, earning a football scholarship to UCLA. But he was also a dominant player on defense, and showed off his great hands by lining up at tight end for the Highlanders as well. The team struggled to a 3-7 record in the fall, due in part to a rash of injuries, but Selna stood out week after week.
Then, in the winter, Selna came off the bench as a big man for Piedmont's boys basketball team. The Highlanders went 24-6 and captured the first North Coast Section championship in school history by winning the Division 4 crown.
"I'm incredibly grateful for all the opportunities I had at Piedmont," Selna said. "Everything I experienced was amazing. It's kind of shocking to me how it ended so quickly."
Selna wasn't participating in any spring sports, but he had planned to continue his workouts on campus, including lifting weights with his teammates on the football team.
"It has definitely been a little more difficult without having access to a real field," Selna said. "I'm lucky enough to be able to lift at home because I have a bench press."
Working out at home has advantages and disadvantages.
"It's definitely different," Selna said. "It's not quite as rigorous or as good as if I had a full gym. (But I'm working out) almost more actually because I have a lot of free time."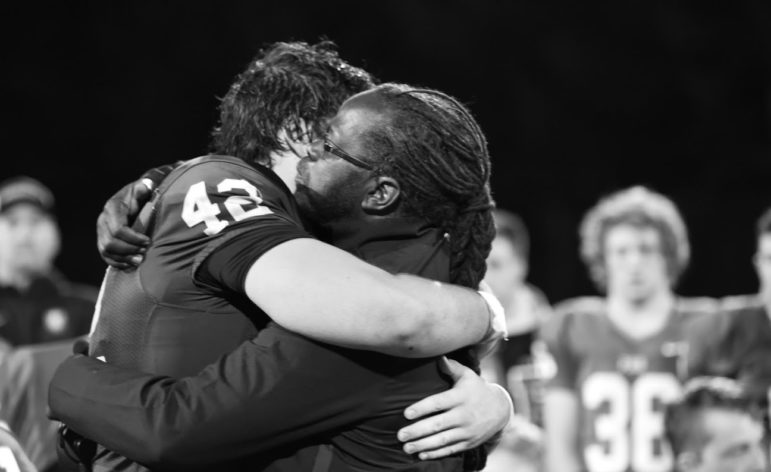 So far, the pandemic hasn't changed UCLA's summer schedule. Selna is still expected to report to Westwood on June 21. He is in contact with his coaches, but it's fair to say that nobody knows what will happen – a delay to that reporting date, an empty Rose Bowl for games, or even a cancelled season.
"There are a million possibilities running through my head and I'm waiting to get one verified," Selna said. "We're still in contact (with coaches). But they seem to be similarly in the dark about what's happening going forward."
Selna, as always, is unflappable. He said he will continue to work out and be ready when the time comes, whenever that is.
"I'm just trying to stay in shape and stay at a certain weight and be aerobically ready," he said. "I'm trying to stay 260 going into it, and be in the best starting place possible."
Photos by Todd Marshburn