This is the second article in a four-part series profiling the artists (Carl Heyward, Akiko Suzuki, Colleen Gianatiempo and Usha Shukla) who were planning to exhibit in a group show at the Piedmont Center for the Arts called "A Boundless Moment" during the final weekend of May 2020. The show has been postponed due to the current health crisis. The interviews for these articles are conducted digitally.

With no clear exit strategy from the shelter in place orders, it would be easy to fix our sight lines no further than the distance between the sofa and the pantry. But if you are Colleen Gianatiempo, this sort of limitation on imagination and existence isn't even a remote possibility.

Gianatiempo, a mixed media artist based in Martinez, is busier than ever with her art practice and art-related enterprises. Indeed, the circumstances created by the health crisis have presented Gianatiempo with an even stronger motivation to continue her work, and the students she teaches need her positivity and instruction now more than ever.

Sea Lion in progress

One of 30 artists from around the Bay Area to paint a Sea Lion for Pier 39
On the day we spoke, Gianatiempo had just finished teaching her Sonoma Community Center drawing class, hastily re-engineered to go online via an iPhone duct-taped to a tripod constructed with a 2×4.  After our interview, she would be going into her closet sound studio, surrounded by her colorful wardrobe, to record the next edition of her podcast, iSoulify.  Gianatiempo has found in recent weeks that the extra time it might take to get an older Rossmoor student up to speed on Zoom, and all the other technical impediments that have presented themselves during this isolating time, have been relatively small things to overcome when compared to the benefits of continuing and even growing the connections she makes with her students.

I first met Gianatiempo in 2005 in a watercolor class taught by Berkeley artist Julie Cohn. At that time, Gianatiempo had recently relocated to Martinez from Salt Lake City, Utah with her husband and two young children. In Salt Lake City, Gianatiempo had owned and operated a thriving graphic design business. The watercolor class was a way for her to connect with the thriving art community in the Bay Area, as well as a first step toward her decision to begin an MFA program with the San Francisco Academy of Art. With the stringent technical drawing instruction she received in her MFA program, plus the skills and knowledge she already possessed from her business degree from the University of Massachusetts and a Certificate from the Otis Parsons School of Design, Gianatiempo felt prepared to begin the teaching career that has become such an important aspect of her life.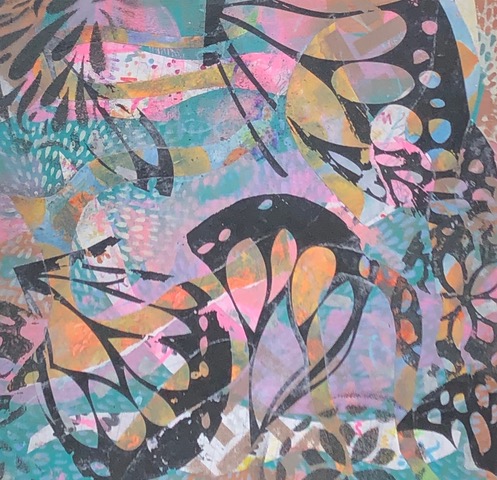 A self-described Air Force brat, Gianatiempo recalls early childhood days when her family moved 11 times before she reached third grade. Gianatiempo felt that creativity was always her friend; her markers, paper dolls, and coloring books provided a framework for an emerging sense of style. As a child of the 60's, Gianatiempo and her two sisters grew up being included in their mother's circle of artistic, hippie friends. The girls were given free permission to be creative, and the costumes worn at their mother's parties provided an inspirational spark for Gianatiempo, who began designing and making her own paper doll clothes. This attraction to creating with scissors and paper as well as an affinity for incorporating a wide array of influences is fully evident in Gianatiempo's current work, characterized by brightly emotive combinations of colors, marks, and patterns.
In 2018, Colleen was selected as a heart artist for the "Hearts of San Francisco" to team up with the San Francisco General Hospital Foundation for their annual fundraiser.
Helping people of all ages get in touch with their creativity is a calling for Gianatiempo. Especially when teaching older adults, Gianatiempo hears stories of bad moments with overly critical instructors that stopped the person from accessing their creativity for years. Using drawing and coaching skills, as well as her naturally warm and nurturing personality, Gianatiempo is able to guide learners to a never before felt sense of life changing positivity through creative expression.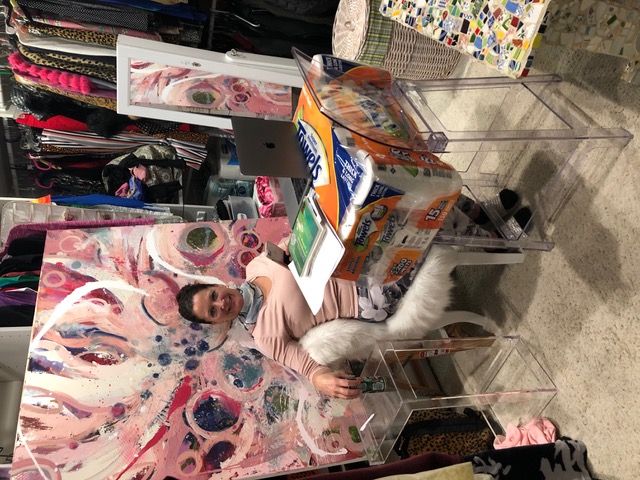 You can view more of Gianatiempo's work on her web site: http://www.gianatiempogallery.com/