It's true that farmers markets are currently unable to offer the communal warmth and tactile experience that are a big part of their attraction. But most markets in California are open, designated as an essential business under the novel coronavirus shelter-in-place order issued last month by Gov. Gavin Newsom.

For Piedmont folks, fresh produce straight from the farm is available from 9 a.m. to 2 p.m. Saturdays at the Grand Lake market on Lake Park Avenue, and 9 a.m. to 1 p.m. Sundays at the Montclair Village market at LaSalle and Moraga avenues.

The Agricultural Institute of Marin (agriculturalinstitute.org) operates the Grand Lake market at Splash Pad Park and eight other locations in the Bay Area. The nonprofit organization states on its website that it "and several partners successfully advocated to protect farmers markets, and we will therefore continue to operate our Bay Area Farmers Markets and Rollin' Root mobile market as critical public services."

Grand Lake Farmer's Market, Saturdays

Montclair Farmer's Market, Sundays
Patrons have learned the rules of social distancing apply here too.
The operation of the outdoor markets may be especially important at a time when many supermarkets have become tense scenes with long lines of customers and depleted stocks, most recently including fruits and vegetables.

Farmer's markets are working to stay viable just like grocery stores
It's equally important to the survival of the farms that grow the produce. "Farmers markets are essential services" both nutritionally and economically, said Andy Naja-Riese, chief executive officer of AIM. "It's really incredibly important to be supporting local farmers and local food systems. Money is spent locally and recirculated in the local economy and you help insure farmers stay in business," he said, noting that "Most farmers lost almost all their restaurant accounts."

With the shelter order, "There is definitely a decline in foot traffic," Naja-Riese said, adding, "Customers are still coming to enjoy the open-air environment."
The Oakland-based Urban Village Farmers Market Association (uvfm.org) operates three locations in its hometown — Montclair, Old Oakland, Temescal — as well as Castro Valley and six sites in the South Bay. Urban Village Executive Director Ron Pardini said customer traffic has dropped by half, "which works well for social distancing."

As with other essential businesses there are rules to follow, however, with hygiene and physical distancing topping the list.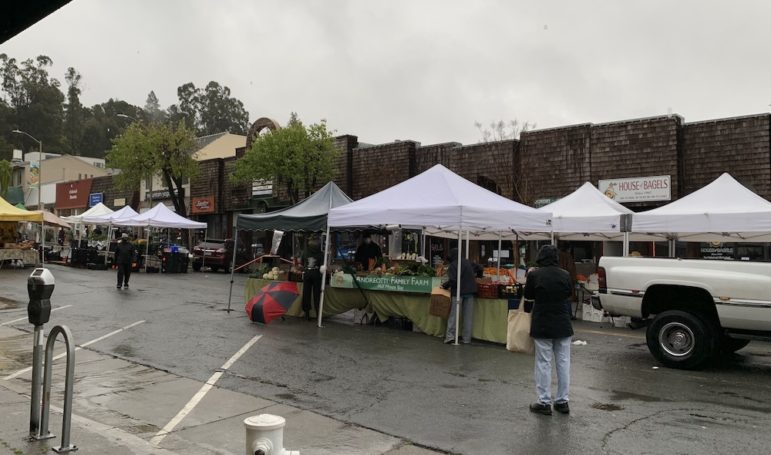 There are a reduced number of vendors at markets, in part to keep customers a safe distance apart, with markings on the ground to keep lines spaced. And non-essential amenities such as children's activities and live music, as well as many prepared food booths are not being offered to avoid people gathering in groups or lingering.

Unlike supermarkets, customers are currently not allowed to handle or touch the merchandise, reducing the risk of spreading infection. "People are used to the process now. Nearly everybody we work with, producers and customers, are very responsible," Naja-Riese said. "We believe we are already safe and farmers markets are already highly regulated," but additional precautions have been taken, he said. "Everything is full-service, everything is roped off. The customer doesn't touch produce until it's purchased."

Watch the video to learn more about how to safely shop the farmers market
AIM offers hand-washing stations at its Grand Lake and other locations, while Urban Village makes hand sanitizer available to customers at the information booth at its markets in Montclair and elsewhere.

Markets recommend that only one person from a household attend the market, but people who share a household are allowed to shop together. If a line gets too long and in danger of overlapping, customers are asked to wait elsewhere.

"There's a tendency by people to want to communicate," Dan Foster of Grand Lake Market said, adding that under the current health order, "We're not there as a social place."
The idea, market operators said is to spend as little time as possible, buy essential groceries, go home and be safe.

The Montclair market offers a "priority hour" from 9 to 10 a.m. for "more vulnerable populations" that include people over 55, those who are immunocompromised, and caregivers. The Grand Lake market recommends coming in the second half of the day, after 11 a.m., when there is less activity.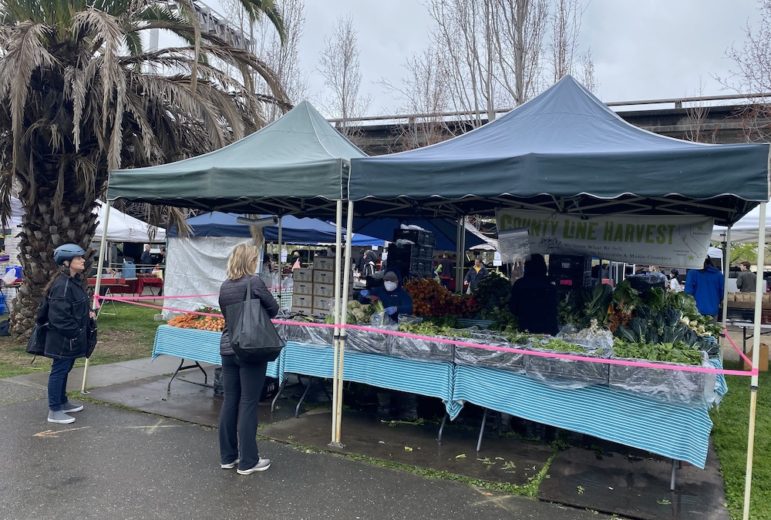 Make your life easy and order ahead
Another option eliminates the need to stand in line at all. Some vendors, including Happy Boy Farms (www.tomaterofarm.com/) and Tomatero Farm (www.happyboyfarms.com/), both from the Watsonville area, offer produce boxes that can be ordered in advance online and picked up at the Montclair and Grand Lake markets. And as of April 11, AIM also offers a "Bounty Box" of prepackaged fruits and vegetables that likewise can be ordered in advance and picked up at curbside. All are proving popular and Bounty Boxes the first week and for next weekend are already sold out. Foster said the program, which has the option of a small or large box, "will continue for the foreseeable future." For Bounty Box curbside pickup program: www.agriculturalinstitute.org/bounty-box

Pardini said Urban Village is looking at a similar pre-order option that will be tested and likely offered at all its locations.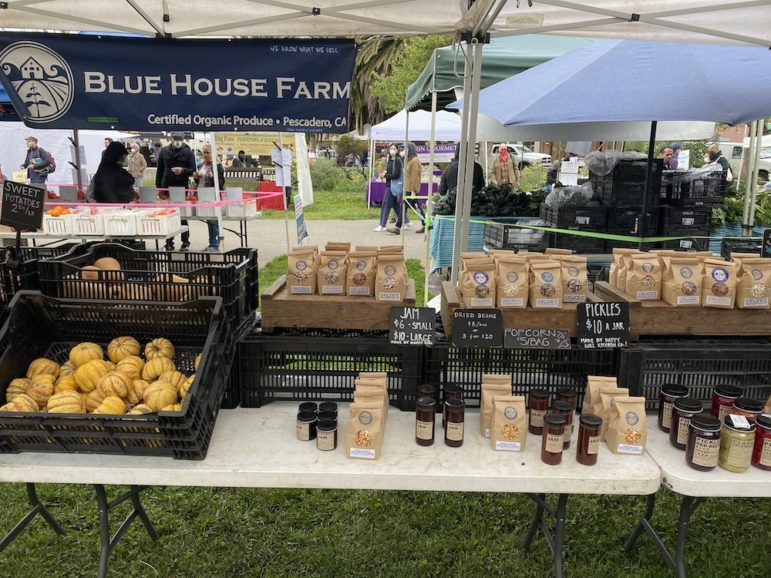 The market operators acknowledge the challenge and offer their appreciation to vendors and the public alike. "We thank you, the community, without whom we could not do this," Urban Village says on the COVID-19 page of its website. "You have remained level headed, offered valuable feedback, been orderly and patient, generous, and above all, your values continue to 'walk the talk' by showing up weekly for the mission of local, traceable, humane, and nutrient-dense food accessibility."

AIM notes on its website that "Farmers, ranchers, and fishers rely on the farmers markets to make their living. Similarly, many shoppers depend on the market for food supply. Shoppers who use CalFresh (formerly called food stamps) visit the market weekly to receive a market match for free fruits and vegetables.

"Food is the foundation of good health," it says. "Though we are now physically distant, food allows us to be culturally and emotionally connected to one another."