Family: Cori and Zach Kau and their kids; Hudson, 13, Sloane, 10 and Elena, 8
Pet: Bruno
Age: 2 and 1/2 years
Breed: Tibetan terrier
Adoption story: The idea of getting a dog started with our kids. They saved up money from their allowances for a year to put toward taking care of a dog. We did a lot of reading and decided we like the qualities of Tibetan terriers. They are good family dogs and good watch dogs who are active but not too much energy. We found a breeder in Sacramento and drove up to look. There were four puppies and we chose Bruno because he was the most outgoing of them. He was very curious and he sniffed us and wanted to play. We all fell head over heels in love with him pretty quickly.
Likes: Stealing our socks, sitting on the upstairs deck of our house so he can see who's coming and going, and playing with his best friend Rux, a Golden Retriever. Rux belongs to our neighbor and he and Bruno play together almost every day.
Dislikes: When people try to cuddle him like he's a lapdog. (But he's very sensitive toward people's feelings. If he senses you're sad or crying he'll come to you.)
Interesting Facts: Tibetan monks believe Tibetan terriers bring good luck, so they never buy or sell them, they only give them as gifts.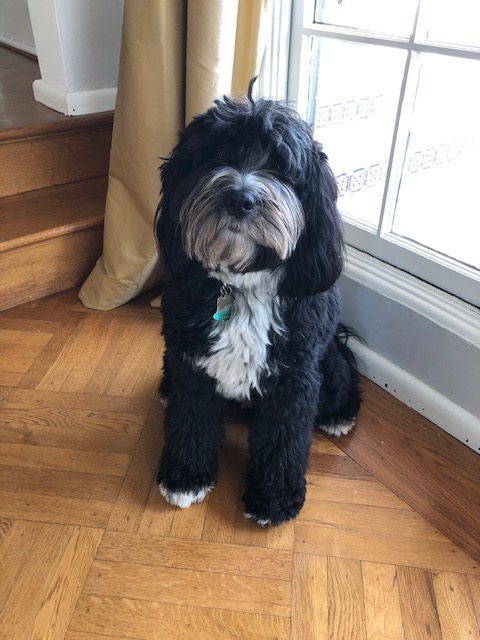 Anything else we should know? Our kids really like the musician Bruno Mars so that's how they decided on the name Bruno. They say we if we get a second dog we should name him Mars.