The chances you'll see hand sanitizer, toilet paper and other hard-to-find items return for good to now-empty store shelves will increase greatly if people stop "overbuying" and return to normal shopping practices, several retail business representatives said during a telephone news conference Tuesday.
"The system is being taxed specifically because of fears a store might close," said Chelsea Minor, a spokeswoman for Raley's Supermarkets. If people would buy in the "standard way," to provide for a few days, empty shelves will fill up again.
Minor and four other representatives of grocery and pharmacy chains took part Tuesday in the fourth of a series "coronavirus telephone town hall" news conferences moderated by state Sen. Steve Glazer, D-Orinda, whose district includes much of Alameda and Contra Costa counties. A similar phone conference Sunday brought together county health officers and health providers from the two counties.
Representatives of four companies said they're committed to keep stores open, and that fears of closures should not drive stockpiling of certain goods. Giving stores time to restock, and not taking more than you need, are important. "We have a solid supply chain … it's just a matter of getting that stuff onto the shelves and keeping it there long enough for more consumers to get it," said Kelly Ash, chief lobbyist for the Sacramento-based California Grocers Association. "The supply is safe, but that's going to come with everybody taking a breath, and purchasing only what they need."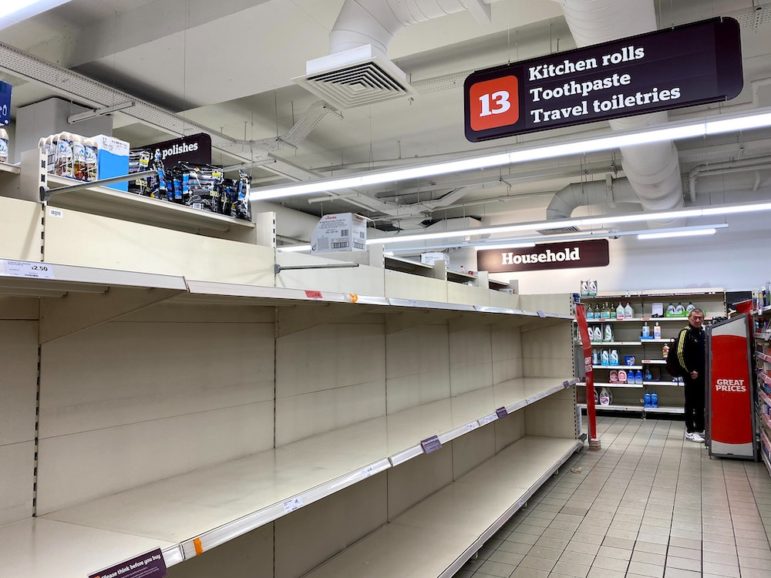 Keeping people safe in the stores is another concern now, particularly in terms of "social distancing." Store spokespeople on Tuesday said some steps are already happening, especially in pharmacies. Maureen Cormier, a vice president of CVS Health, said that waiting-area chairs at pharmacies have been moved farther apart, or removed altogether, with customers asked to wait outside or in their cars. Coming next, she said, could be physical spacing requirements in the stores; many stores' policies are still being crafted.
Washing hands and using hand sanitizer will remain key elements in staying safe in the coronavirus era. The spokespeople acknowledged Tuesday that there's nothing stopping people from touching items in the stores and leaving them for others to pick up and buy. But Minor of Raley's said the odds of the virus being present on fresh fruit and vegetables are relatively long, and that a basic produce wash is effective.
A produce managers' bigger concern, Minor said, is keeping the shelf surfaces clean. The reusable grocery bags more and more shoppers use, however, are a different story. "That's always been a concern," Ash said. "Bags need to be washed like hands." Glazer suggested that the 10-cent fee for store bags should be waived during the coronavirus scare; Ash said that will be discussed.
While some suggestions have been made to set aside some times for seniors and other vulnerable groups to shop away from the general population. But the retail spokespeople Tuesday didn't support that idea, saying having seniors and others stay at home is the safest course for them. Instead, they said their companies are beefing up delivery capacity for seniors and everyone else. Store employees also need to stay safe. Stefan Van Wyk, a regional vice president with Rite Aid drugstores, said employees there are being issued "sanitation kits" with hand sanitizer, disinfectant spray and soap.