The Highlanders are ramping up for what they hope will be another successful season.
"So far, so good," Highlanders coach Jeanine Holmlund said. "We're just getting our first meets in for everybody. We have a group that wants to be there and they're hard working. I haven't always had that kind of team. I feel they are there to improve and not just to take P.E."
The discussion always starts with Sophia Zalewski, the Piedmont Exedra's fall athlete of the year thanks to an outstanding cross country season. She's poised to continue that success in her final year of high school track and field. A finalist in the North Coast Section Meet of Champions a year ago in both the 1,600 and 3,200 meters, Zalewski ran the former in five minutes, 15.73 seconds at the Skyline Invitational on February 29. Zalewski's set a personal-best of 5:09.24 at last year's NCS Bayshore Championships. To run so close to that in the first invitational of the season bodes very well for Zalewski.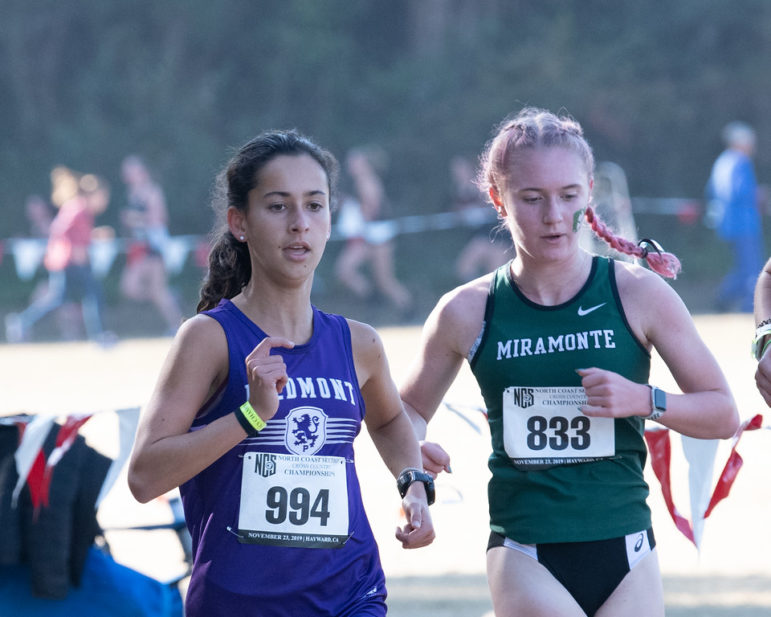 Further, Zalewski ran a 1:06.50 in the 400 at Skyline, a personal-best. Better speed will allow Zalewski to improve her closing kick.
"She's coming in even stronger after her great cross country season," Holmlund said.
But Piedmont has a lot of talent beyond Zalewski, especially in the distances. Maggie Black also made the Meet of Champions last year in the 800. The senior will complement Zalewski in all the distances. Junior Adri McAuliffe will also be a factor.
Maggie Black

Adri McAuliffe
The boys distance runners also have a chance to be strong. Junior Alex Weekes debuted at Skyline with a 1,600 time of 4:55.23, and fellow junior Colin Mortimer ran a 5:03.54. Mortimer ran a 4:51.11 at the NCS Bayshore meet last year. Sophomore Seamus Chamberlain Carr should also be good, as well as sophomore Cooper Downing.
Collin Mortimer

Alex Weekes

Seamus Chamberlain-Carr
While the distances might be the strength of the teams, there are excellent athletes elsewhere. Liz Korn finished fourth in the 100 hurdles at the NCS Bayshore meet last year, and should have a strong senior season. She's capable of scoring points in several events. Zoe Saldanha is a sophomore who set a personal-best of 31 feet, 5 ½ inches in the triple jump.
Senior hurdler Ehlen Kokka hasn't started his season yet due to injury, but will hopefully be available soon.
Holmlund also said she has a pair of potential decathletes (high school doesn't have the decathlon as part of its regular meet schedule). Sophomore Parker Terrill cleared 5-8 in the high jump and will also long jump for Piedmont. His 17-10 in the latter is the ninth-best mark for the Highlanders since 2014. Junior Gavin Horne will also compete in multiple field events.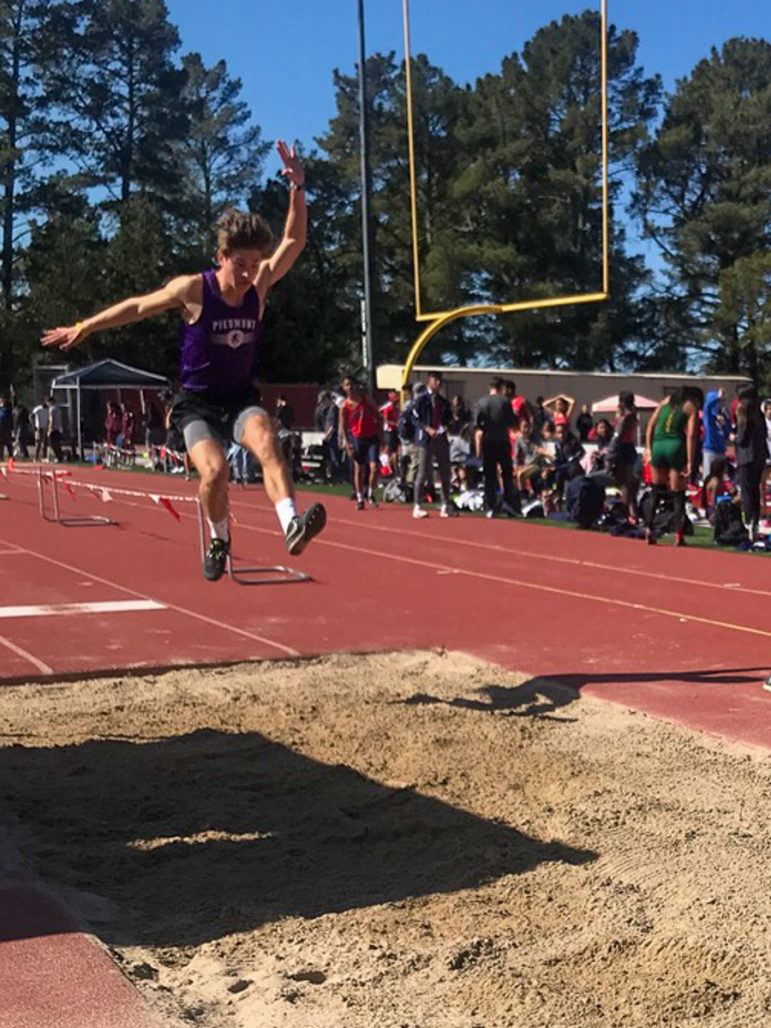 Jackson Kennedy, a junior, cleared 5-8 in the high jump. Kennedy will compete in the long jump as well.
Sophomore Quincy Munyan ran a 13.04 in the 100 in the early season, and should be in the 12s soon. Freshman Jack Zirkelbach-Ngai ran a 57.77 in the 400.
"What we're lacking is throws," Holmlund said. "For both boys and girls. We have some good high jumpers, pole vaulters. Hurdlers, we'll see."
The boys are competing in the Shoreline Division of the West Alameda County Conference, the so-called lower division. Their top competition will likely be Arroyo. The girls are in the Foothill Division, competing with a slew of strong teams.
Photos by Kristin Johnson