The Highlanders continued their winning ways, beating two NCS Division 4 opponents to raise their record to 3-0.
Using the same combination of good pitching and timely hitting that defeated St. Mary's three days earlier, Piedmont beat St. Helena 3-2 on February 29.
Garren Riley threw five innings, allowing one hit and one unearned run, with four strikeouts. After a shaky 6th inning that ended with a key double play, Julian Scherman recorded the save with an easy last inning.
Garren Riley

Julian Scherman
The Highlanders scored their runs on a bases loaded walk to Nico DeFazio in the 2nd, and singles by Kyle Spanier and Lars Derr in the 5th.
Spanier finished with a hit and a run scored. Derr had a hit and an RBI. Ben Levinson got a hit and scored a run. And DeFazio recorded a hit, run, and RBI.
Kyle Spanier

Lars Derr

Nico DeFazio
The big defensive play came in the top of the 6th inning, after Piedmont had taken a 3-1 lead. The Saints scored and had the tying run on first with one out. On a hit-and-run play, the next St. Helena batter lined out to rightfielder Spanier, who threw to first to complete the inning ending double play.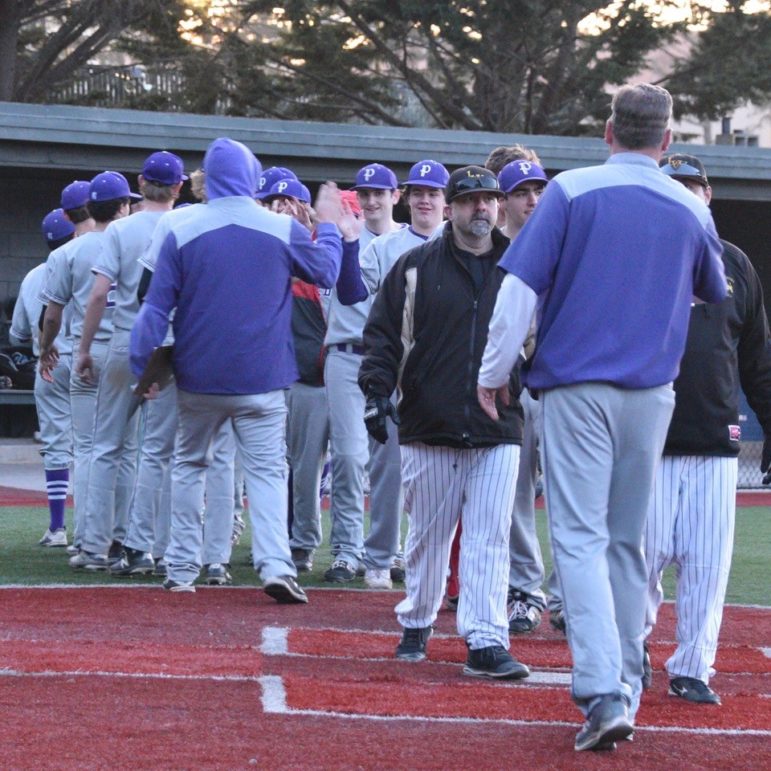 Piedmont traveled to Lick-Wilmerding on March 3 for an afternoon game at Skyline Junior College. The Highlanders fell behind early, but made an exciting comeback with three runs in the 7th to tie, and two runs in the 8th to win, 8-6.
Piedmont took the early lead on an RBI double by Spanier and single by Davis Alazraqui in the 1st inning. Lick responded with four runs in their half of the first, on five walks and an error.
Josiah Rubinson came in to pitch the second for Piedmont, and gave up just one run in two innings of work. With the score 5-2 in favor of Lick, Aiden Mitchell made his Piedmont pitching debut in the 4th, and threw four innings of 1-run ball. Mitchell got out of bases-loaded, one-out jams in the 5th and the 6th to keep the game close. Meanwhile, the Highlanders cut the lead to 6-3 in the 5th, with Spanier tripling and Alazraqui driving him in with a single.
Josiah Rubinson

Davis Alazraqui

Aiden Mitchell
All of which set the stage for Piedmont's dramatic comeback. Alazraqui and Cal Barna led off the top of the 7th with walks. After a Lick error advanced the runners to 2nd and 3rd, Levinson lined a double over the third baseman's head to cut the lead to 6-5. A sacrifice fly moved Levinson to third, and Abe Barnes drove a double down the third base line to tie the game.
Mitchell pitched a 1-2-3 7th to send the game into extra innings.
The top of the 8th started inauspiciously with two groundouts. But Alazraqui reached on an error, and Barna smashed a triple into right center to plate the go-ahead run. Levinson then drove in an insurance run with a single to left.
Cal Barna

Abe Barnes

Ben Levinson
With the daylight fading fast, Scherman rushed in to finish the game. He worked around two walks, striking out the last batter looking to close out the thrilling victory.
Spanier finished with two hits, two runs, and an RBI. Alazraqui had one hit, two runs, and two RBIs. Barna scored two runs with one hit and the go-ahead RBI. Levinson recorded three RBIs on two hits. And Barnes had two hits and the big tying RBI.
Next up for the Highlanders is Oakland Tech at Rickey Henderson field on March 6 at 3:30 pm. Sacramento-area Alpha Charter visits Piedmont on March 7 for a 12 pm game against Piedmont and a 3 pm game against Oakland Tech.
Photos by Mark Aikawa and Julie Moll