In an unprecedented move, on Monday, Mar. 16 six Bay Area counties and the city of Berkeley announced a new shelter-in-place order designed to mitigate the spread of COVID-19. The order goes into effect at midnight on Mar. 17 and and lasts until Apr. 7. It's meant to keep people mostly indoors except for all but the most essential activities. The affected counties as of Mar. 16 are: Alameda, Contra Costa, Marin, San Francisco, San Mateo and Santa Clara. (View the full Alameda County shelter-in-place order HERE.)
While these are the most far-reaching restrictions in the country right now, no one should panic. According to KQED(bullets added):
"You can go out to buy essential supplies like groceries, drug store items, pet food.
People can also walk, take pets outside, and hike or run outdoors, provided they maintain at least six feet of distance from each other.
All businesses other than those deemed essential must close.
Take-out and delivery of food and coffee are permitted."
Also:
"While the goal is to limit groups congregating together in a way that could further spread the virus, it is not complete social shutdown," said Dr. Matt Willis, Marin County's Public Health Officer in a statement Monday. "You can still complete your most essential outings or even engage in outdoor activity, so long as you avoid close contact."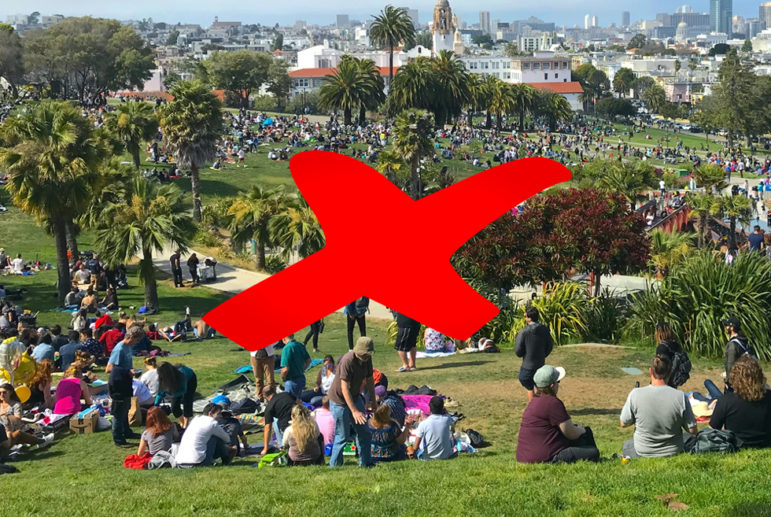 Are you going to get arrested if you're caught breaking the rules? No, probably not (at least right away), according to this SF Chronicle update:
SF police to prioritize education over enforcement in lockdown: The city's shelter-in-place order is enforceable by police and sheriff's departments, but San Francisco police Deputy Chief Mike Redmond said during a press conference that the department's main goal is to educate people about the order. The department has information in place for officers should enforcement be necessary, but "we do not want to go there," Redmond said. "There will be a lot of education and talking before there's any type of enforcement." View the full shelter-in-place order HERE.
Here is a very simple and easy-to-understand explainer from Contra Costa County.(Thanks to Julie Caskey for highlighting.)
Finally, this is a friendly reminder to please support your local news sources: The San Francisco Chronicle, East Bay Times, KQED, and of course the Piedmont Exedra, your neighborhood news site, are all staying on top of breaking news during this unsettling time.