In a special to the Exedra, a Californian describes life in Italy as the country struggles in the grip of coronavirus
It is very strange to greet a neighbor amidst the lockdown in Italy.
While walking my dog Cosmo along Via dell'Assunzione, one familiar face became almost unrecognizable under a white surgical mask. Also protected by bright blue rubber gloves, he waved hello from across the street. He's a neighbor I greet regularly, but this time, only the leashed dog beside him gave away his identity. As our dogs pulled toward one another, the older gentleman said a phrase pretty telling of this period, "Loro possono avvicinarsi, ma noi no." Translated into English, "They can get close, but we can't."
As an American living in Rome and working in the tourism business, I never would have imagined a day when iconic monuments like the Trevi Fountain and Colosseum would be deserted. COVID-19 shut down study abroad programs and sent tourists home early. Nearly two weeks into the nationwide quarantine, this is the first time since I moved here a year ago that I feel I am one of very few Americans left in Rome.
California Governor Gavin Newsom's new order for Californians to stay inside echoes the Italian Prime Minister Giuseppe Conte's issue for our nationwide lockdown. Today, Italian residents are required to remain in their homes until further notice. Going outside is only allowed for trips to the grocery store or pharmacy, and essential work. In a city full of culture and excitement, it's odd seeing restaurants and pubs that are usually packed shutdown entirely.
In Rome, anyone outside may be stopped by police and asked to provide an official document stating their motivations. Checkpoints are set up along major roads and officers patrol city center streets.
Pharmacies and supermarkets have lines out the door. Following social distancing protocols, everyone is required to stand over a meter apart and enter only when it's their turn.
Apart from hand sanitizer and face masks, my grocery store is fully stocked. Since moving to Italy, I've noticed Italians shop differently. They buy less at a time and more frequently. Culturally, there isn't a tendency to stockpile. In other words, Italians aren't fighting over toilet paper.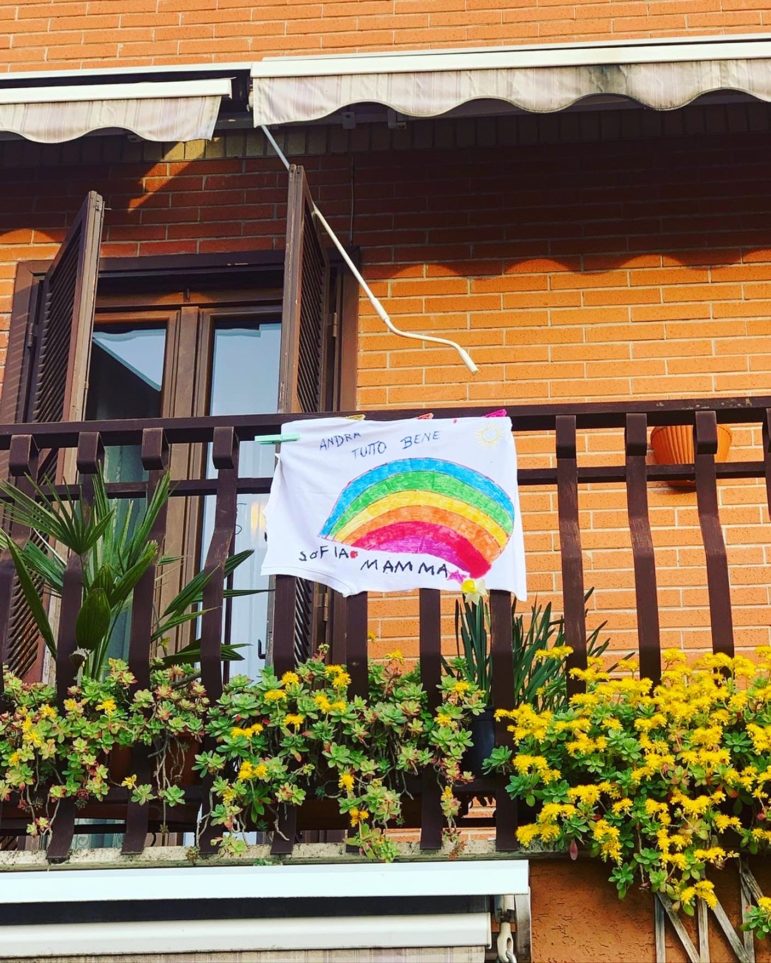 Each day, I have observed more Italian flags and signs in neighborhood windows. Many feature a rainbow and read "andrà tutto bene" which translates to "everything will be alright."
Many neighbors also unite in song, dance or applause from their apartment windows and balconies to honor medical staff each day. It started with the Italian national anthem. Now, it's not strange to hear musicians giving free concerts from their balconies. Flyers circulate on social media accounts announcing the start time and soundtrack.
Though the pandemic has brought an unexpected sense of community, it is truly devastating. Countless people risk losing their jobs and income. The Italian economy is in turmoil, and essential service workers are putting in overtime trying to maintain a functioning society. With a health system near collapse, medical staff risk their health and sanity to treat patients and make difficult triage decisions as thousands fight for their lives. Though hospitals are full, adequate COVID-19 testing allows for a reasonably accurate understanding of what the country is facing.
From what I've observed, it's clear there is great concern in Italy that Americans are not prepared for what may hit them next. If there is something Americans should learn from the Italian experience of this virus, it's to stay home, be respectful of your neighbors and don't lose hope.