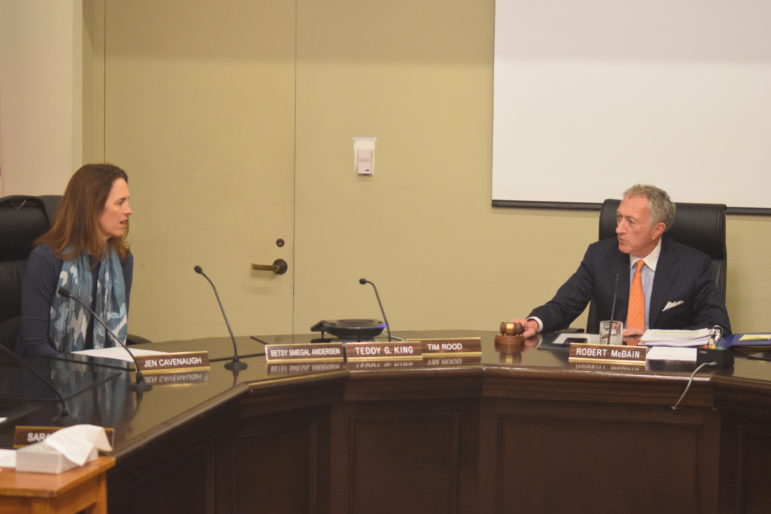 As it's been and will continue to be with life in general in the United States, there was nothing normal about Monday night's Piedmont City Council meeting, likely the last such meeting for at least several weeks.

The City Council met just a few hours ahead of the ordered deadline by the Alameda County health officer for residents to shelter in place and keep public activity to a bare minimum to help deter the spread of the COVID-19 coronavirus. The council's main action — to unanimously ratify that declaration of local emergency by Alameda County interim Health Officer Dr. Erica Pan.

That item wasn't on the council agenda until Pan and health officials from six other Bay Area counties declared the shelter-in-place order Monday afternoon. City Administrator Sara Lillevand said ratifying the county declaration will allow the city to be nimble in the face of rapid change that has come with the coronavirus outbreak, and to better recover costs the city incurs in carrying out potential emergency responses.

"These new (county) orders take us to a new level," Lillevand said Monday night, adding that Piedmont city workers will either work remotely, or in some cases carry on with their jobs relatively normally, in the coming weeks. The city has been preparing for such offsite operation, she added, but the move to it happened more suddenly than expected.

Signs of COVID-19 preparedness permeated Monday's council meeting. Only two of five council members, Mayor Robert McBain and Jen Cavanaugh, were physically present in council chambers. The other three, Vice Mayor Teddy Gray King, Tim Rood and Betsy Smegal Andersen, were taking part via speakerphone.

This kind of public meeting was made possible when Gov. Gavin Newsom last week suspended certain parts of the Ralph M. Brown open-meeting act that would allow teleconference meetings only if the public was allowed to be present where the remote-participating council member noticed the meeting wherever they were.

To ensure proper social distancing, many seats in the council chamber were taped off.You could only sit in the ones folded down.
The Martinez City Council ran afoul of this law in January 2018, when Councilwoman Noralea Gipner was vacationing in Hawaii and wanted to take part in a council meeting by phone. To do that, the meeting required more than the usual public notice about time and location. The agenda for that meeting read, "Council member (Noralea) Gipner is participating remotely from Kapaa Shores Hospitality Room #119, 4-0900 Kuhio Highway, Kapaa, Kauai 96746." That motel room had to be open to whatever person in Kauai, if any, who wanted to attend.

But Gipner had to bow out of that meeting when the Hospitality Room #119 was found to be undergoing remodeling, and sufficient notice couldn't be provided for a new room.

No such problem Monday night for Gray, Rood or Andersen, who didn't have to open up their call-in locations to the public. After those three — along with fellow call-in participants Police Chief Jeremy Bowers and Fire Chief Bret Black — took part in a very out-of-sync recitation of the Pledge of Allegiance, they participated in the meeting with no hitches.

Then there was the audience seating. To meet strict "social distancing" requirements to keep people at least six feet apart, many audience chairs were taped off. There also was an "overflow" room with chairs spaced throughout the room. With only three total spectators, though, the overflow room was not needed.

Three other agenda items — possible acceptance of city financial statements, receiving the 2015 and 2019 Housing and Community Development Department annual reports and awarding a bid for the next installment of local sewer system replacement work — were continued to the next regular City Council meeting, whenever that may be.

The agenda's consent calendar, which was passed without discussion (as consent calendars usually are), did contain something notable. One of three consent items was the second reading of an ordinance that updates and strengthens Piedmont's various local building, fire and other codes. It also includes designating all of Piedmont as an "wildland-urban interface fire area" in this climate-change era of bigger and more frequent wildfires.

Lillevand stressed Monday night that all city departments are taking phone calls and emails, even if most city buildings are closed to the public and many local programs are postponed or canceled in the face of the citywide — and countywide, statewide and nationwide — coronavirus response.

"It may look different and feel different, but the city is fully operational," she said.

McBain said Piedmont residents should have confidence in city employees.

"If you're here in Piedmont, that's a good thing," he said. "Because the city is going to support you the best it can."

Reach Sam Richards at sam.richards4344@gmail.com