Last fall, Jeanine Saperstein, a Piedmont resident of 25 years turned to social media when she didn't receive her vote-by-mail ballot for the November 5 special election, and couldn't get a satisfactory answer why not.
Her Nov. 5 post on NextDoor triggered a wider dialogue about missing ballots. In the 99 comments that followed, many said they hadn't received their ballots either. At least 14 of them were from Piedmont. Many had lived in their homes for years, others had requested mail-in ballots for the first time, and at least one said when she checked online with the Alameda County Registrar she saw confirmation that she was registered and that the ballot had been mailed out.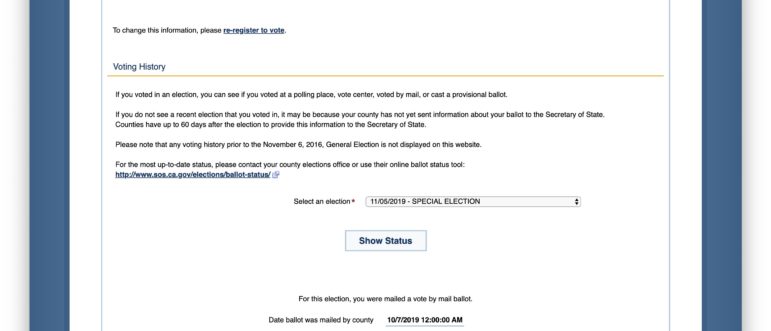 "I might have considered it a snafu," said Saperstein. "The Registrar of Voters owes us an explanation and apology if there was human error. They have to make sure this doesn't happen [in the March 3, 2020 primary], which is a very important election."
According to Alameda County Registrar of Voters Tim Dupuis, 7,140 vote-by-mail special election ballots were mailed out Oct. 7 to registered Piedmont voters. The number of mail-in ballots that were filled out and returned to the Registrar of Voters was 3,777. Fewer than ten bounced back in the mail. A total of 197 provisional ballots were processed. Mail-in voters who do not receive their ballots may use a provisional ballot.
Dupuis said he had no explanation why so many voters never received their ballots. "Everything in this office was done correctly," he said. "There has been nothing brought to my office for us to investigate that would indicate there was a problem." He added that the Registrar's office received a "normal" number of phone calls for the November 2019 special election, including voters asking when they'd receive their ballot, and voters complaining they never received a ballot. Still, he said nothing appeared out of the ordinary.
Dupuis noted that one change Piedmont voters might have overlooked was the smaller ballots used for the special election. But Piedmont resident Alder Yarrow said "We got the Alameda County election brochure and on the back of it was a postcard that said if you want to receive your ballot by mail, mail this in. We mailed those in. We never received our ballots."
According to Alameda County voting procedures, ballots are usually mailed 29 days before elections from a certified printer in Washington state, which Dupuis said was timely for Piedmont's special election. Voter information guides, which include request forms to receive vote-by-mail ballots, are mailed out 40 days before elections. Dupuis said there are no procedural changes planned for 2020.
The Registrar reminded voters that there are several ways to register to vote-by-mail: filling out and returning the application on the back of the voter information guide; registering as a permanent vote-by-mail voter; and applying at outside voter registration events. "We try to give the voter every opportunity they can to get their vote counted," he said. "We definitely want to work with them and see if there's any issues and remedy it."
"We try to give the voter every opportunity they can to get their vote counted "

Alameda County Registrar of Voters
For the March 3 primary vote-by-mail ballots are scheduled to be mailed out Feb. 3. Ballots should take no more than seven business days to arrive.
The application to vote-by-mail is here. The application must be received by the Alameda County Registrar of Voters no later than seven days before the election. For the presidential primary election, the deadline is Feb. 25. To check your voter status in California, click here. To check if your vote has been counted, log on to your "voter profile" here.
If you are a registered vote-by-mail voter in Piedmont and did not receive your vote-by-mail ballot for the Nov. 5, 2019 special election, the Piedmont Exedra would like to know. Please write to Sarah Belle Lin at sbellelin@piedmontexedra.com.