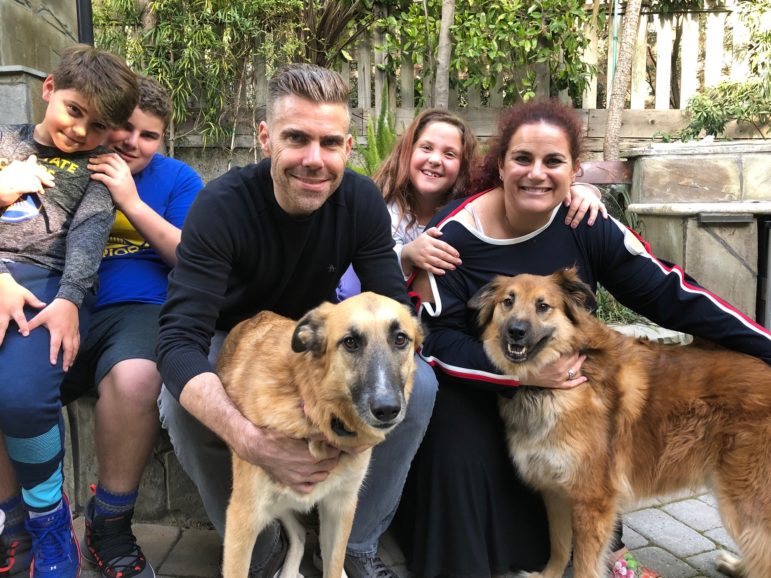 Family: Shane and Michelle McGilloway, and their children; Logan 13, and Tahlia and Liam, 8.
Pets: Lulu and Floppy
Ages: Lulu is 3, Floppy 4
Breeds: Lulu is German Shepherd and Great Pyrenees mix. Floppy is German Shepherd and Chow mix.
Adoption story: We had two dogs before and it's great; they play and keep each other company. We knew we wanted puppies so we went to Milo Foundation to look and they brought out Floppy holding him like a baby, with his legs up in the air. He took one look at my husband Shane and they locked eyes, and Shane said, 'that's it. He's mine.' With Lulu we wanted a girl and brought another dog home until my son Logan said 'mom, that's a boy.' He was right. So we took him back and got a girl and it was Lulu.
Likes: Lulu: jumping into piles of clean folded laundry, wrestling on the floor with the kids, and putting her nose on a lei we brought back from Hawaii.
Floppy: eating challah bread, licking the face of anyone wearing Aquaphor lip balm, and protecting Lulu when she's scared.
Dislikes: Lulu: fish, garbagemen, any pedestrians passing by our house.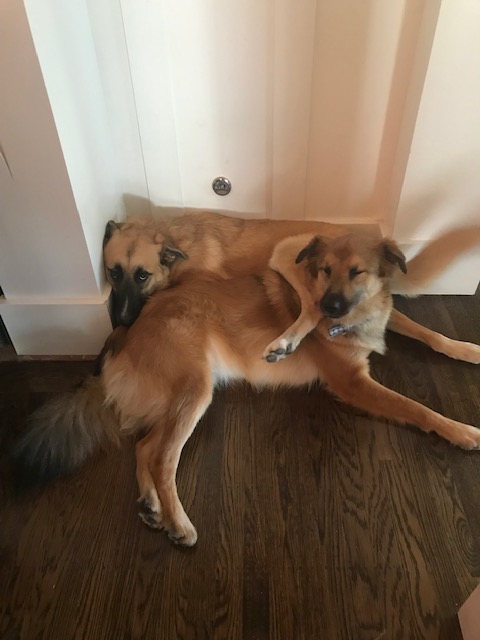 Floppy: people who make fast movements, and when his daddy (Shane) sleeps past 5:30 am.
Interesting facts: They like to curl up together when it's time for a nap.
Anything else we should know? At night they sleep with us. Yes, they usually push us to the edge of the bed.