The Highlanders lost another close West Alameda County Conference match-up, 2-1 at Castro Valley on February 11.  Inspired by their nine graduating seniors celebrating Senior Night, the Trojans brought their top game and were just a little too much for the Piedmont.
The Trojans had a couple of early chances, but their shots were off target, and the Highlanders were able to stay even for the first 35 minutes of play. Piedmont earned several corner kicks, but Castro Valley's strong defense kept the Highlanders from connecting on the end of good services.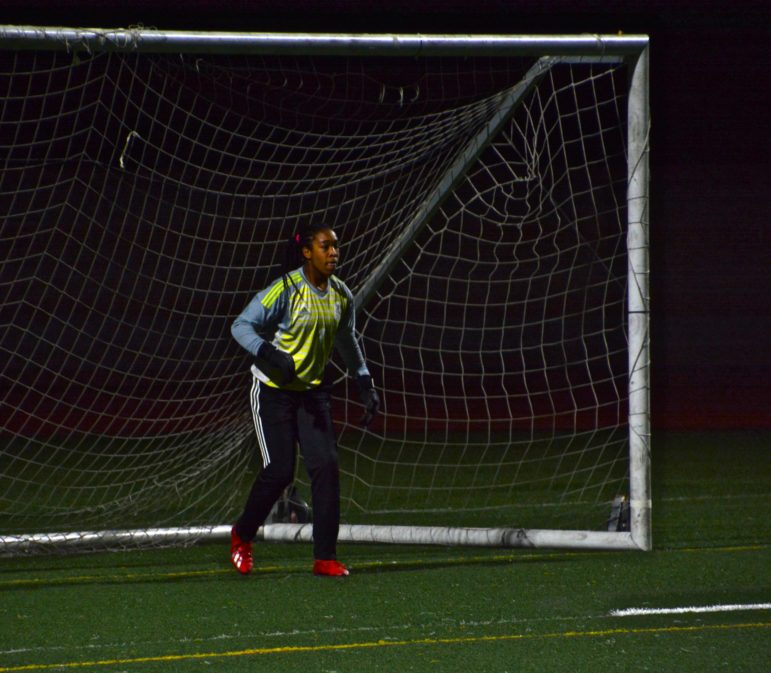 With just a few minutes remaining in the first half, the Trojans had a quick counter attack down the sideline and sent a nice diagonal ball into the box. Even though the Castro Valley winger was tightly marked, she was able to cut back behind her defender for an open look at goal. She finished cleanly into the corner to put Castro Valley up 1-0 going into half time.
Early in the second half, Trojan senior Myla Ogle launched a long-distance throw-in into the box. The ball found an open shooter on the far side of the box, and she drilled a shot into the back of the net to put Castro Valley up 2-0.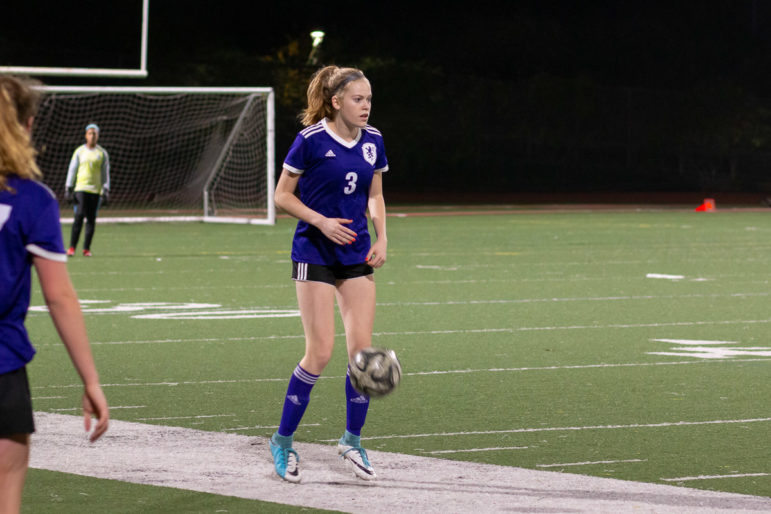 Several minutes later, it looked as though the Trojans might run away with the game, as Ogle received a pass up the middle and touched it past Piedmont goalkeeper Morgan Hunt. However, Highlanders' senior center back Lucy Barrett demonstrated her amazing closing speed as she chased down Ogle and knocked the ball away before Ogle could release a shot into the open goal.
Those defensive heroics seemed to energize Piedmont, particularly senior Peri Ozsoy, who kept pressure on Castro Valley and had several strong shots that unfortunately sailed just high.
Amanda Becker (center), Isabelle Woodruff-Madeira (23), and Sarah Lin (8, far left)

Ashley Nelson (2, center), Peri Ozsoy (left), and Tucker Donahue (17)
With four minutes remaining, junior Isabelle Woodruff-Madeira feistily out-battled several much taller Trojan defenders to get her head on a bouncing ball near the top of the box. She tapped it over the defenders to senior Ashley Nelson, who slipped in behind the defense and cleanly placed the ball into the back of the net.  
But it was too little, too late, as Castro Valley held on for the 2-1 win.
Piedmont will celebrate its nine graduating seniors on February 14 at Witter Field prior to the 6:00 pm game against Berkeley. This is the final regular season game before NCS playoff seeding comes out on Sunday.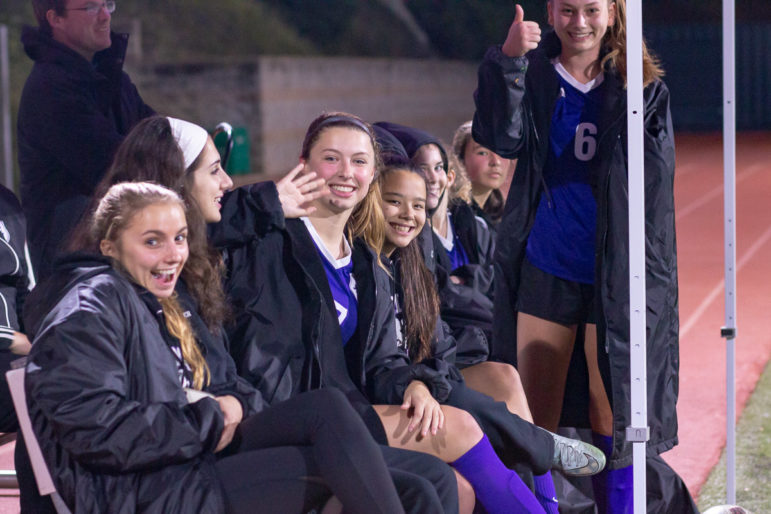 Photos by Julie Reichle and Devon O'Shaughnessy