The Highlanders fell 1-0 to Bishop O'Dowd on February 7 at Witter Field. Although the outcome was not what the boisterous crowd was hoping for, the intensity of play did not disappoint.
Having played to a 2-2 draw three weeks earlier, both teams knew what to expect and looked to shut down each other's threats. The Dragons were quick to play the ball out of the back, not allowing Piedmont's high pressure to create turnover opportunities. The Highlanders in turn locked down O'Dowd's skillful midfield players.
For nearly a half hour, neither team could gain the advantage. With 12 minutes remaining in the first half, however, the Dragons' quick passing combinations found an open player who converted from point-blank range.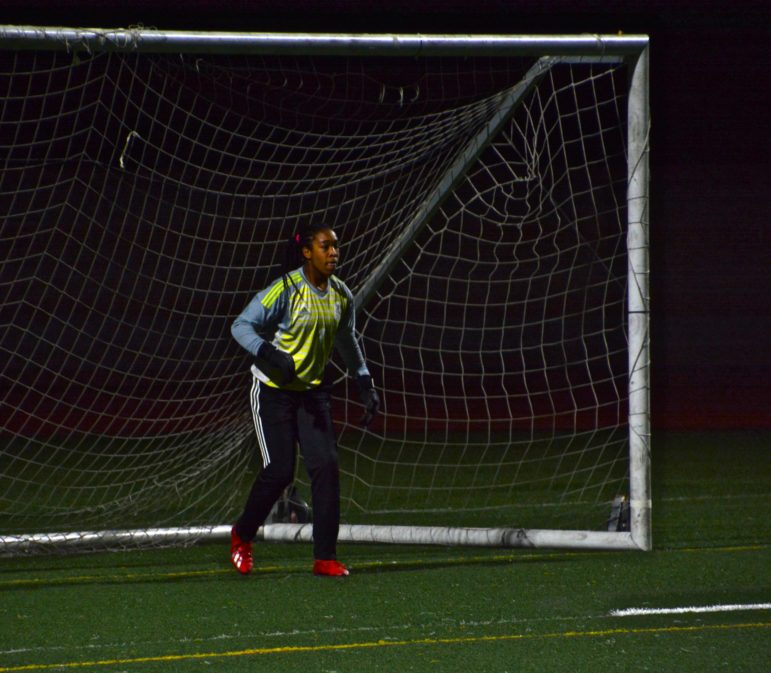 O'Dowd gained momentum and tried to seal the game with another goal in the ensuing minutes, but the Highlanders' dogged defensive effort kept Piedmont within one. In a particularly exciting sequence, freshman goalkeeper Morgan Hunt blocked a rocket of a shot seemingly headed for the inside of the left netting, only to have the rebound fall to the feet of an open O'Dowd attacker. But senior Peri Ozsoy was quick to recognize the danger and closed decisively, sliding to snuff out the close-range shot.
Senior Sarah Lim also had an excellent defensive outing, shutting down the Dragon's attacks down their right wing.
Abby Gallagher (7) and Sarah Lim (8)

Ashley Nelson (2, center), Peri Ozsoy (left), and Tucker Donahue (17)
Piedmont's best chances of the night came on multiple corner kicks, which created havoc in front of the Dragons' goal. Senior Ashley Nelson sent beautifully lofted services into the box with multiple Highlanders attacking the ball, but aggressive play by O'Dowd goalkeeper Trinity Cooper, including diving into a crowd to collect a loose ball, thwarted the Highlanders' opportunities.
The Dragons continued to be dangerous with their left-footed star attacking down the left flank, but the Highlanders defense held strong to keep Piedmont close and the fans engaged the whole game. Gaining valuable experience and confidence with each game, Hunt stymied one such promising O'Dowd attack late in the game by coming out to snatch a long cross and prevent any shot on goal.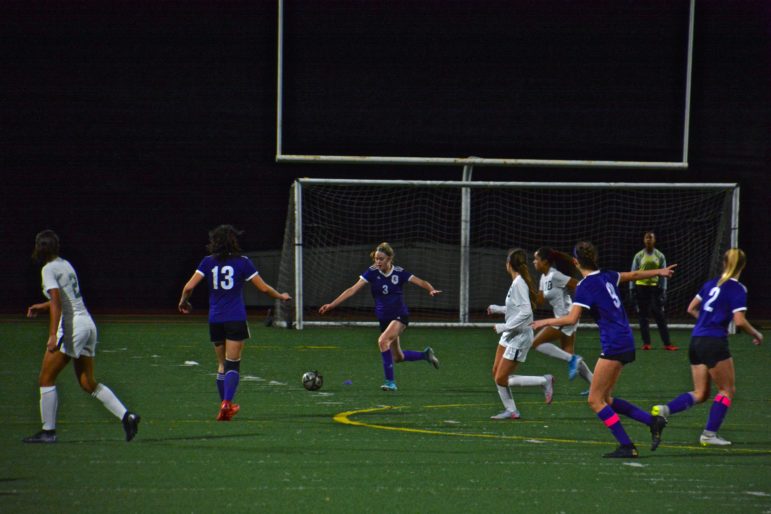 Piedmont has two more league rivalry games this week, against Castro Valley away on Tuesday, and then closing out the regular season on Friday against Berkeley on senior night at 5:30 pm.
Photos by Devon O'Shaughnessy and Julie Reichle