The Highlanders played one of their best quarters of the season on January 31, beating Mt. Eden on the road, 55-30.
"The third quarter was probably some of the best basketball we've played this season from a defensive standpoint," Highlanders coach Bryan Gardere said. "Closeouts, active hands, rebounding, aggressiveness. It was a great team effort!"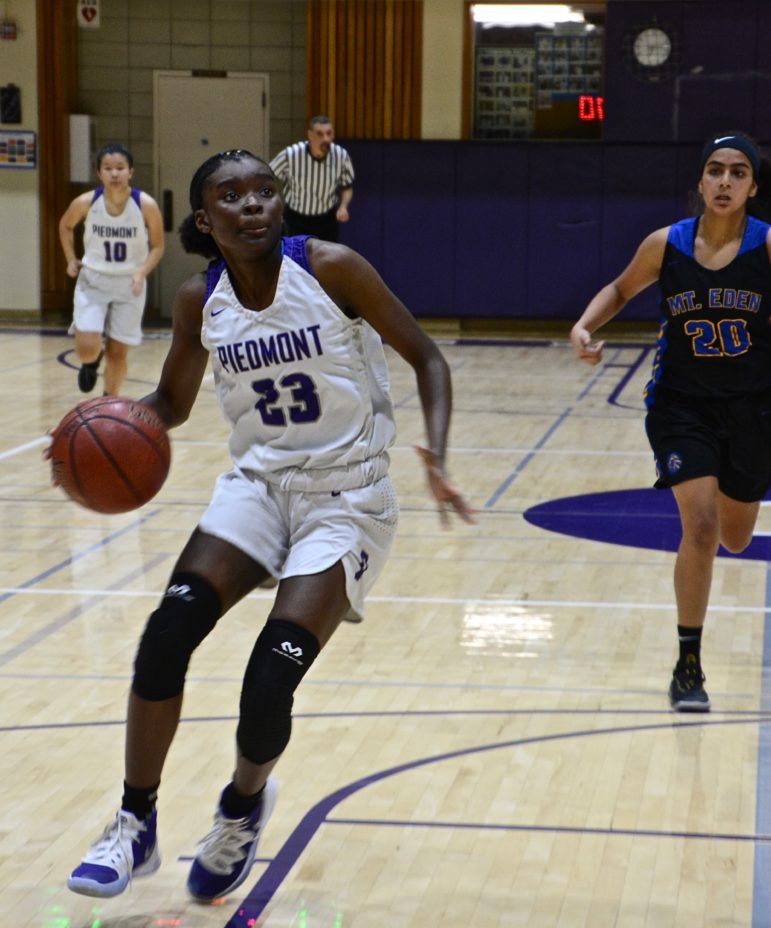 The score was 20-18 Piedmont at halftime, but the Highlanders came out and outscored the Monarchs 22-3 in the third quarter, holding Mt. Eden to just three made free throws. Nakilah Johnson scored nine of her 15 points in the quarter. Johnson also had nine rebounds.
Trinity Zamora returned from a minor injury suffered in the January 29 overtime loss at Alameda to score score 15 points and pull down 10 rebounds. Maddy Hill scored nine points, grabbed four rebounds, and handed out three assists.
Maddie Hill (24)

Trinity Zamora
For Mt. Eden, Kajahla Christian scored 12 points and Kiana Carino had 11. Only three Monarchs players scored.
Next up for Piedmont is a rematch with Bishop O'Dowd on February 5. The Highlanders lost the first meeting at home, 62-41, but was down to seven players in uniform. Johnson, Hill, and Victoria Houson all missed the game. Houston is still out, but Piedmont returns Naimah Thompson from her offseason injury.
Photos by Devon O'Shaughnessy