In the words of John Henry Cardinal Newman, "the shadows lengthened and the evening fell" as the Highlanders traveled to Santa Rosa to play [John Henry] Cardinal Newman High School in the North Coast Section Division IV quarterfinals. This is the field where Piedmont played its first match of the 2019-20 season, a 0-0 draw on November 19. The season ended where it began, with a 1-0 loss to the Cardinals, which entered the match as the top-ranked NCS Division IV team.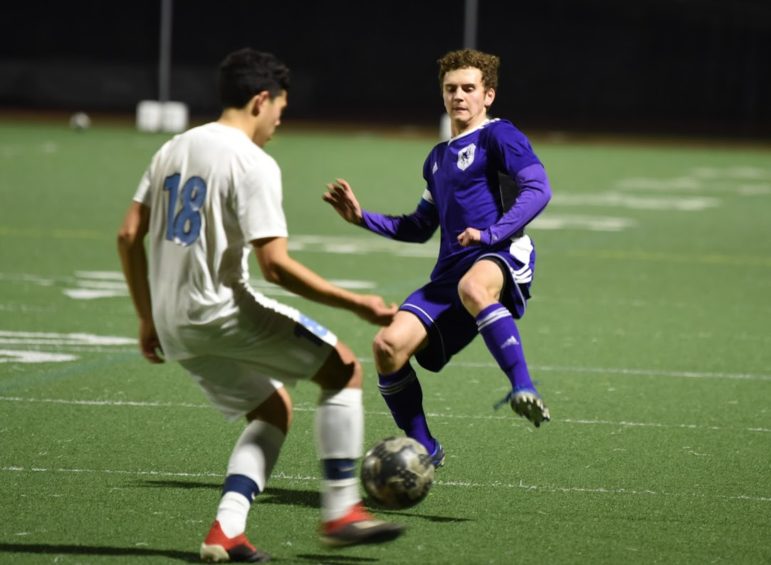 The Highlanders dominated on offense in the first half, but couldn't get on the board. Raf Stankiewicz had shots in the 3rd, 16th, 26th, and 29th minutes, and a shot in stoppage time rounded out Piedmont's scoring chances.
Despite being outplayed, Cardinal Newman scored a rare goal off a set piece in the 6th minute of the first half, to take a lead they would not relinquish.
Rico Barker (left) and Ben Marshburn

William Daniel (15) and Hunter Disco (center)

Connor Curtis
The second half was marked by rough play, thanks to an officiating crew that appeared to lose control of the conduct on the field. As in the first half,  Piedmont controlled the ball, but despite some strong offensive moves—especially from wingback Rico Barker—couldn't score against the Cardinals' defense.
"We were the better team tonight," said coach Todd Sullivan after the game. "I was really proud of the boys. The officiating was disappointing, and the other side got lucky with their goal."
Patrick Alexandre

Kihiro Lambert (22)

Andre Stankiewicz
"Also, they [Cardinal Newman] did their homework—they came to our game on Wednesday night to watch us play and made some adjustments, and it worked. But our boys should leave with their heads held high. They put on a great show. For us, as a ninth seed, to come in and play like this against the number one seed shows we had every right to be here."
Photos by Todd Marshburn