The Highlanders dropped a close game, 1-0, to league rival Hayward on February 7.
Piedmont was looking to avenge a painful loss to Alameda two nights before. The Farmers came into the match seeking to make up for a 4-0 loss to the Highlanders when the two teams met at Witter field on January 21.
In the opening plays of the game, Hayward kept Piedmont on the retreat. But in the third minute, freshman defender William Daniel opened up an offensive drive with a pass to senior midfielder Hunter Disco.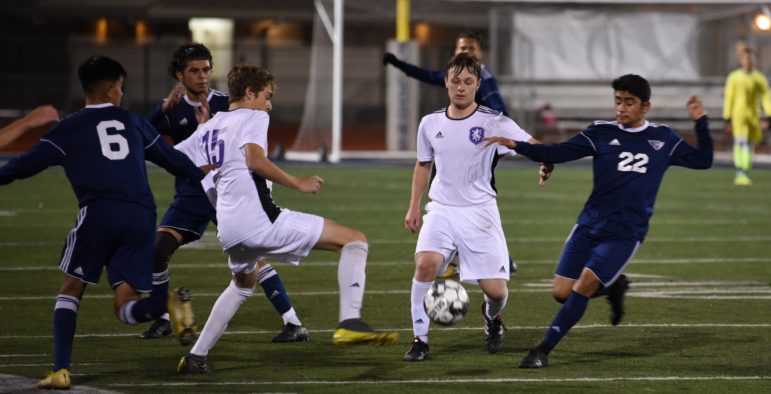 For the next ten minutes, PHS kept the ball solidly in the Hayward half. Over time, the Farmers plowed their way back into contention and the game stayed evenly matched. Piedmont featured solid passing and ball control, and the Hayward side attacked with speed and physicality.
The second half opened in much the same way the first half ended, with change of possession and shifting dominance. But in the 52nd minute, the Hayward side scored a magnificent goal, a volley into the top of the net beyond the reach of freshmen goalkeeper Brady Hinsch.
Piedmont attempted a comeback after a Hayward defender handled the ball in their penalty area. But senior Rafael Stankiewicz's penalty kick flew inches over the cross bar. A minute later, senior Connor Curtis took a shot that ricocheted off the post, but Piedmont couldn't convert the rebound.
Raf Stankiewicz

Connor Curtis
After the game, Coach Todd Sullivan was looking forward to the end of the regular season and to the playoffs. "I told the boys at half time that this game would be won by a big mistake or by a piece of brilliance, and I was right. That goal was as good a goal as you'll ever hope to see at this level of play."
"Now we have to focus and get ourselves together and get ready for playoffs."
Khiro Lambert (22)

Andre Stankiewicz

Rico Barker (left) and Ben Marshburn
The final game of the regular season is scheduled for February 13, at home against Tennyson.
Photos by Todd Marshburn