About volunteering, it is said that you get out of it what you put into it, and for longtime Piedmont resident, art teacher and artist Kim Lipkin that has turned out to be more than true. Nearly 25 years ago, Lipkin was raising two young children and studying to earn her California teaching credentials. With so much going on in her life, she didn't at first think she should say yes to a neighbor's request for her to become a precinct captain on a local bond campaign. However, with the can-do spirit frequently found among Piedmonters, Lipkin did say yes.
Works from Lipkin's show at Lireille (images from Lireille.com)
The bond measure was successful, and it was at a campaign staff celebration where Lipkin met John Morrison, principal of Piedmont Middle School and the person who would offer her her first teaching position, which she would hold until her retirement 20 years later.

Lipkin taught art at Piedmont Middle School as well as a leadership class, and in both areas, she strove to help students develop empathy and consideration for others. In her art class she developed a practice she dubbed "the huddle" where students would gather around in a circle 'cooking show style' to learn about and see examples of art work from specific artists. Lipkin would have materials ready to go after the huddle, so students could immediately get to work interpreting the artist's work using their own individual style. Lipkin's art classes gave students a place where they could gain confidence and express themselves.

Color has long been a source of inspiration for Lipkin
When Lipkin was a child growing up in Newton, Massachusetts, she loved color, and enjoyed creating things with cut paper. She remembers using every available shoe box in the house to create dioramas and miniature environments. She had an innate ability to discern the various hues that create color. During middle school and high school she became interested in ceramics, and from there it seemed a natural progression to earn a BFA in Functional Pottery at University of Massachusetts at Amherst.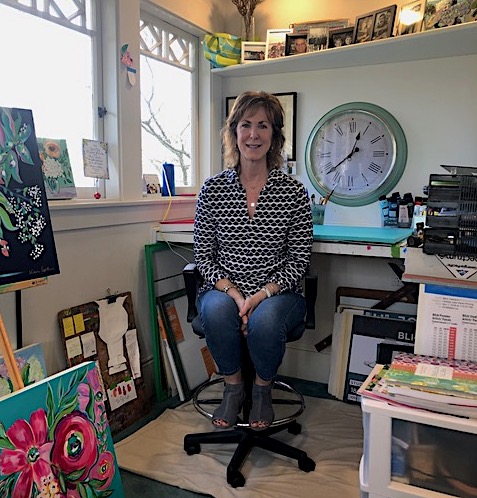 Now after years of putting painting on hold, Lipkin has rediscovered her love of color, and has reignited the joy she feels in creating her own interpretations of the beauty she sees in nature, and specifically in flowers. She has repurposed "the little room" in the house she and her husband have shared since the 1980's, a room that has variously been the nursery, the playroom, the guest room and the office, into a perfect jewel box of a studio. With lovely, old windows all around, the light flows in and makes her bright, optimistic paintings sing. Taking inspiration from sources such as a surprise bouquet from her son, a plant spotted on a local walk, and her own front garden, Lipkin translates what she sees into vivid, cheerful compositions using layers and layers of color.

Lipkin has her first solo show opening February 7 at Lireille at 3980 Piedmont Ave.
---
All photos, except where noted, by Katie Korotzer