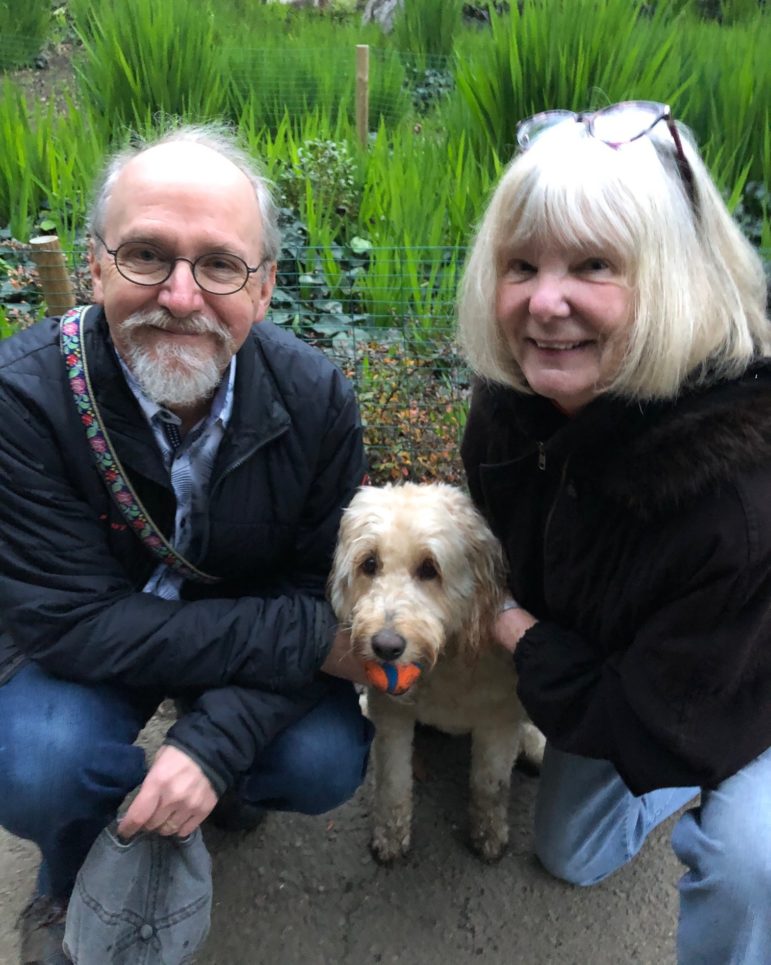 Family: Larry French, retired Genentech development leader, and Carolyn French, a retired public school teacher.
Pet: Fiona
Age: 4
Breed: Golden Doodle
Adoption story: Our first dog was a Standard Poodle and we loved her so much we couldn't bear to get another poodle. We really like Golden Retrievers so we looked for six months and tried to find a rescue, but couldn't find one. Then a friend told us about a breeder in Oregon who had Retriever-Poodle mixes. We looked and saw Fiona online. She was was just so cute. She was 12 weeks old when we picked her up at Oakland Airport. She is a joyful dog, happy from the moment she wakes up in the morning until she settles in for the night.
Likes: Fetching a ball at Dracena. Also fetching the newspaper. She likes to prop her nose up on Larry's shoulder while he reads the paper. She must be reading it with him.
Dislikes: The postman. UPS delivery drivers.
Interesting facts: Fiona enjoys being serenaded. Larry plays jazz guitar — as well as songs by Van Morrison, Procol Harum and others. Whenever he picks up his guitar Fiona will lay down on the rug next to him and listen.
Anything else we should know? If our newspaper doesn't come Fiona goes next door and brings back our neighbor's.