A full house came ready with enthusiasm and ideas in answer to "Where do we go from here?" the theme of the 23rd annual Piedmont celebration of Martin Luther King Jr. Day on Monday at the Veterans Building. It has been more than a half century since the civil rights leader was assassinated in Memphis in 1968, but the issues of inequity and injustice that King spoke about then are little changed today, speakers said.
Keynote speaker David Lai, a graduate of Stanford in American Studies and an assistant editor with the Martin Luther King Jr. Papers Project, spoke about the "strong paradoxes" of a history of slavery and segregation in a nation based on the ideal that "All men are created equal."

Keynote by David Lai of The King Center at Stanford University
"Now more than ever before, America is challenged to realize its dream," he said. "Every day, people sacrifice their time, defy authority, risk losing their jobs," he said, calling them the "true heroes that power the civil rights movement."
Lai asked the audience to take part in small group discussions on current issues of injustice and disparity, and ideas for addressing them. Participants had a lot to say on a long list of issues that illustrate the work still to be done to achieve a more equitable society. Topics included health care, climate change, homelessness, transgender civil rights, affordable education, housing need in Oakland, gerrymandering and other flaws in the political process, educational equity, child trafficking and exploitation, criminal justice reform, and gun reform.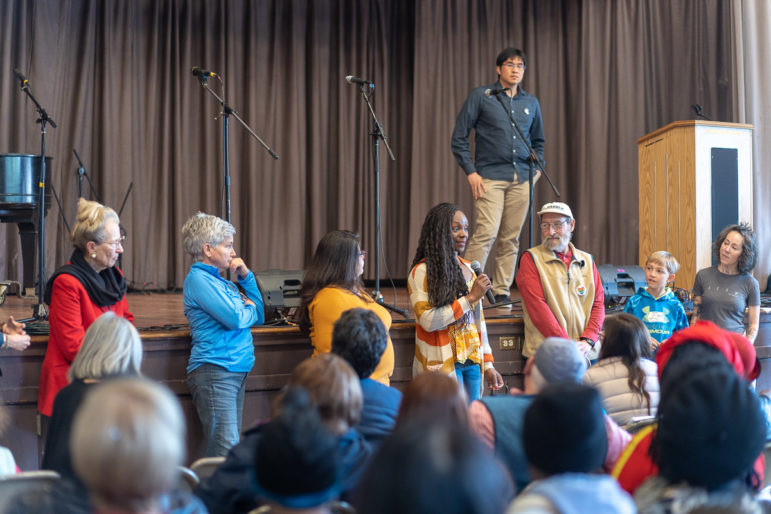 The afternoon included interludes of inspirational music, dance, and recitals, with a selection of instrumental pieces by Oaktown Jazz Workshops and reflective songs by the Piedmont East Bay Children's Choir.

Among its selections, the Destiny Arts Youth Performance Company, led by Artistic Director Sarah Crowell, performed the "Seed Poem," which includes the line "They tried to bury us, but they didn't know we were seeds." The Diversity Club from Piedmont and Millennium high schools presented its version of "Let Us Be Dissatisfied," based on a portion of a 1967 address by King that added portions to reflect current inequalities and injustices. To King's original line of "Let us be dissatisfied until integration is not seen as a problem but as an opportunity to participate in the beauty of diversity" was added "Let us be dissatisfied until borders are made more permeable and less rigid by building bridges, not walls."
Destiny Arts Youth Performance Company

Oaktown Jazz Workshops students and Director Ravi Abcarian (on Trumpet)

The Piedmont East Bay Children's Choir performs the first of four songs
Congresswoman Barbara Lee was given a rousing welcome and large ovations when she noted that she has been busy "trying to prevent a war against Iran" and working on impeachment. Lee said the day was "a reminder to all of us that we do have to stay woke. And I have the wokest congressional district in the country. So thank you all for making me proud."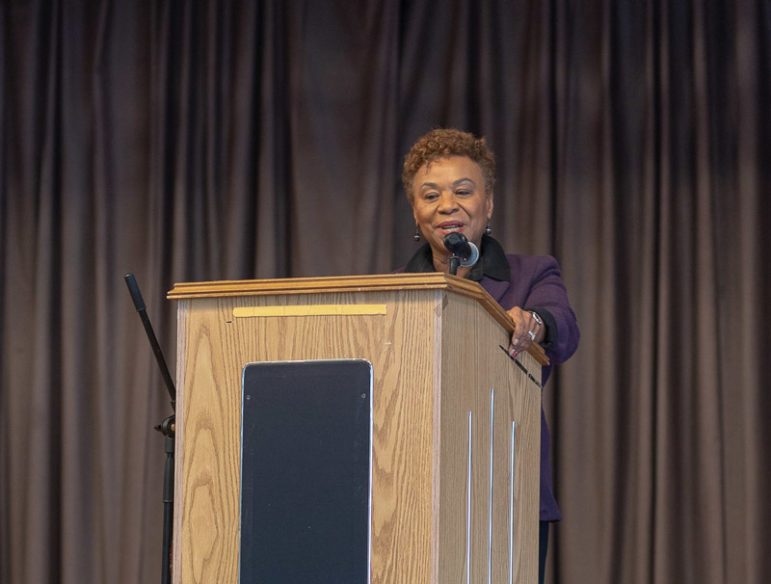 But many daunting challenges remain, she said, noting that nationwide, "20 million children remain locked in poverty." Lee continued, "The economic wealth divide grows each and every single day. Families are being shut out of prosperity. In Oakland, 18.7 percent of the population remains in poverty. That's here in my own congressional district."

She noted that King, who was killed before turning 40, had been arrested 20 times and assaulted four times but remained outspoken. Lee said that in a speech a year before he was assassinated, King raised three evils facing society — poverty, racism, and militarism — that remain relevant.
"If we're to be true to his legacy we must step up," she said. "He would tell us to fight against white supremacy."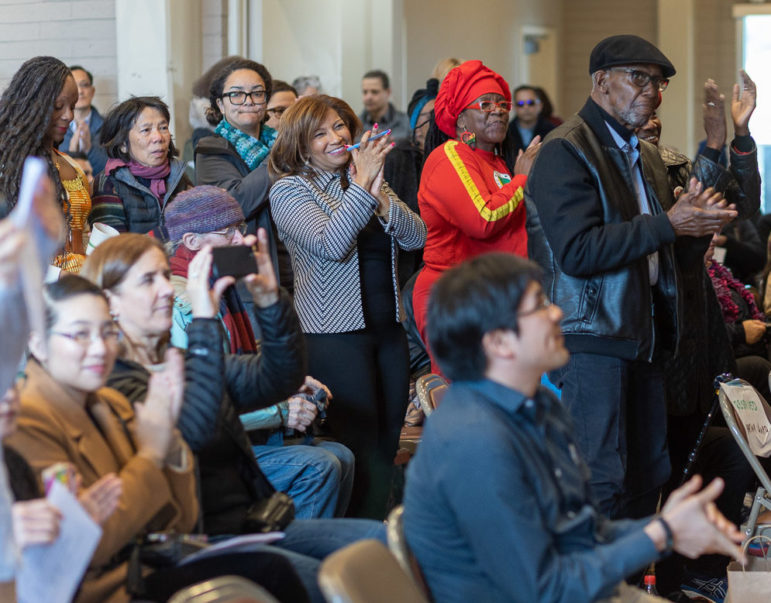 "Dr. King would not be happy" to see current conditions, she said, adding "We cannot be lulled into thinking the dream is being fulfilled. Let us rededicate ourselves to that mission."

The emphasis on activism was noted by attendee Richard Turner, who said he is "troubled by the preponderance of attention on the 'I Have a Dream' speech when there is so much more to Martin Luther King and his progression than that." Turner's daughter Audrey was pleased with the event, saying, "I think it's really good to bring this type of celebration to a predominantly white community."

Veronica Thigpen, one of the organizers of the event as co-president of the Piedmont Appreciating Diversity Committee, was enthused with the energy and ideas expressed by celebrants. "I'm really excited, especially about all the audience engagement — people jumping in with a lot of ideas about what they want to realize King's vision and the community they want to live in," she said. "I'm happy PADC is able to support this and happy the city is a partner to support this event. It's a chance not just for Piedmont, but for Oakland and the surrounding community, to talk about what's going on in the world and share some fellowship."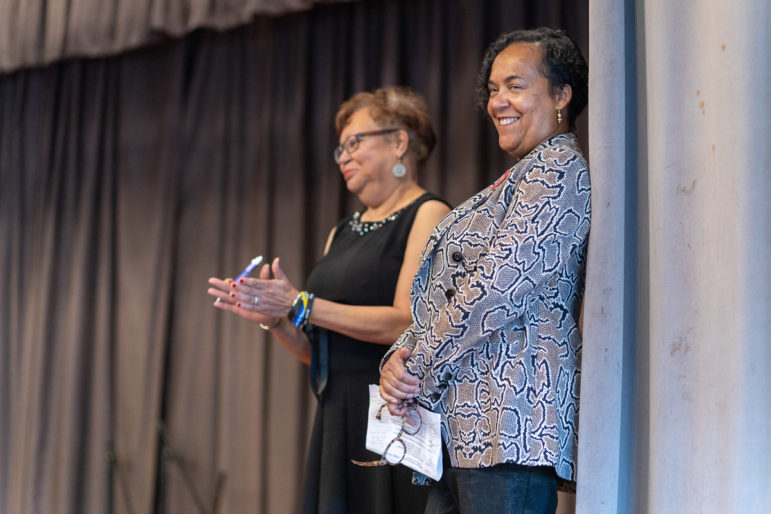 Piedmont Mayor Bob McBain said the gathering "allows us to push back against the chaos, against the confusion, against the frustration." He urged participants "to find a way to get involved. Whatever you do, be engaged."

Event founder Lois Corrin, a 33-year resident and special education teacher for Piedmont schools, met King when she was 7 years old. Her father and King were college classmates and members of the debate team. Corrin, who served as emcee for the afternoon, expressed her joy at the growth of the celebration over the years.

An young audience member and his mom enjoy the live jazz music

Standing room only at the event.

Two friends at the MLK Day Celebration
"People were volunteering to engage with each other, so this is wonderful, she told the audience. You can't imagine how happy I am to see all these people here" 23 years later "and to have all these activists," she said.
The event concluded with a call to action by Sheila Leunig, the PADC-Millennium High School liaison. She encouraged attendees to speak up when they see injustice and to do it with calm and an open heart.
"If you don't speak up you only perpetuate the problem. The time is always right to do what is right."