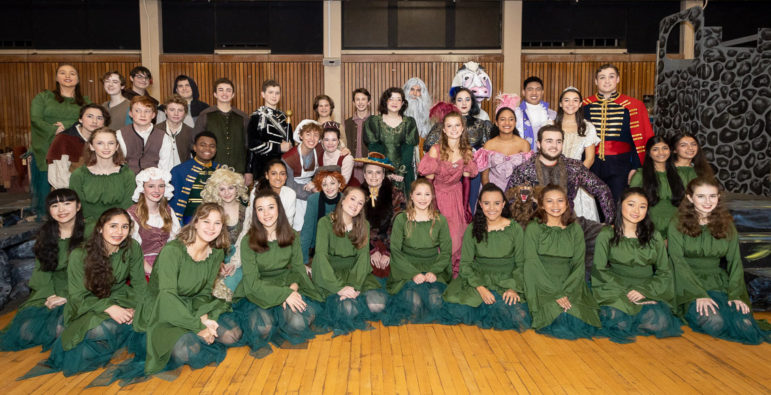 Piedmont High School students will perform the Tony Award-winning show Into the Woods by James Lapine and Stephen Sondheim this weekend.
Due to construction at the high school, this year's performances will be held in Lisser Hall on the Mills College campus, 5000 MacArthur Blvd. from Thursday, Jan. 30 – Sunday, Feb. 2. Buy tickets here
Photos from dress rehearsal earlier this week.
Seth Elkins (Cinderella's Prince), Ava Bogart (Cinderella)

Ava Bogart (Cinderella)

Leo Putnam (Witch) comforts Shar Lynn Halden (Rapunzel)

Corinn Richards (Lucinda), August Thigpen (Florinda), Ella Meil (Stepmother, Lucy Richardson (Baker's Wife), in background: Sebastien Suter-Ternyck (Mysterious Man)

Lucy Richardson (Baker's Wife) and Ava Bogart (Cinderella) fight for the slipper

Lucy Richardson (Baker's Wife), Naomi Fedor (Jack's Mother)

Seth Elkins (Cinderella's Prince), Iain Brown (Rapunzel's Prince)

Emma Moorhead (Jack)

Elissa Laymon (Little Red)

Lucca Carr-Veramo (Wolf), Elissa Laymon (Little Red)

Emma Moorhead (Jack), Sasha Johnson (Milky White) walk through the woods

Zoe Saldanha (Narrator)

Leo Putnam (Witch) Lucy Richardson (Baker's Wife), Jackson Temple (Baker)