Having to play the Bishop O'Dowd girls basketball team is a difficult enough task. The Dragons are the (black and) gold standard in the East Bay, having gone 11 years without a league loss until Piedmont was able to beat them last year.
Now try to do it with a short bench. An injury-riddled Highlanders team had just seven players available on January 15, and the result was a loss at home, 62-41.
Kai Johnson injured her Achilles the day before at practice and is out indefinitely. Maddie Hill and Victoria Houston have minor knee injuries and will be out indefinitely as well. None of the injuries appear to be serious, but the three will miss some chunk of the West Alameda County Conference season.
Maddie Hill

Kai Johnson

Victoria Houston
"There's probably over 40 points that didn't play today," Piedmont coach Bryan Gardere said after the loss to the Dragons. "We still feel like we're in a good place, but we do know that we're going to have to still find ways to get some wins and try to hold down the fort until everyone gets back healthy."
Gardere said it could be a week, two weeks, or even three weeks before the injured players return. Playoffs start the second half of February.
Piedmont had been cruising along with a 12-3 record, and had won its WACC opener over Mt. Eden. The game with Bishop O'Dowd looked like it would be a great measuring stick for a young team that lost several seniors to graduation.
Instead, the Highlanders kept it close for a quarter. Early in the second, they trailed 14-12. The Dragons then went on a 25-7 run to put it away.
Maddy Meadows

Trinity Zamora
Freshman Trinity Zamora scored 13 points to lead Piedmont. Senior Maddy Meadows picked up three fouls in the first quarter, and her fourth with five minutes, 36 seconds to go in the second. Gardere sat Meadows down for a bit, but soon put her back on the floor. Meadows ended up playing most of the rest of the game and never fouled out. Gardere was very impressed with Meadows' play. She finished with 11 points and six rebounds.
Amaya Gonner scored 17 points to lead Bishop O'Dowd. Kennedy Johnson had 10 points and eight rebounds. Kali Myers came off the bench to score 12 points on four 3-pointers. The Dragons (9-4, 2-0) always have good depth, and played 12 players.
Piedmont freshman Bree Sotelo moved up to the varsity for the Cardinal Newman Shootout earlier this month. Gardere said he was considering moving her up again, but was concerned about hurting the junior varsity team with the move. He acknowledged that the varsity needs more healthy players, and that a move is likely.
More important, he said he wants to see his team use the time it is shorthanded to improve, which would make Piedmont that much tougher come playoff time.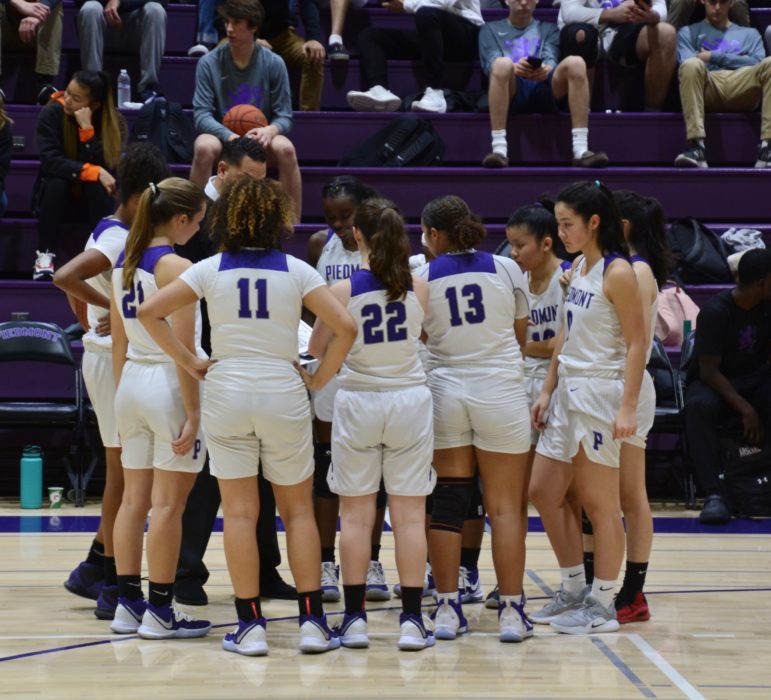 "You know you want to be clicking on all cylinders come late-January, early-February, give yourself a couple of weeks before playoffs start to really try to find your groove," Gardere said. "Obviously, roles are expanding now because we're missing a lot which is actually a good thing. It's going to help us long-term. Just right here in the now, we're going to need a few more bodies."
Upcoming opponents include Castro Valley on January 17 and Windsor on January 18, both home games.
Photos by Devon O'Shaughnessy