The Highlanders faced Alameda on January 27 in a make-up game from a late December cancellation. The Hornets were a feisty crew, and they squeezed out a 5-3 win in a high-scoring, back-and-forth contest.
Alameda got on the board first on a counter-attack following a Piedmont corner kick. The Hornets mounted an attack from the left side, resulting in an elegant pass into space in front of the striker, who chipped the ball over an oncoming Morgan Hunt, the Highlanders' goalkeeper. The Hornets added a second goal in the 19th minute when the right winger struck a deeply angled ball from the right side of the goal, which just cleared under the bar and inside the post.
With halftime approaching, Piedmont re-grouped and went on the attack. Amanda Becker took the ball down the wing and made a dangerous low pass to the middle. Fiona Hunter, in traffic, dummied the ball through to space, and Emily Fitzgerald finished from close range. That brought the Highlanders within a goal at 2-1, and recharged the home team and fans.
Amanda Becker (19) and Ashley Nelson (2)

Fiona Hunter (with ball)

Abby Gallagher (7), with Emily Fitzgerald (far right)
A minute later, deep in the Alameda half, a Hornet defender misplayed the ball. The loose ball dropped in front of Emily Fitzgerald. She centered it to Fiona Hunter, who then struck a cannon shot by the goalkeeper from close range to tie it up at 2-2 before the half-time whistle.
The Highlanders continued to threaten at the start of the second half. In the 60th minute, however, an Alameda attacker was fouled in the penalty area, and the Hornets took the lead back, 3-2, with a well-executed penalty kick.
Pressure started to mount on the Highlanders as the half was unwinding. With just ten minutes to go, the girls responded well with what appeared to be the tying goal by Emily Fitzgerald. A foreboding conference between the linesman and the center referee ensued, however, and the goal was disallowed due to a handball infraction during the build up to the goal.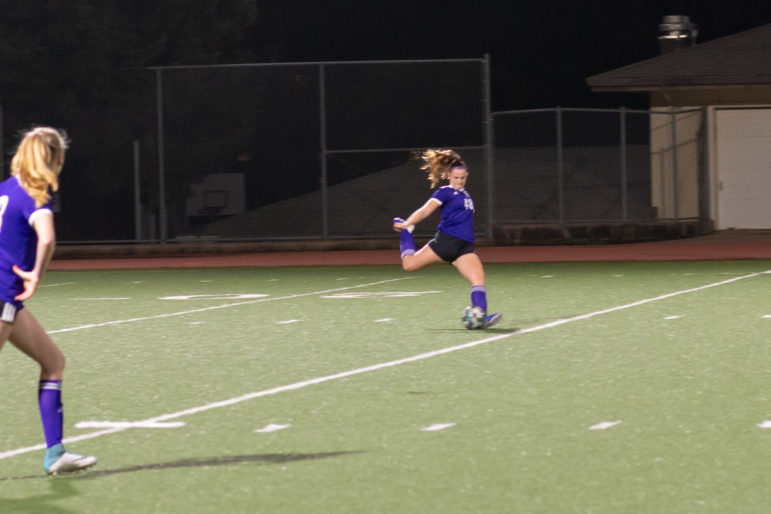 In a quick transition after the no-goal confusion, Alameda took the ball to the other end of the field, and scored with a quality cross and finish. Now down 4-2, the Highlanders returned to some gritty offense. A foul by Alameda on the 20 yard line side allowed Nina Goldberg to demonstrate why she takes a good deal of the long free kicks for the team. She hit an absolute laser shot by the goalie and under the bar to bring the score back to a one-goal deficit, 4-3.
With less than two minutes remaining, Alameda responded. The Hornets brought the ball to the Piedmont half, and with seconds remaining put in a closing goal to snuff any hope of Piedmont salvaging a tie.
Photos by Devon O'Shaughnessy and Julie Reichle