The Highlanders defeated the Saint Joseph-Notre Dame Pilots 3-1 at Witter Field on January 17 to improve their record on the season to 3-3-1. The competitive match pitted a number of teammates from the Association Football Club 2001 team against each other, but the outcome was never in doubt as Piedmont took control early and held the lead throughout.
The Highlanders established possession and pressed forward from the opening whistle, keeping most of the play in their offensive half.
Outside defender senior Sarah Lim scored her first goal of the season in the opening ten minutes of the game to give Piedmont a 1-0 lead. Under pressure from the Piedmont attack, a St. Joe's defender won a loose ball and tried to clear it up to her front line. Lim was quicker to the ball, however, and launched a long-range shot that curled just under the crossbar for the score. The Highlanders seemed to content to hold that lead into halftime on a chilly Friday night.
The second half brought more energetic play, more fans in the bleachers, and more scoring action.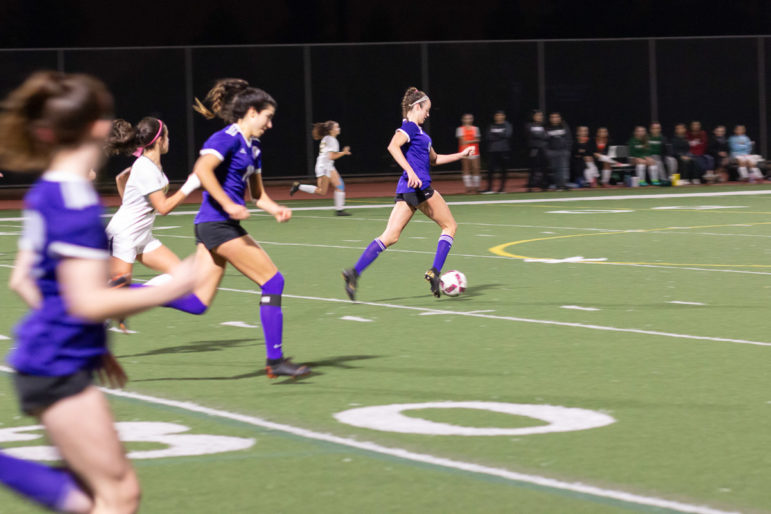 In the sixth minute, Fiona Hunter slashed through several players at high speed into the goal mouth and played the ball toward the corner of the net, but was denied by an impressive save by the Pilots goalkeeper.
Piedmont kept the momentum, however, and had the Pilots defense scrambling for the next several minutes. Hunter played the ball out of pressure to junior Abby Gallagher on the wing, who fed the ball back across the goal to sophomore Amanda Becker. Becker eluded a defender and slotted the ball past the keeper for a 2-0 lead.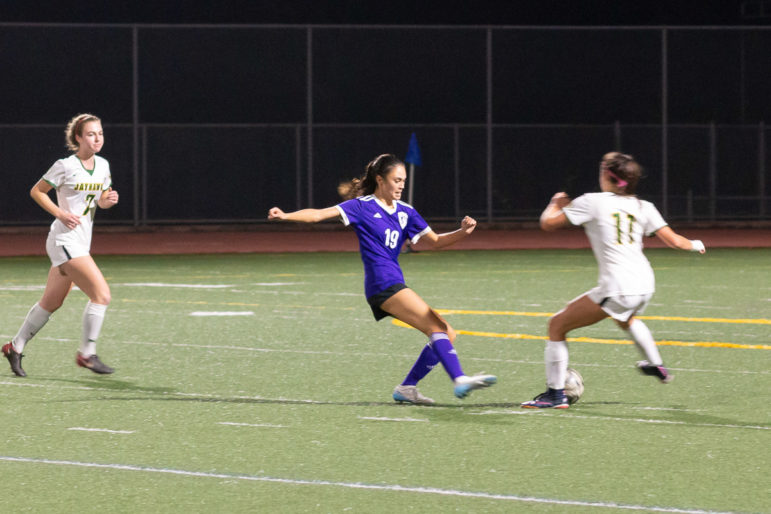 Becker would tally another goal about 15 minutes later, with a tap in after Hunter poked the ball away from the on-rushing keeper following a nice passing series by the Highlanders.
Piedmont settled into its 3-0 lead, but St. Joe's kept fighting and created a few chances within the final ten minutes of the game. The Pilots managed to get on the board with about five minutes left on a strong free kick from 30 yards out, for a final score of 3-1 in the Highlanders' favor.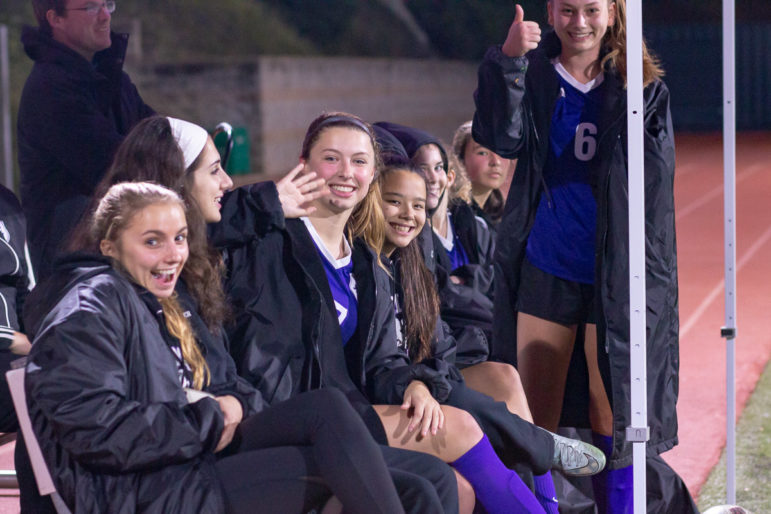 Piedmont plays next against Berkeley on January 22 at 6 pm, then hosts Castro Valley on January 24 at Witter Field at 5:30 pm.
Photos by Julie Reichle