Highlanders' coach Bryan Gardere called it the "best game of the year!" It's hard to argue. The Highlanders fell behind St. Francis-Sacramento by as many as 13 points and still trailed by five late. Yet somehow, some way, Piedmont rallied back to pull out a 66-64 win on January 25 at Campolindo High School as part of the Lamorinda Classic.
The win came the day after the Highlanders beat Berkeley on the road, 51-29. That game marked the return of Nakilah Johnson to the lineup after she suffered a minor ligament injury on January 14.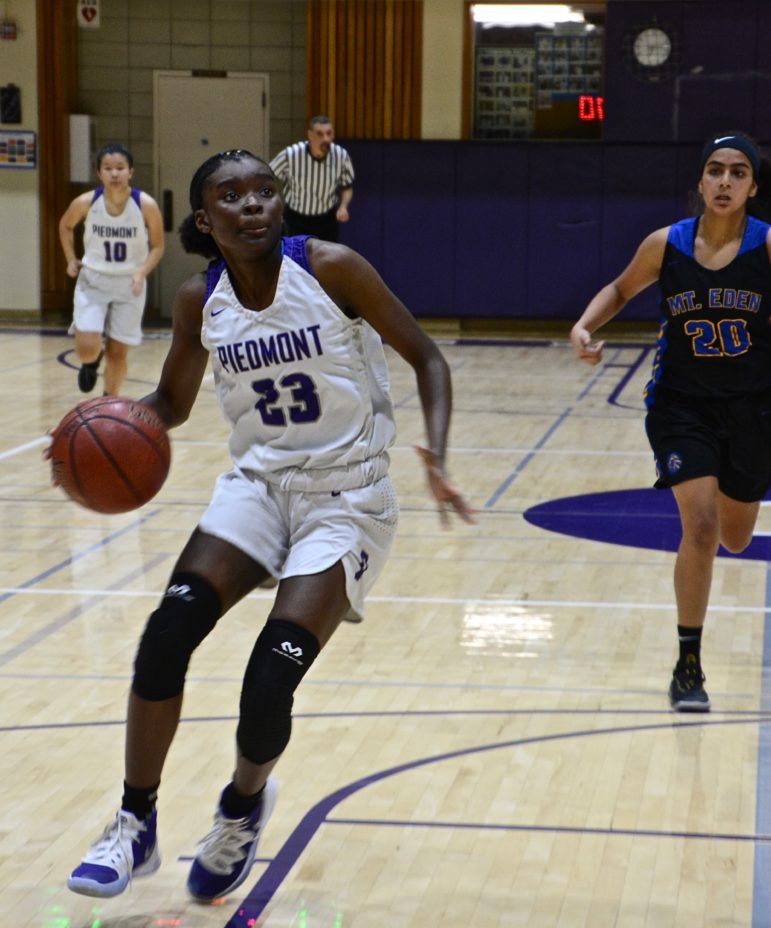 In the St. Francis game, the Troubadors jumped out front early, leading 24-16 after one quarter. St. Francis hit six 3-pointers in the opening period, and extended the lead to 39-26 in the second quarter before Piedmont went on a 10-0 run to get back in the game.
Late in the game, the Highlanders trailed 61-56. Johnson scored on an inbounds play, and Trinity Zamora made a layup to cut the deficit to one. Hannah Dorsey made one of two free throws to extend the lead for St. Francis. Charlotte Braun responded for Piedmont, making two free throws to tie the score at 62-62.
Trinity Zamora

Charlotte Braun
The Troubadours again went up with a basket, but Maddie Hill buried a 3-pointer to give the Highlanders the lead for good. Piedmont got two defensive stops and made a free throw for the final margin of victory.
Johnson finished with 18 points to go along with 12 rebounds and four assists. Zamora had 17 points, 16 rebounds, five assists, and five blocks. Hill scored 14, and Maddy Meadows had 13. Braun scored four points and added four rebounds and three steals.
Maddie Hill

Maddy Meadows
Against Berkeley, Piedmont jumped out from the get go, building a 15-5 lead after one quarter. It was 25-15 at halftime before the Highlanders ran away with it in the second half. Johnson had 16 points and 11 rebounds to lead the way.
"I was scared for a minute," Johnson said about the original injury after the win over Berkeley. "Really scared. It actually felt good today. I was comfortable out there, rebounding, doing what I can for the team. I was excited. Really excited."
Maddie Hill, who also missed time with a minor knee injury, scored 14 points and pulled down six rebounds. Zamora scored 12 points and had 10 rebounds and four blocked shots. As a team, Piedmont outrebounded Berkeley, 53-31.
"Obviously, that was a great boost to our team," Gardere said of getting Johnson back. "Energy, getting our leading scorer back and our second-leading rebounder. She's back, so we're good."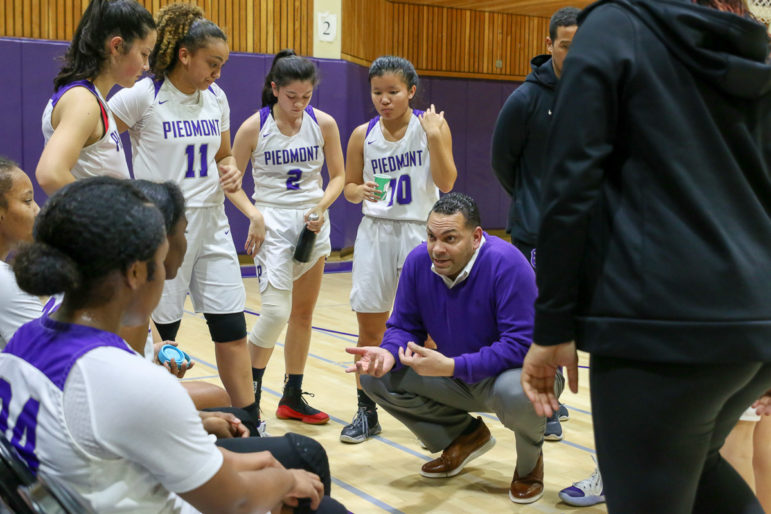 Victoria Houston is still out with a minor knee injury, and Naimah Thompson has yet to play this season after getting hurt in the spring. If the Highlanders can get healthy for the North Coast Section playoffs, they should be one of the top teams.
Next up for Piedmont are away games against San Leandro on January 29 and Mt. Eden on January 31.
Photos by Devon O'Shaughnessy