The Highlanders opened West Alameda County Conference play with a win over Mt. Eden at home on January 10, 57-39.
Now, the Highlanders get ready to host longtime power Bishop O'Dowd on January 15. Last year, Piedmont broke an 11-year league winning streak by the Dragons, one of the longest in state history.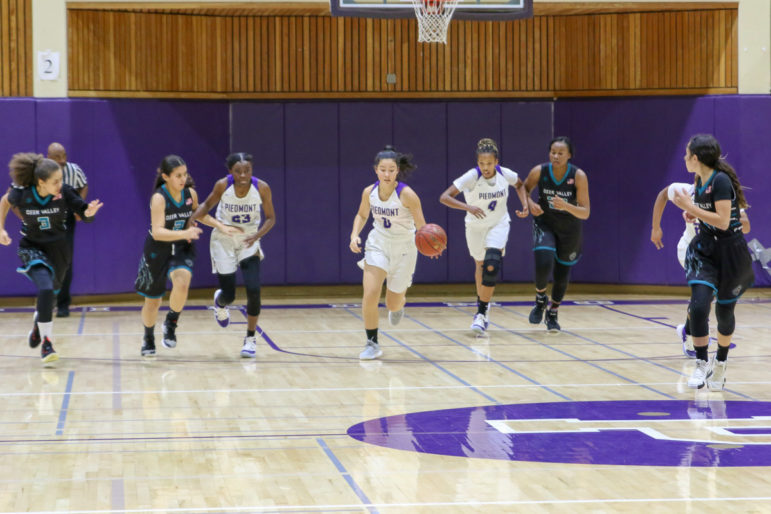 Nakilah Johnson scored 18 points to lead the Highlanders over the Monarchs. Johnson was the most consistent player for Piedmont, as the Highlanders played well early but got a little sloppy as the game went on, committing 26 turnovers. Johnson also had 11 rebounds and four steals.
"She is a rock," Piedmont coach Bryan Gardere said of Johnson. "She does so much out there."
The Highlanders led from the start, building a 15-8 advantage after the first quarter. It was 26-17 at halftime.
Piedmont finally shook loose in the third quarter. The Highlanders outscored Mt. Eden, 15-4, to increase the lead to 20 points. Johnson had seven points during the run.
Maddie Hill (24)

Charlotte Braun (10) and Maddy Meadows (11, with ball)
Maddie Hill scored eight of her 10 points in the fourth quarter as Piedmont did enough to finish the game off. Hill also had three assists, three steals, and two rebounds. Maddy Meadows had 10 points, six rebounds, and three assists. Trinity Zamora finished with eight points, 12 rebounds, three assists, and three steals. Victoria Houston contributed three points and seven rebounds.
Kajahlai Christian scored 15 points to lead the Monarchs. Aryana Khalik added 12 points for Mt. Eden.
The Highlanders played Lick-Wilmerding-San Francisco on January 11 and lost 71-56. The visiting Tigers broke open a close game in the third quarter, outscoring Piedmont 28-14 to make the score 57-40 entering the fourth quarter.
The matchup with Bishop O'Dowd is scheduled for 5:30 p.m. Last year's 57-53 win in overtime at Piedmont was the biggest win for the program since it won back-to-back California Interscholastic Federation championships in 2004-05. This year, the Dragons have played their usual tough schedule and enter the game 8-4. Piedmont is now 12-3.
Photos by Julie Reichle