Trinity Zamora scored 28 points and pulled down 21 rebounds to lead the Highlanders to a 56-41 win over visiting Castro Valley on January 17.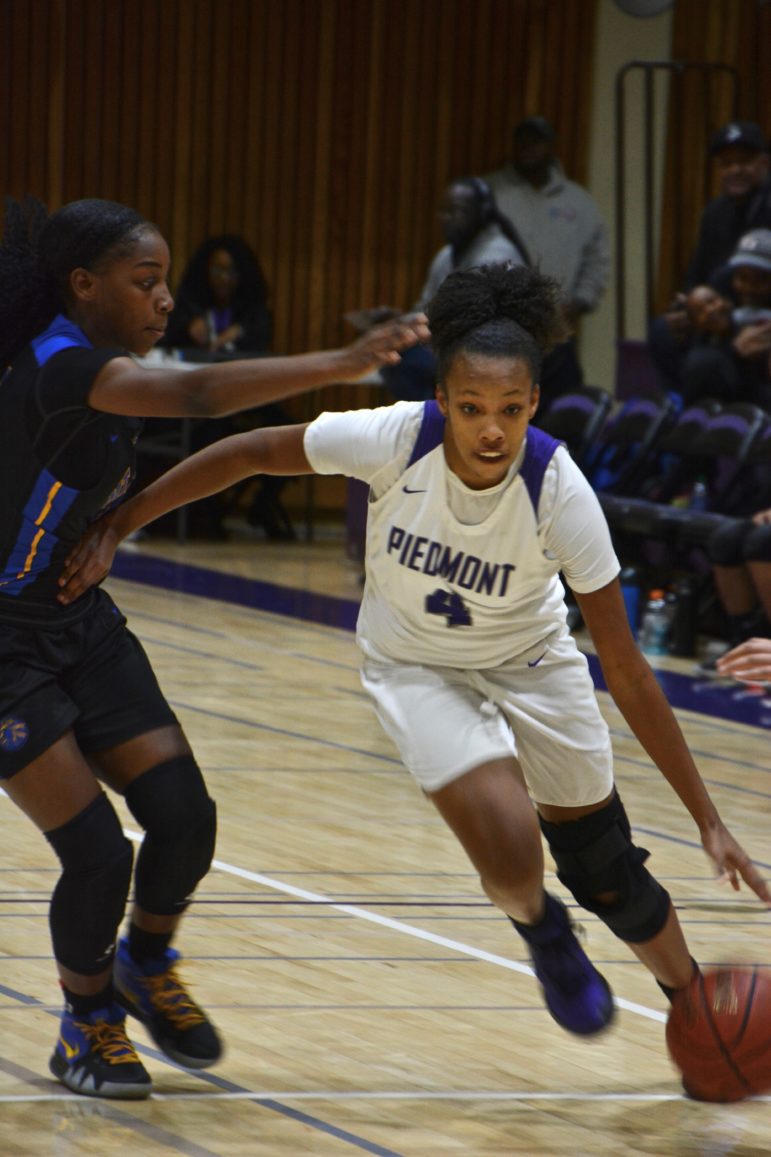 The win ended a two-game losing streak for the Highlanders, who are now 13-4 overall, and 2-1 in the West Alameda County Conference.
Zamora, a freshman, was dominant from the start, scoring seven points in the first quarter and 15 in the first half. Piedmont needed her to take on more of the scoring load as it has lost several players to injury (including leading scorer Nakilah Johnson). Maddy Meadows had 14 at halftime, and she and Zamora combined for all of the Highlanders points at the break.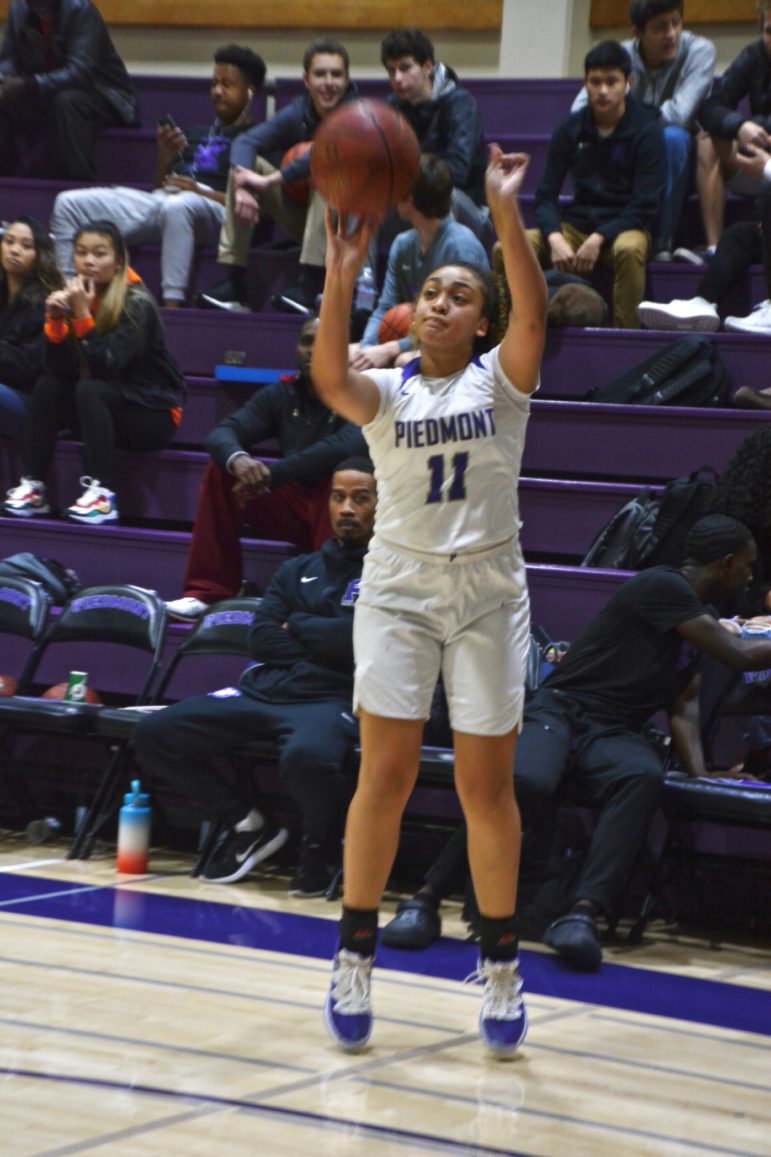 "Trinity and Maddy Meadows both stepped up," Piedmont coach Bryan Gardere said. "I mean we needed every single point they got.
"Trinity's a really good freshman. How many freshmen are doing that? I've already gotten calls from high-level schools. I mean Louisville, Maryland, all of the Pac-12."
The first quarter was a battle, with the Trojans (8-11, 0-3) emerging with a 19-18 lead. By halftime, the Highlanders were up, 29-26.
Josie Gross-Whitaker (21)

Hannah Govert
Kellsey Yuto hit a 3-pointer for Castro Valley to open the third quarter and tie the score. From that point, Piedmont went on a 25-8 run to break the game open. Hannah Govert hit a 3-pointer and Josie Gross-Whitaker had a basket to get the Highlanders some scoring outside of the Zamora and Meadows columns. But the two stars continued to overpower the Trojans. Meadows finished with 21 points, 10 rebounds, and five assists. Govert ended up with five points and seven rebounds.
Despite being shorthanded, Piedmont outrebounded Castro Valley.
"Honestly, tonight was a great team win," Gardere said. "Minus the first quarter, where we got hit in the mouth and just kept playing, kept it even, after that, I thought the girls did a really good job. It was a great team effort. Everybody contributed in some shape or form."
"For example, Charlotte (Braun), I don't know if she scored a bucket (she didn't), but her defense was outstanding. Charlotte did an amazing job."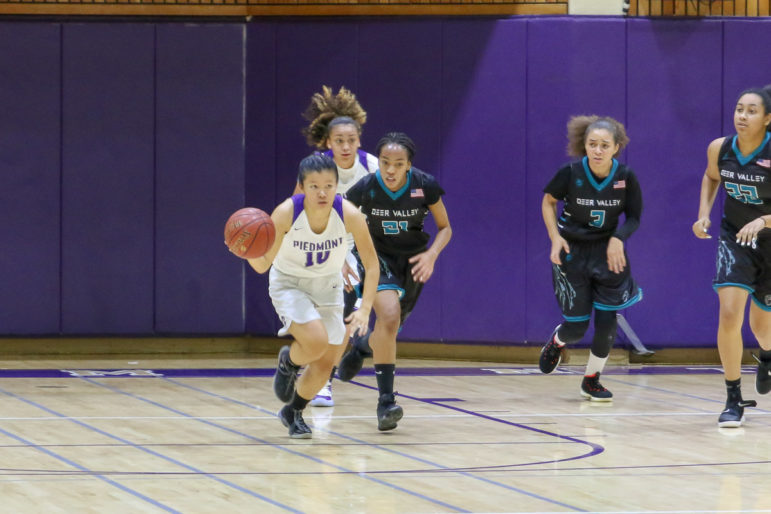 Gardere also cited Gross-Whitaker for her rebounding and Govert's rebounding and chasing after loose balls.
Things had been going well for the Highlanders, but a series of injuries and a blowout loss to Bishop O'Dowd on January 15 left them looking to bounce back. Johnson is out indefinitely with what is hoped to be a minor Achilles injury. Victoria Houston and Maddie Hill are out with minor knee injuries (although Hill did suit up against Castro Valley, she did not play).
Maddie Hill

Kai Johnson

Victoria Houston
Plus, there's the natural letdown that comes after playing O'Dowd. A year ago, the Highlanders ended an 11-year league winning streak for the Dragons. The next time out, they lost to Castro Valley.
"We try to make every game feel like a big game," Gardere said. "Even though we know O'Dowd's the big one and Alameda. But every one's a big one because you only get 26."
"Last year, we beat O'Dowd and then we come back and don't handle business. It seems like it's an emotional letdown because the O'Dowd game is such a big game for everybody. There's something about the next game where you're just not ready. But the girls, after that first quarter, I thought it was a great, great team effort."
Valerie Santos led Castro Valley with 14 points. Lauren Green scored 11 points and pulled down 11 rebounds.
Piedmont's next game is at Berkeley on January 24. Tipoff is scheduled for 5:30 pm.
Photos by Devon O'Shaughnessy