Luke Barrett scored 18 points and Luke Harris added 16 to lead the Highlanders to a 67-51 home win over Castro Valley on January 17.
Luke Barrett

Luke Harris, with Paul Davies (14) to the left and David Kisieu (3) to the right
The Highlanders then came back the next night to beat Pierce-Arbuckle 83-54 as part of the Piedmont MLK Showcase.
The wins came after a tough loss in double-overtime to Bishop O'Dowd on January 15.
"We were saying before it's kind of like a trap came, coming off such an intense game against O'Dowd," Barrett said. "So we came out pretty bad in the first half (against Castro Valley). But second half, we just focused on defending. And off of that we had to rebound and run because that's how we win. If you're not doing one of those things, you can't do any of them. We were defending better the second half and we ended up getting the win. We've got to win pretty much every game if we still want to win league."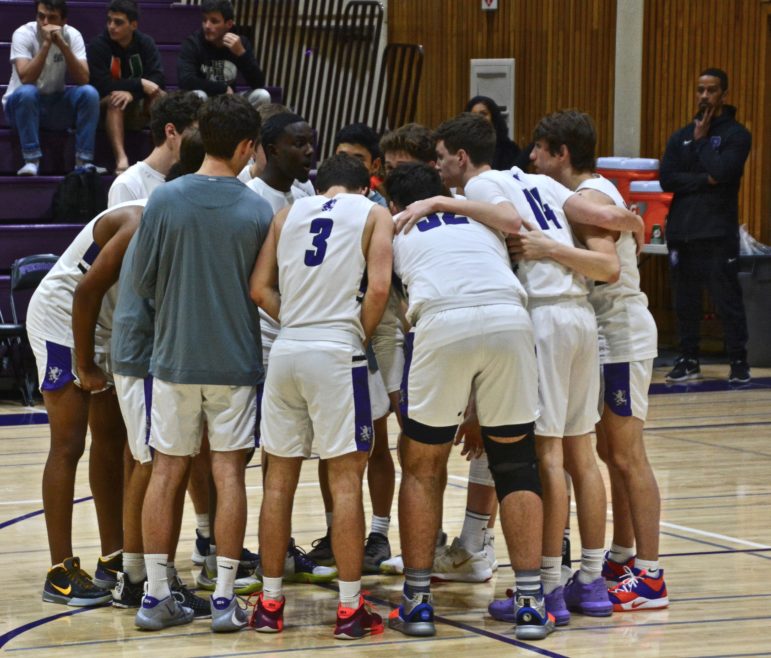 Barrett continued to look good in his return from injuries suffered in December. He played without a wrapped thumb against the Trojans after needing stitches from a cut.
"It's pretty much all healed up, so I'm excited," Barrett said.
Piedmont led by just three points, 22-19, at the end of the first half, but outscored Castro Valley 22-9 in the third quarter. Coach Ben Spencer said he got on the team a little bit after the game for the slow start, but was generally happy with the result.
"I just assumed we were going to come out not having the energy we had against O'Dowd," Spencer said. "We weren't moving the ball very much in the first half, we weren't cutting very hard to get open shots. It just wasn't good. Defensively, we were giving up a couple of easy shots. When we did get shots, we didn't rebound."
"We definitely didn't defend first tonight in the first half, but we got our lead in that third quarter when we finally defended, then we finally got rebounds, then we finally ran. Those three things are the things I tell the boys we can hang our hats on every night."
Against Pierce, the Highlanders got out to a 22-12 lead in the first quarter. Barrett scored seven and Harris five in the first quarter. It was 45-28 at halftime, and Piedmont cruised home.
Patrick Selna

JoJo Murphy
Barrett finished with 15 points, 10 rebounds, eight assists, and two steals. Harris had 18 points, five rebounds, and three assists. Jojo Murphy scored 18 points, and had seven assists and four steals. Patrick Selna came off the bench to grab six rebounds and block two shots.
Alex High led the Bears with 16 points. Justin Mathews had 13.
Piedmont is now 15-2 overall, and 2-1 in West Alameda County Conference play. The Highlanders travel to San Lorenzo on January 22 to face the Grizzlies at 7 p.m.
Photos by Devon O'Shaughnessy