All five starters scored in double-digits as the Highlanders overcame Berkeley on the road on January 24, 75-60.
Luke Barrett led the way with 21 points and 13 rebounds. Barrett also had three blocked shots and three assists.
Barrett struggled a bit with his outside shooting, however, missing all five of his 3-point attempts. The senior forward missed four of those shots in the first quarter and concentrated on his inside game thereafter. He was 7-of-12 from 2-point range and made 7-of-9 free throws.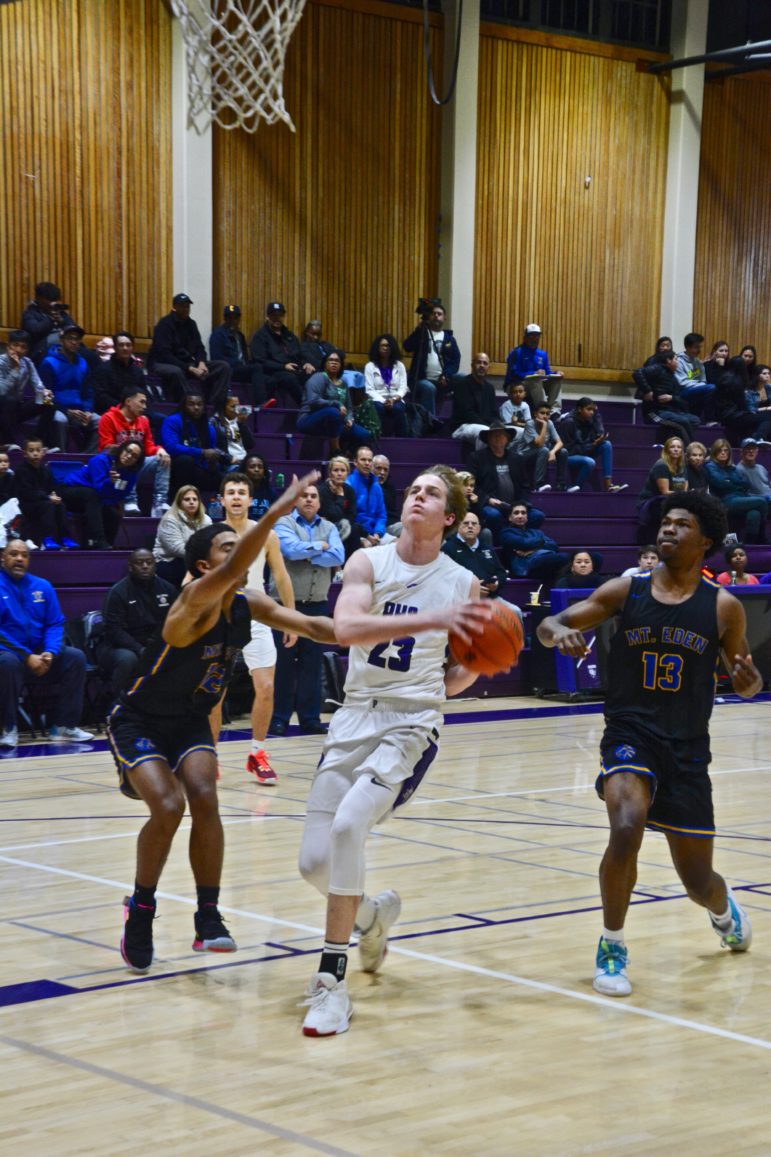 "He's such a great scorer that you have to know where he is all the time," Piedmont coach Ben Spencer said. "You put someone who's not your best defender on him, he's going to go off and score 10 like that. Even if he's not scoring or shooting well, he's still attracting the best defender from the other team and with the offensive firepower we have, it's tough to guard three other guys. Because when he's not scoring, you've got to guard Luke Harris. So they put their second-best defender on him. OK, then where is the third-best defender coming from?"
"I mean on an off-night shooting, when Barrett's 0-for-5 (from 3-point range), we're still able to score 75 points."
Paul Davies

JoJo Murphy
Paul Davies had 15 points and 11 rebounds for the Highlanders. Jojo Murphy scored 11 points with five rebounds, while Harris and David Kisieu each scored 10.
Barrett scored 12 of his points in the second quarter as Piedmont extended a 23-18 lead to 42-31 at the break. Berkeley worked its way back and cut the lead to 58-52 early in the fourth quarter. The Highlanders then scored nine consecutive points, part of a 15-2 run to put the game away. Murphy started the run with an old-fashioned 3-point play.
Jamir Thomas led the Yellowjackets with 21 points. Eleven of them came in the third quarter. However, Piedmont's defense was tough, as Thomas made just 3-of-11 of his 3-pointers.
David Kisieu

Luke Harris, with Paul Davies (14) to the left and David Kisieu (3) to the right
"I told the guys before the game, (Thomas) is a hell of a player, he's going to get his," Spencer said. "We wanted to try to make every shot he took contested, make everything difficult, but we really wanted to force other guys on the team to beat us."
Tai Raino-Tsui added 13 points for Berkeley.
Piedmont is now 17-2 on the year, and 3-1 in West Alameda County Conference play. The Highlanders next host San Leandro on January 29. The Pirates come in 14-6 overall, and 3-1 in the WACC. The winner of the game will be alone in second place in the WACC, behind Bishop O'Dowd, at the midway point of the season. Tipoff is scheduled for 7 p.m.
Photos by Devon O'Shaughnessy