In all the rush and scheduling of the holiday season, I was fortunate to grab a quiet hour to sit down with artist Austin Willis, a painter and sculptor whose exciting work has already begun to find critical and commercial success. Willis (PHS Class of 2015) has recently completed the BFA program at the University of Victoria, Canada and was visiting family in Piedmont prior to beginning a new job in Victoria.

Surrounded by large scale paintings he has completed on the walls of his former studio in his family's Piedmont home, Willis described the evolution of his artistic practice. Perhaps not surprisingly for an artist of his generation, Willis cites movies and video games as early influences on his art.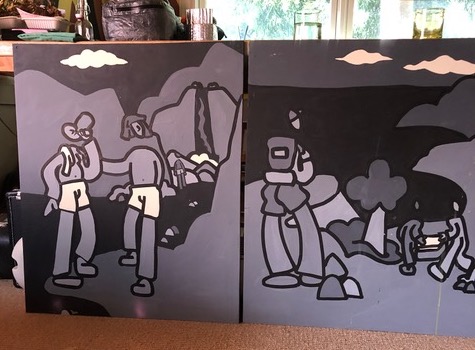 In developing his own graphically figurative style during the rigorous AP Art program at PHS, Willis was inspired by the graffiti and street art found in the Bay Area. But it was the work of Keith Haring with its flowing lines, economically composed patterns and fun colors that provided Willis with the takeoff point for his own work.

Initially using a variety of definitive hard edged shapes and recognizable objects as a way to move the viewer through space, Willis began to incorporate more free flowing color and line, and began to be interested in using corners as a way to bring a painting into a 3-dimensional space. The paintings I saw in Piedmont strongly bring jazz music to mind; there is a sense of playfulness and movement winding around loosely anchored structures. Willis played jazz trombone throughout high school, and will continue his association with the music world in a post graduation job as a graphic designer with the Victoria Jazz Society.

A recent work by Willis
Willis' current work was recognized with the 2019 International Sculpture Center's Outstanding Student Achievement in Contemporary Sculpture Award with an exhibition in Portland, Oregon.
Increasingly, Willis has begun to work with sculpture as it relates to painting. Using common place industrial materials like tarps, vapor barriers, and other cheap, ubiquitous materials that are typically thrown away, Willis brings his paintings into a three dimensional form that the viewer can interact with. Willis favors oil pastels and spray paint for their quality of directly translating the artist's hand; and regularly scans hardware stores and even the city dump for mis-tinted house paint. He enjoys working with materials that are dirty and gritty, finding them fun and interesting as well as perfect vehicles for getting viewers to consider the idea of the difference between the real and the illusion of reality in this era of concern about waste and other problems caused by big industry.


As he transitions out of the school environment, Willis seems calm and centered, confident that he has the tools to operate at a high level without the external motivation of the school structure. He has rented a studio in Victoria and no doubt will continue to develop his specific visual language through his commitment to recycle, reuse and prevent waste. Willis hasn't ruled out the possibility of pursuing an MFA someday, but in the meantime is in talks with local Victoria galleries and is looking forward to his new role with the Victoria Jazz Society and being part of the 2020 Victoria International Jazz Festival.

Learn more about Austin Clay Willis at www.austinclaywillis.com.