Unlikely heroes with over-sized ears and fondness for crumbs and cheese rise out of dungeons, libraries, and even a bowl of broth in PigPen Theatre Co.'s The Tale of Despereaux. The soul-stirring production playing at Berkeley Rep through Jan. 5 is based on Kate DiCamillo's charming novel about a heroic mouse, love, and true courage. Directed by Marc Bruni, the one-hour, 35-minute musical is geared to please theatergoers of all ages.
If the world is to be rescued from the evils of despair, dictators, or lack of soup, it will be saved by the curiosity and imagination of under-appreciated outliers. This, and similar heart-warming themes, weave seamlessly with ingenious production elements in the story told by Pigpen Theatre Co.'s seven-member ensemble. Working as a band and independent theater group since meeting as freshman at Carnegie Mellon University in 2007, their work integrates puppetry, film, sound effects, shadow play and most evocatively, original folk music.
The ensemble, strolling onstage dressed in costume designer Anita Yavich's chocolate-brown medieval period costumes, is led by a chief storytelling bard (an enthusiastic Ryan Melia in multiple roles). A merry-go-round of talent has them singing and playing the guitar, accordion, fiddle, banjo, drums, and various percussion instruments.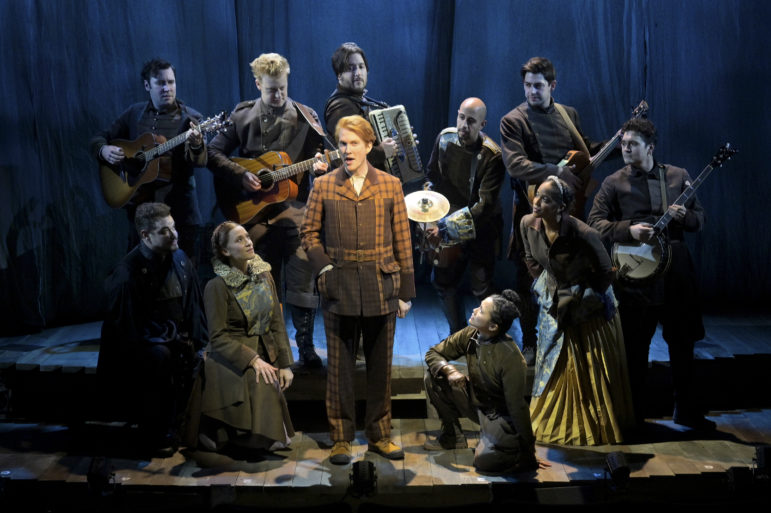 For people not familiar with the tale, the action takes place entirely in a medieval castle in the land of Dor. King Phillip (Arya Shahi) has forbidden the serving of soup and eliminated dinner parties after the flighty heart of Queen Rosemary (Betsy Morgan) was fatally arrested by a rat that tumbled from a chandelier into her bowl of broth. Left to mourn are the widower King; motherless Princess Pea (Yasmeen Sulieman); Louise, a morose cook (Curtis Gillen); the scullery maid Miggery Sow (Morgan is a standout in this role, one of three she portrays); and a dungeon full of crumb-hungry mice and rats, along with a grumpy, soup-deprived mouse council.
Among the mice is Despereaux (Dorcas Leung), a mouse whose curiosity leads to the library and the improbable hero's quest to solve crumb-scarcity and provide "happily ever after" for his family and everyone in the palace. Chiaroscuro, a rat who goes by Roscuro (John Rapson), is an outlier within his community; preferring the light to darkness. Resentful after his accidental plunge into the queen's soup results in the King's royal decree to exterminate all rats, Roscuro seeks revenge by kidnapping Princess Pea. He dupes the naïve scullery maid Mig into aiding in the evil plot, setting the stage for Despereaux to play the hero in a climactic needle versus ladle battle.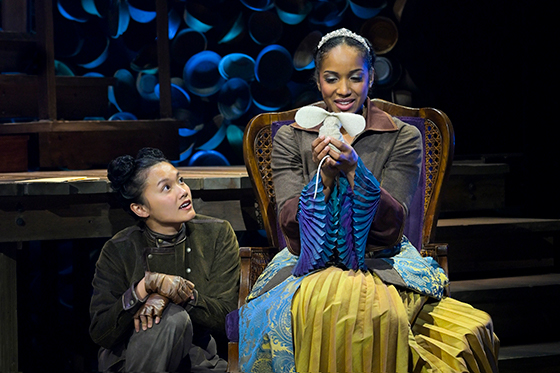 Jason Sherwood's ingenious set design includes a breathtaking ceiling-to-floor backdrop composed entirely of empty soup bowls and cleverly multipurposed props including books made into rodent-scale spiral staircases and binoculars; red thread doing triple duty as noose/rope and baldric (sword holder), a sewing needle as sword, soup ladle for helmet and more. Imaginative puppetry brilliantly exploits dichotomies of scale between each puppet and its live counterpart actor. The interplay of animate/large and inanimate/tiny provides humor and softens the violence of fight scenes for the youngest audience members. For example, when Roscuro's tail is "cut off," the actor wears no tail and it is the puppet's tail that is sacrificed. In one of the play's best-choreographed scenes, cook's effort to club Despereaux with a kitchen utensil is aimed at the mouse puppet, not the live actor manipulating the puppet.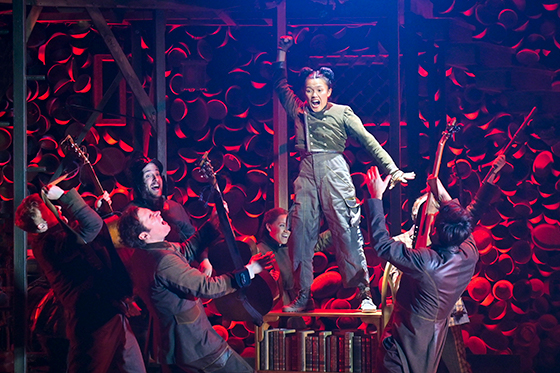 Lighting designer Donal Holder achieves stunning effects, casting dramatic blue, gold, or green/gray hues across the warm pumpkin tone of the set's cascading soup bowl wall or creating bold black-and-white silhouette images and titles to introduce chapters or complete the tale that propels the action.
In sum, Berkeley Rep has a delightful, richly rewarding production that reminds all of us to honor family, recognize enormous courage in tiny, overlooked characters or actions, and in well-told stories, rediscover forgiveness and hope for the good of all.