School Board members and district administrators covered a lot of ground at the Wednesday, Dec. 11 school board meeting, including a review of the District's wide-ranging health initiatives, new positions funded by the California DOJ's Tobacco Grant, an H1 construction update, and salary increases for Associated Piedmont Teachers (APT) and three top-level administrators.

A multi-pronged approach to tackling student health issues
New state laws, education code requirements, and curriculum mandates are guiding the district's approach to addressing student health and wellness, said Assistant Superintendent Cheryl Wozniak at the Dec. 11 meeting. PUSD will be relying on local data collected through a county survey, Challenge Success survey results, and district priorities outlined in the Local Control Accountability Plan (LCAP), the School District's strategic plan to inform its approach.

Sex education and condoms
Passed in 2016, AB 329 (California Healthy Youth Act) requires public school districts with middle and high schools to provide comprehensive sexual health education that includes covering HIV prevention and healthy, positive, and safe relationships, during one point in middle school and at one point in high school.

PUSD currently offers sex education in 7th and 10th grade, a social psychology class (taught by Anne Aldridge-Peacock), and has sent teachers for training and purchased curriculum related to sexual health education.

District nurse Carol Menz told the board that condom distribution at the high school level was needed."Students, usually seniors, have come to speak to me about their concerns of feeling unsupported and inadequately prepared to really deal with issues around their sexual and reproductive health due to the limited opportunities they have to discuss these issues formally at PHS," said Menz.

Menz referenced the CHKS survey where out of 689 students surveyed, 89 percent either strongly or somewhat agreed that condoms should be made available for students at school. "I want to make the broader community aware that PHS students have been lobbying for a long time," said Menz. "I believe it is time that we show through our actions that we are listening to them."

Review of Piedmont High School's school climate

PHS principal Adam Littlefield reviewed several key indicators of school climate from the California Healthy Kids Survey (CHKS), which was administered in April 2018 at the 5th, 7th, and high school levels. The next CHKS will be administered in Spring 2020.

Areas of concern highlighted by Piedmont administrators and discussed last year include survey results around current substance use on school property (past 30 days); lifetime drunk or "high" on school property; any current and daily use of cigs, smokeless tobacco, e-cigarettes, vapes; perception of the health risks associated with electronic cigarettes. "We've had very few students with vaping issues this year," said Littlefield. "We have vape detectors that will be installed [in bathrooms] at some point in time, which will help."

"Certainly, alcohol and marijuana use remains a concern," said School Board trustee Sarah Pearson.

On Monday, Dec. 9, the School Board convened a special workshop on student stress which was attended by roughly 70 people, including a few students. The Board will report on the notes taken from the workshop on Jan. 22.

DOJ tobacco grant implementation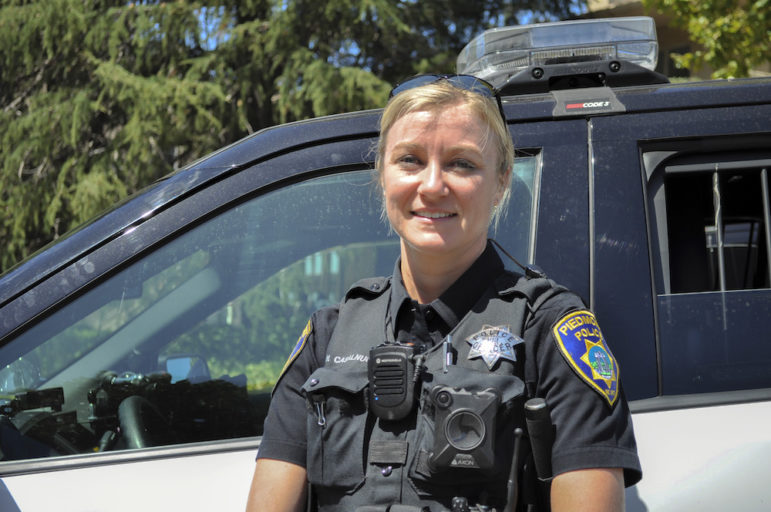 According to the Health Initiatives memo, PPD's Ofc. Nicole Casalnuovo has met with district and site administrators to work on the tobacco diversion program. In November 2019, a ten-person team participated in a webinar on ​3rd Millennium Classrooms​, an online diversion program for tobacco, vaping, marijuana, and other controlled substances. The program supports schools focusing on early intervention and prevention. The District will evaluate two more diversion programs in the second school semester and select one for a pilot program in spring or fall 2020.
Since beginning her work as the new juvenile officer, Littlefield reported, Casalnuovo has given presentations at PHS, had coffee with parents, met with students for a brown bag lunch, and done a walk-around the campus with Supt. Randy Booker. Littlefield praised her for taking the initiative to jump into online training for early intervention and prevention and working with PHS assistant principal Erin Igoe on restorative justice. "It's been a nice transition with her being on campus," said Littlefield. "She has a passion for young people. She's been a great resource."
Come second semester, there will be three new school employees funded partly with money from the DOJ grant: a restorative justice consultant, a health educator teacher, and a mental health therapist. The restorative justice consultant, Ina Bendich, has already been identified, and interviews for the health educator teacher and mental health therapist jobs will be taking place the week of Dec. 15. Final decisions will be made on Dec. 20. Both positions are planned to be filled for the beginning of the second
"The goal is to use the funding from the two year grant to build something long-term," said School Board President Amal Smith.
Suicide prevention training
On Oct. 9, 2019, ​AB 1767 Pupil Suicide Prevention​ was introduced. ​This bill would require the governing board or body of a local educational agency that serves all students in kindergarten and first through six grade to adopt and update an age-appropriate policy on pupil suicide prevention that addresses the needs of high-risk groups before the beginning of the 2020–21 school year. According to Wozniak, AB 1767 would require the School District to review and potentially re-write curriculum if passed.

In 2016, California became the first state in the nation to require school districts to adopt a Board policy that ensures protocols are established for suicide prevention, suicide intervention, and follow-ups for at-risk student populations at middle and high school levels.

Updated Board policies on child abuse and neglect reporting, sexual harrassment, and healthy relationships/sexual assault prevention

According to the Health Initiatives Update memo, the School Board reviewed and updated two policies in June 2018 on child abuse and neglect reporting procedures and sexual harassment. Online sexual harassment training has been offered for staff for the past two years. The 2020-21 school year brings new requirements for the School District to provide in-person sexual harassment training for staff. The memo states that the School District is responsible for providing information about identifying and reporting sexual harassment, providing protection for reporters of sexual harassment, and providing conuseling and support for students who confront sexual harassment.
"This is all in the spirit of helping our children feel safe and comfortable, as well as our staff," said Wozniak.

New CA Health Education framework

On May 8, 2019, the California Department of Education adopted a new framework to respond to mental health and substance abuse. The framework calls out best practices, such as beginning to educate students as early as 4th grade about the use of e-cigs and vapes. This new framework will also be integrated into PUSD's curriculum.

According to the Dec. 11 memo, the School District is required by the new health framework to complete a health curriculum audit of its K-12 standards during the second semester of the 2019-20 school year to identify any gaps in its current health instruction. The audit will be conducted from Feb. 1, 2020 to Mar. 30, 2020 and is expected to be completed on Apr. 10, 2020. The Board will present audit findings on May 13, 2020.

The complete health education document is currently being edited for publication and will be available in early 2020. There are versions available for viewing at: https://www.cde.ca.gov/ci/he/cf/.

Teachers, administrators get salary boost

After months of negotiation, APT and the District agreed to a salary increase of 2% going back to July 1, 2019. On Dec. 3, the School Board approved the 2 percent raise for teachers and a 1% raise for the other bargaining units who had already agreed to a 1% raise for 2019-20. The total cost of the new settlements is $473,000.  

The Board also approved step increases for the superintendent, assistant superintendent, and chief financial officer. Superintendent Randy Booker's total annual salary compensation was increased to $229,475. Assistant superintendent Cheryl Wozniak's total annual salary compensation was raised to $166,260. Chief financial officer Ruth Alahydoian's total annual salary compensation was raised to $142,800.

Board members lobby lawmakers for public school funding

School Board members met with Assemblymember Buffy Wicks, D-Oakland, to discuss three main messages: increasing base funding, helping local school districts with the pension liability and slow down percentages, and helping with special education expenses.
Measure H1 construction update
Construction of the new STEAM building remains on schedule. H1 Program Coordinator Michael Brady shared the following update:
-Fabrication and installation of the structural steel is almost complete.
-Another deck was poured on Dec. 11.
-The current goal is to dry the deck as soon as possible.
-The project has transitioned from having two inspectors of record to one ("This is important to us in terms of progress," said Brady.)
-There are (not unexpected) structural changes required for the new Alan Harvey Theater that will change the budget. The budget change will be presented to the School Board in January.

The Measure H1 budget had allocated for 29 rain days, which School Board trustee Cory Smegal said ended up being an overestimate. The School Board shared their excitement about the STEAM building being "shrink-wrapped" in the coming days, which will allow for construction through the rainy season.

"We've only had to make use of three rain days where Overaa couldn't perform," said Smegal. "We're close to being weather-proof."

Havens Elementary School to receive ventilation systems in Summer 2020

A project to install ventilation and climate control in thirteen classrooms will begin next summer at Havens. The project will be borrowing from the Cafeteria Fund for financing. The total cost of the project is $280,000. According to the Dec. 11 memo, "borrowing internally will allow the project to begin immediately, keep overall costs low, and pay interest to PUSD rather than to an external lender." The Havens project will not affect cafeteria operations. School Board trustee Sarah Pearson pointed out the need to inform the head of the cafeteria, who at the time was apparently not aware of this Board decision.