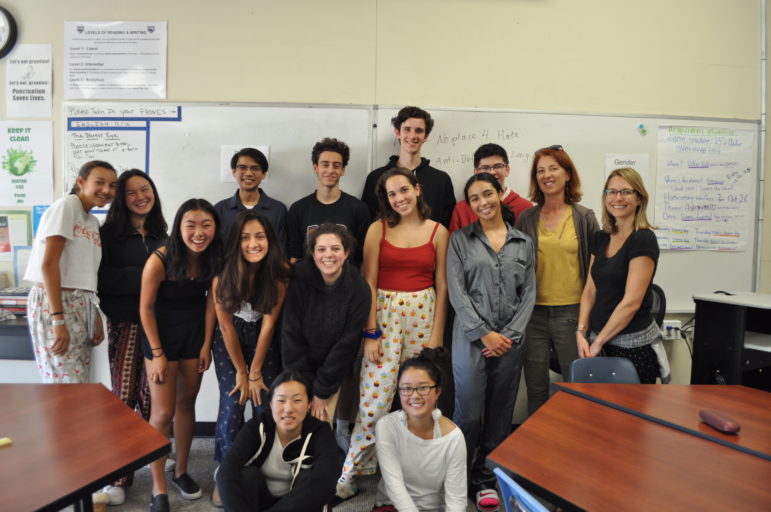 How does identity affect us all? This difficult but important question was placed front and center in recent diversity meetings of Piedmont students and parents.

The discussions were organized by Piedmont High School English teacher Aaron Barlin, PHS drama teacher Kim Taylor, and the school's student Diversity Committee which held Identity Exploration workshops for participants to explore the concept of "intersectionality."

Once exclusively an academic term, intersectionality has entered popular culture in recent years, highlighting ways in which personal identifiers such as gender, ethnicity, race and more combine to influence how individuals are treated, or mistreated. The term intersectionality was coined 30 years ago by academic Kimberlé Crenshaw, who used it to reveal connections between identity and power structures.

"Intersectionality is this whole idea of overlapping identities and searching for empathy where it usually isn't presumed,"explained teacher Barlin. "We could use that concept and build bridges."

During the workshop for students, participants explored nine different identities: age, religion, race, ethnicity, nationality, ability, class, gender, and sexuality. Participants were asked to choose the identity they think about the most, the identity emphasized when they were growing up, the identity they feel most empowered about, and the identity they are most insecure about. They then discussed why they made the choices they did.

The activity promoted the notion that identities, not always visible, cross with one another in more ways than most of us think. Although individuals are unique and have differences, they can still relate to one another through common experiences and emotions.
"It's extremely important to explore intersectionality in Piedmont because intersectionality applies to everyone," said Ang Lee, a Diversity Committee member and Millenium High School junior. "Knowing that you can connect with someone through emotions and experiences despite your external differences not only strengthens friendships, but also helps to develop a greater sense of empathy. Empathy and community building are two things there can never be enough of, especially in Piedmont."

A recurring theme that emerged is that Piedmont has much to discover about itself. "What is unique to Piedmont is getting students to realize that Piedmont is not as homogenous as they think," said Barlin. "They think that this is Piedmont, 'we're all white.' "

Because of a string of recent bias incidents in Piedmont schools, the community recognized the need to address issues related to discrimination and create a long-term plan combat them.

"Piedmont is especially the kind of community that needs to explore the intersections of different identities," said former Piedmont Appreciating Diversity Committee co-president and current co-city liaison David Gard. "The small size of the city and the relative lack of diversity in Piedmont can lead some folks to make broad generalizations about what it means to live in and be a member of this community, and worse, to make comments and generalizations to our kids (or around them) about what it means to be a person living in this world."
Piedmont Unified School District incorporated diversity goals in 2017 as part of its first Local Control and Accountability Plan. The intention was to support student social and emotional well-being. The goals drew from four pillars of social justice education set by the Teaching Tolerance organization: identity, diversity, justice, and action.
According to Teaching Tolerance, intersectionality workshops help students develop positive social identities based on their membership in multiple groups, and support school climates without exclusion, where students become willing to stand up to prejudice.
The Diversity Committee also sponsored an intersectionality workshop for parents in mid November with the goal of encouraging parents to talk about their diversity with their schoolchildren.
Identity Exploration is the first of three events under the No Place for Hate title — designated by the Anti-Defamation League — for both PHS and MHS. The program helps schools nationwide organize activities to address bias incidents and improve school climates.

Said PHS teacher Barlin; "If we're following Piedmont's anti-bias framework or seeking tolerance to social justice standards, you can't move on to the core idea of diversity and differences until we can understand ourselves. If we have a better understanding of self, then we can have a better understanding of others."