The Highlanders fell 3-1 to the Dons in a non-conference game in Lafayette on December 3. This was Piedmont's first game of the season with its full roster of players available, and the team sought to find its form and work out early season kinks.
Acalanes came on strong right away, controlling play and creating several scoring opportunities early. In just the second minute of the first half, sophomore defender Tucker Donahue made a heads-up play to clear the ball off the goal line and prevent a Dons' goal. Just one minute later, Acalanes lofted a high outside shot that dropped just under the crossbar, beating freshman goalkeeper Morgan Hunt for the first goal of the game.
Fiona Hunter (9, with ball)

Ceci Brien
Acalanes scored a second goal following a defensive turnover, and the Highlanders found themselves trailing 2-0 after 20 minutes of play. As Piedmont coach Dan Chubbock moved players around different positions in the midfield and front line, the Highlanders began to connect passes and move the ball out of their defensive end, creating scoring chances of their own. Senior Ceci Brien created the first such chance, unleashing a long range shot that soared just high. Toward the end of the first half, senior Fiona Hunter broke through the midfield, but her left-footed shot under pressure went wide right.
The first half ended with Acalanes leading 2-0.
Morgan Hunt

Paxton Grimmer (6)
Piedmont started the second half with confidence, controlling play and possession. It was last season's top three scorers – Brien, Hunter, and senior Ashley Nelson – who combined to put the Highlanders on the scoreboard just four minutes into the second half. Hunter chipped the ball over the Acalanes back line, with Nelson and Brien charging forward. Nelson got a touch on the ball to keep the Dons' goalkeeper from clearing it away, and Brien put it into the open net.
Amanda Becker

Nina Goldberg

Lucy Barrett
Piedmont's strong play continued, but its momentum was halted when the Acalanes right winger drilled a long range shot into the corner of the net beyond Hunt's reach to put the Dons up 3-1.
That would hold up as the final score, as Hunt made a save on a strong free kick by Acalanes, and Brien's header off freshman Emily Fitzgerald's corner kick went just wide late in the second half.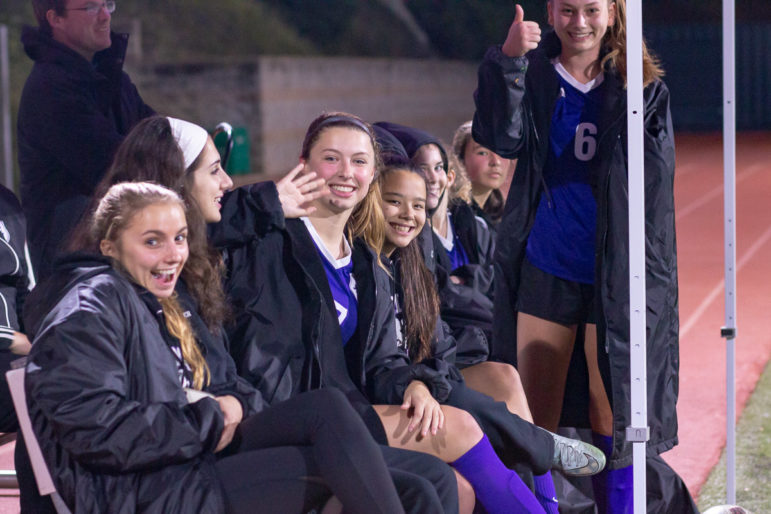 Coach Dan Chubbock summed up the game: "A slow start put us in a difficult position to get a positive result, but I am happy with how we grew into the game and started to play with more cohesion. We created enough chances in the second half to get something, but their 3rd goal came out of nowhere and killed us off. We have a lot of new players and it's very early in the season, so lots of positives to take out it and it was nice to get a goal."
Photos by Julie Reichle