The Piedmont Highlanders beat the Moreau Catholic Mariners 9-0 on December 12 with a dominant performance at Witter Field. Freshman Emily Fitzgerald built on her two-goal game last week to notch a hat trick in the first half, and five other Highlanders added their first goals of the season, showing the depth of Piedmont's attack.
Fiona Hunter (9, with ball)

Amanda Becker
It took a few minutes for Piedmont to settle into the game, but once they started connecting their passes, the offensive onslaught began. In the 9th minute, Moreau Catholic tried to get the ball out of their defensive end with a punt from the goalie, but Fiona Hunter headed the ball out of the air to Fitzgerald, who flicked the ball on to sophomore Amanda Becker on the left wing. Becker accelerated past her defender, controlled the ball and nicely placed the ball past the keeper in the right corner for the first goal of the night.
Next came Fitzgerald's three goals, all scored in the span of eight minutes in the middle of the first half, with assists from senior Ashley Nelson, junior Paxton Grimmer, and sophomore Rachel Barton. Barton made several strong overlapping runs from the right back position, sending dangerous crosses into the box.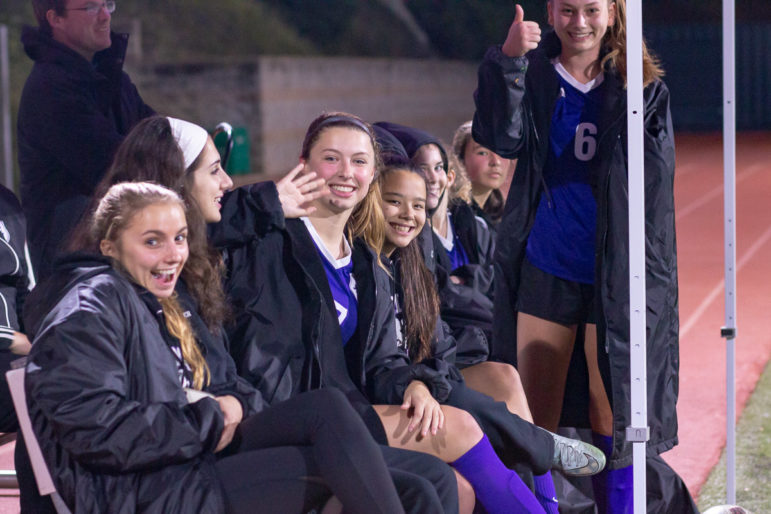 Junior Abby Gallagher added to the first half tally on an assist by Hunter, making it 5-0 at the half.
Piedmont continued its domination in the second half, as the Mariners were outmatched in skill and speed. Senior Peri Ozsoy notched her first goal of the season 10 minutes into the second half, as she deftly faked a shot on her right foot, pulled the ball back and fired with her left, overpowering the keeper and finding the back of the net.
Junior Zozo Tahawi added two goals of her own, both one-time strikes, the first off a cross from Gallagher and the second off the rebound of a shot by sophomore Tucker Donahue.
Hunter tallied her first goal of the season, receiving a pass at midfield from junior Isabelle Woodruff-Madeira, splitting two defenders with a quick first touch to get in behind the back line, and then calmly slotting the ball past the keeper for the score.
Paxton Grimmer (6)

Morgan Hunt

Lucy Barrett
Moreau Catholic never really threatened the Highlanders, as Piedmont's well-organized and speedy defense turned back the few chances the Mariners had to move forward.
The Highlanders have one more game before the break, hosting Alameda High School on December 19 at 5:00 pm at Witter Field.
Photos by Julie Reichle