The Highlanders got their season off to a strong start at the Bryan Ayer Classic at Lompoc High School. Piedmont won its first two games before losing to Santa Barbara, 62-52, in the championship game on December 7.
Maddy Meadows led Piedmont with 16 points and 12 rebounds in the final. Trinity Zamora had 10 points, 16 rebounds, and two assists in the loss, earning first team all-tournament honors.
The Highlanders trailed 27-23 at halftime, but went on a 10-2 run to start the third quarter to take the lead. The Dons rallied in the final quarter.
"Santa Barbara stepped up and finished the game strong," Piedmont coach Bryan Gardere said.
Nakilah Johnson had 10 points and seven rebounds in the final.
The Highlanders opened up the weekend with a 45-26 win over Cabrillo-Lompoc on December 5. Johnson had 13 points, 15 rebounds, and six assists, and Zamora added 10 points, 10 rebounds, seven blocked shots, and three assists. Madison Hill finished with 11 points and five steals.
The game started slowly for Piedmont, which fell behind 10-2 and led just 22-20 at halftime before holding the Conquistadors to just six points in the second half.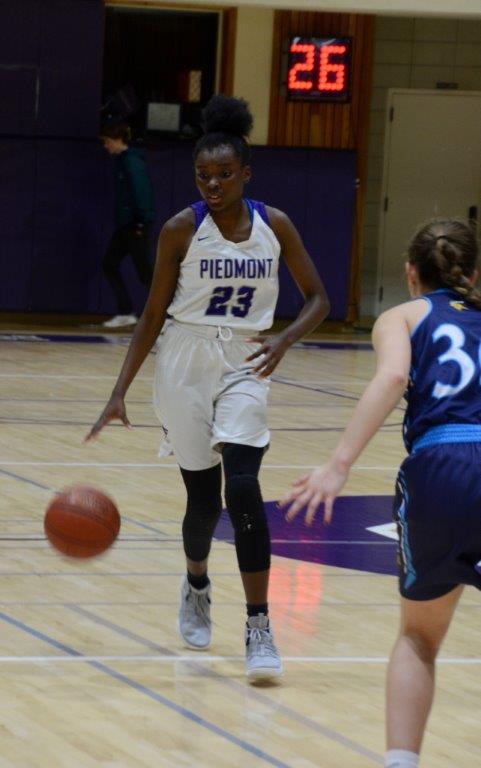 On December 6, the Highlanders defeated the host school, Lompoc, 68-51, to advance to the finals. Johnson had a huge night, scoring 29 points along with 12 rebounds, five assists, and five steals. Zamora had 21 points, 11 rebounds, four blocks, three assists, and two steals. She was huge early on, scoring 12 points in the first quarter. Meadows added 12 points, three rebounds, and three assists.
The Highlanders continue their preseason schedule with a home game against Tenison Wood from Australia at 5:30 p.m. on December 10. They then host the three-day Paris Twins Classic beginning December 12.
Ashley and Courtney Paris attended PHS from 2003-05, and helped the Highlanders win two State championships during their high school careers.
The tournament includes several strong teams from the Bay Area, including Campolindo and Deer Valley. Other schools in the bracket are Grant-Sacramento, Lompoc, Urban-San Francisco, Cardinal Newman, and American Canyon. The Highlanders open up with Deer Valley at 8 p.m on December 12. The championship game is scheduled for 2:30 p.m. on December 14.