You might think a 63-21 win would make a coach happy. You might be wrong.
There were the Highlanders lining up to run gassers on the court after they had beaten Deer Valley on December 12 in the opening game of the Paris Twins Classic. Their offense? Not enough passing during the game.
"Ball movement, player movement is something we always try to do," Piedmont coach Bryan Gardere said.
He explained he wants the team to make 250 passes during each game. When they didn't hit that number, Gardere and the coaching staff lined them up on the baseline after the final buzzer.
"I gave them a heads up, they all knew," Gardere said. "We're not trying to show them up or anything. It's accountability. We talked about it, everybody agreed to it, they didn't do it, we just follow up."
"We have goals we want to get to and we're going to get to them a certain way."

Bryan Gardere
The win lifted Piedmont to 4-1 entering its December 13 game against Grant-Sacramento in the semifinals. But the point being made was that this team is good enough to do more.
That said, the Highlanders accomplished a lot against an over-matched Wolverines squad, handing Deer Valley its first loss of the year. Maddy Meadows scored 17 points and Nakilah Johnson had 18. Piedmont held the Wolverines scoreless in the second quarter. Stretching from the first to third quarters, the Highlanders put together a 26-0 run. Deer Valley committed 35 turnovers in the first three quarters and could never get its offense going.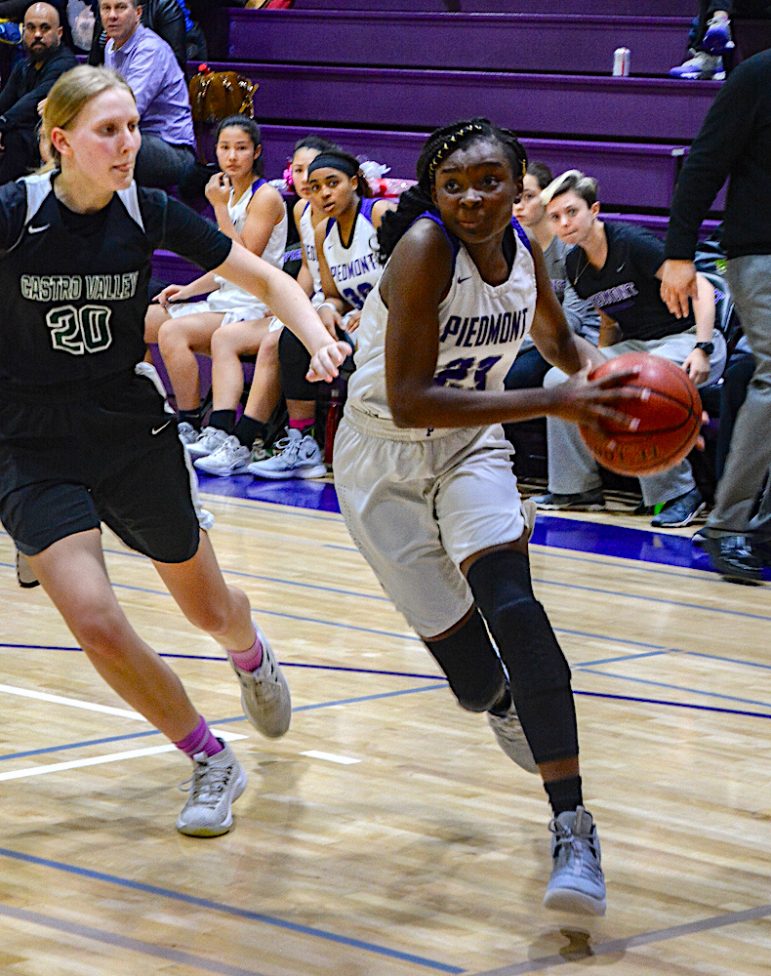 "I feel like we're doing good but we have be a team and pass the ball," Johnson said. "Looking for the extra pass and being on helpline on defense and rebounding (are keys)."
Johnson is one of the key players back from last year's team, which made the state tournament.
"I've been working on working out, getting extra shots up, shooting when I can, rebounding, playing defense, all of it," she said.
She added, "We're looking good this year. I think we can go state!"
On December 10, the Highlanders hosted Tenison Woods, from Mount Gambier, Australia. Piedmont beat the team, which is touring the United States, 64-43. Meadows had 16 points, and Trinity Zamora had 14 points and 14 rebounds. Johnson also had 14 rebounds to go along with 11 points.
Piedmont trailed 25-24 at halftime against Tenison Woods, but used a 25-point third quarter to break the game open. Seven of the eight available players scored in the period.