The Highlanders made it to the finals of their hometown tournament before falling to Cardinal Newman, 74-37. The tournament is named after Courtney and Ashley Paris, twin sisters who led Piedmont to State titles in 2003-4 and 2004-5.
Piedmont beat Grant-Sacramento in the semifinals, 62-60, on December 13.
Kai Johnson (23)

Maddy Meadows (11)

Madison Hill (24)
Nakilah Johnson had a triple-double in the win over Grant, scoring 23 points, grabbing 14 rebounds, and recording 11 steals. Trinity Zamora contributed 18 points and 12 rebounds, and Maddie Meadows added 13 points.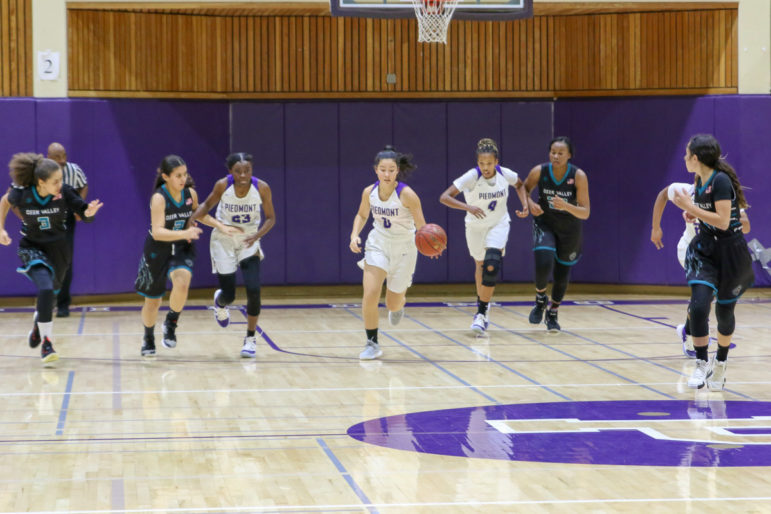 The game was a back-and-forth affair, with Piedmont holding a three-point lead at halftime and a two-point lead entering the fourth quarter. Maddie Hill scored six of her seven points in the final period.
The Highlanders weren't ready to play at the start of the championship game, according to coach Bryan Gardere. Meadows hit a 3-pointer in the first quarter for Piedmont's only points of the period. Johnson finished with 19 points and 12 rebounds. Meadows was the second-leading scorer with six points.
Josie Gross-Whitaker (21)

Charlotte Braun (10)

Hannah Govert (22)
Piedmont is now 5-2 on the season.
The Highlanders have this week off, then travel to Reno for the McQueen Elite Challenge at McQueen High School. The challenge opens on December 26 with Piedmont facing Nevada Union-Grass Valley. The event runs through December 28.
Photos by Julie Reichle