The Highlanders finally broke through for their first goal of the season. Unfortunately, it wasn't enough for the win as Mt. Eden got the equalizer late for a 1-1 tie at Witter Field on a rainy evening on December 10.
Raf Stankiewicz scored in the 60th minute to give the Highlanders a 1-0 lead. However, Emilio Gonzalez scored off of an assist by Lennin Bravo in the 78th minute to earn the tie for the Monarchs.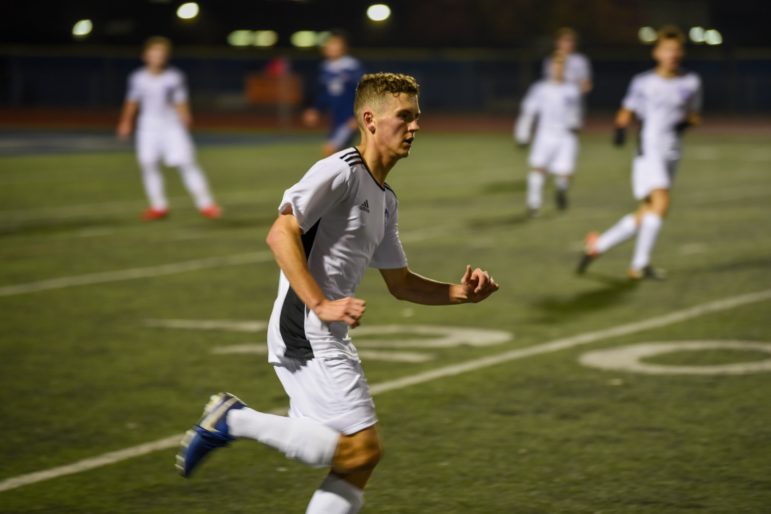 Stankiewicz's goal was the first in four games for Piedmont (0-2-2 overall, 0-1-1 in the West Alameda County Conference).
"That's obviously a key part," Highlanders coach Todd Sullivan said. "We've struggled with goals and we weren't too sure where the goals were going to come from. That's something we need to still work on. But I think defensively, very solid. And we're starting to really understand how we want to play and our identity. It has taken a few games but we're starting to get it."
William Daniel (15) and Hunter Disco (center)

Daniel Malecki

Ben Marshburn
The size of the WACC means Piedmont has had to start with league games early in the season. The Highlanders opened WACC play with a 3-0 loss to Bishop O'Dowd on December 5.
"We don't really get a preseason," Sullivan said.
But the coach said he is seeing progress, including in the game with Mt. Eden.
"The first half was a little bit cagey," he said. "We started to feel out where their weaknesses were. Created a couple of good chances but didn't quite finish them off. Went into halftime happy but felt like there were some improvements that needed to be made."
Rico Barker

Connor Curtis
"I think we adjusted really well, especially with the rain coming down in the second half. We created a lot more opportunities and were probably the better team overall and deserved to win the game but we just couldn't hang on at the end. A little defensive lapse allowed them to get in behind and finish off."
Photos by Todd Marshburn