Mist rose off the harbor on December 12 as the Highlanders took to the pitch at Estuary Park in Alameda, looking for their season's first victory against the Hornets of Alameda High School.
The mist in the air did nothing to dampen the Highlanders' spirits in a 3-0 win, which featured two goals by sophomore striker Patrick Alexandre and a penalty kick from senior winger Raphael Stankiewicz.
Under the watchful gaze of container ship gantry cranes, the game got off to a quick start with Alameda looking dominant. But in the fourth minute, Alexandre took advantage of a miscue in the Hornets' backfield and made a graceful goal past the Alameda keeper. It was the only goal the Highlanders needed to win the match, but the Hornets didn't let Piedmont take the win easily.
Rico Barker

Daniel Malecki

Ben Marshburn
Alameda dominated the midfield during most of the first half, but the Highlanders' defense (junior Ben Marshburn, senior Khiro Lambert, senior Ricardo Barker, junior Sawyer Collins, and freshman goalie Daniel Malecki) took the sting out of the Hornets' offense. Piedmont's attack, meanwhile, remained robust, applying pressure but without changing the score. By the end of the first half, the 1-0 lead was intact but the final result seemed anything but certain.
Alameda opened the second half with a strong threat, but the Highlanders' defense held strong. In the 21st minute, Alexandre scored his second goal on an assist from sophomore winger Connor Curtis.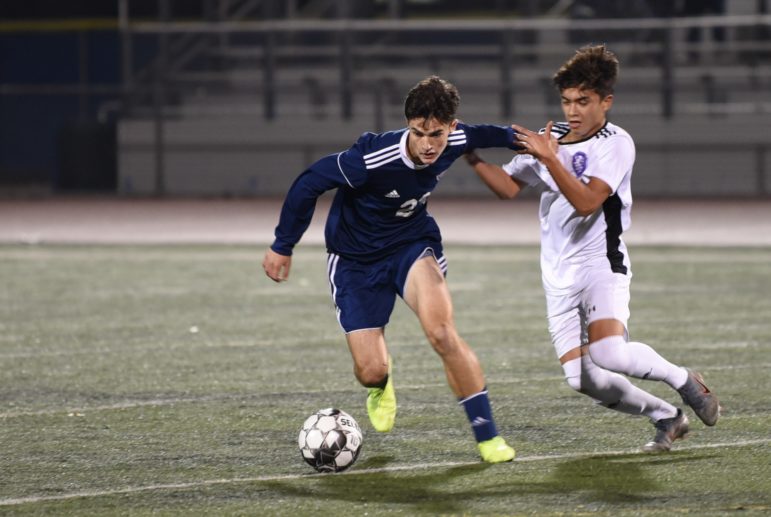 During the last twenty minutes, Piedmont grew in confidence and dominance despite rough play and injuries. The final goal came in the 30th minute, when freshman midfielder William Daniel fed a ball to Barker, who drew a foul in the penalty area. Stankiewicz' penalty kick put the Piedmont squad's first victory of the season beyond doubt.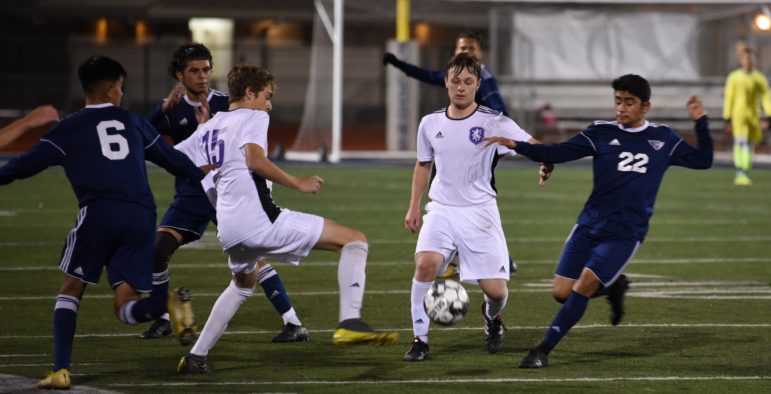 "Our goals changed the game," coach Todd Sullivan told the team after the final whistle. As the players packed up the assorted accoutrement one finds on the sideline of a high school soccer game, Sullivan was in good spirits. "This was the first game where we didn't make mistakes" he said. "We took advantage of their mistakes and we finished strong."
It was the kind of momentum the Highlanders (1-2-2) hope to bring into their next game, at home against San Leandro on December 20.
Photos by Todd Marshburn