The Highlanders played a long game on the longest night of the year against San Leandro, who captured a 1-0 victory from the hosts on a free kick late in the second half.
Rico Barker

Zach Luna

Ben Marshburn
The Pirates opened the game with a strong offensive challenge to the Piedmont defense, primarily Ben Marshburn, Rico Barker, Nico Manolis, Zach Luna, and goalkeeper, Daniel Malecki. In the 10th minute, Piedmont had a scoring opportunity when Conner Curtis shot a ball just wide of the San Leandro goal. Two minutes later, Luna sent a set piece just over the cross bar. Neither shot altered the score, but the game's momentum changed in Piedmont's favor.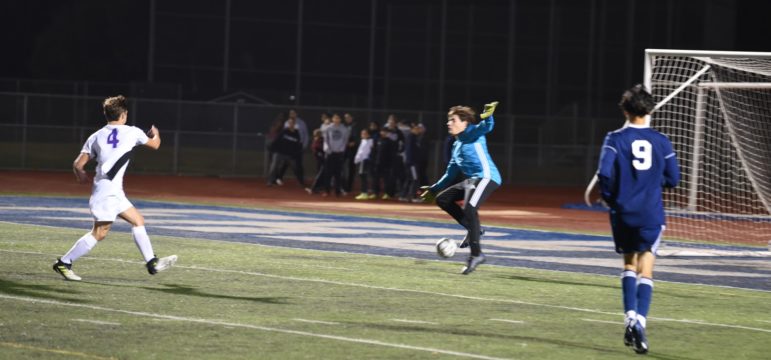 For the rest of the first half, the Highlander's dominated the match, with three solid strikes from set pieces and a near-miss when striker William Daniel fed a ball to winger Patrick Alexandre. The play ended when the Pirates' defense broke up the attack.
Patrick Alexandre

Connor Curtis
After a scoreless first half, the momentum stayed on Piedmont's side. Three minutes into the second half, Raf Stankiewicz had a solid shot on goal. Five minutes later, on a Highlanders breakaway, a brilliant save by San Leandro goalkeeper, Michael Gonzalez, prevented Ehlen Kokka's ball from hitting the back of the net.
Raf Stankiewicz

William Daniel (15) and Hunter Disco (center)
The game continued in a draw until the 30th minute, when the Pirates drew a penalty. San Leandro midfielder Marco Carabajál sent a perfectly-placed free kick passed Maleki and into the upper right corner of the goal.
The Highlanders played with passion until the last whistle, but came up short. Nonetheless, coach Todd Sullivan sounded upbeat after the match. "To date this was our best performance," he said. "Small adjustments would have seen us beat a really talented Division I team. I'm proud as punch."
Photos by Todd Marshburn