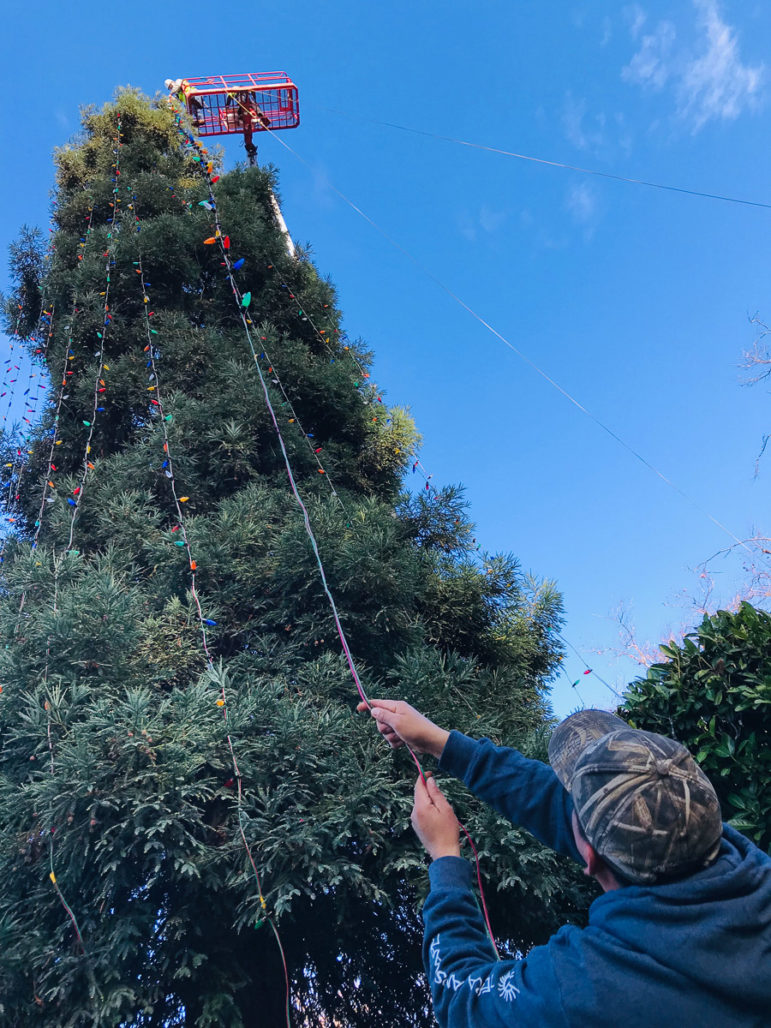 Piedmont Community Hall was abuzz with activity on Tuesday, Dec. 3 as city workers and volunteers from Piedmont Garden Club and the Piedmont Beautification Foundation trimmed the plaza's towering Coast Redwood (Sequoia sempervirens) with holiday lights in preparation for the annual tree lighting on Dec. 4.
The 'Lights Up' Brigade

Gayle Lambert and MJ Dodds

Interim Public Works Supervisor Nick Milosovich (M. Ireland)

Jim Pischotto and Kent Donaghy stringing lights from above

Kendall Connors, Karen Hill, Karen Ellis, MJ Dodds, Jamie Totsubo

Jamie Totsubo, Cathy Glazier, Conna McCarthy, Sue Herrick, Andrea Swenson

Public works crew with Karen Hill, Karen Ellis and Wendy Szczech
Dozens of volunteers formed lines of literal "light brigades" as they handed off strand after strand of unfurled lights to the Public Works crew. Managing the staff on the ground was Nick Milosovich who, along with workers Pedro Viallata, Fernando Correa, and Alberto Barron, helped to hoist each strand, one by one, to the tree's top. There, from the gravity-defying boom lift, Jim Pischotto and Kent Donaghy worked their magic to ensure lights were securely fastened and that crowds will not be disappointed when the switch is flipped on Wednesday.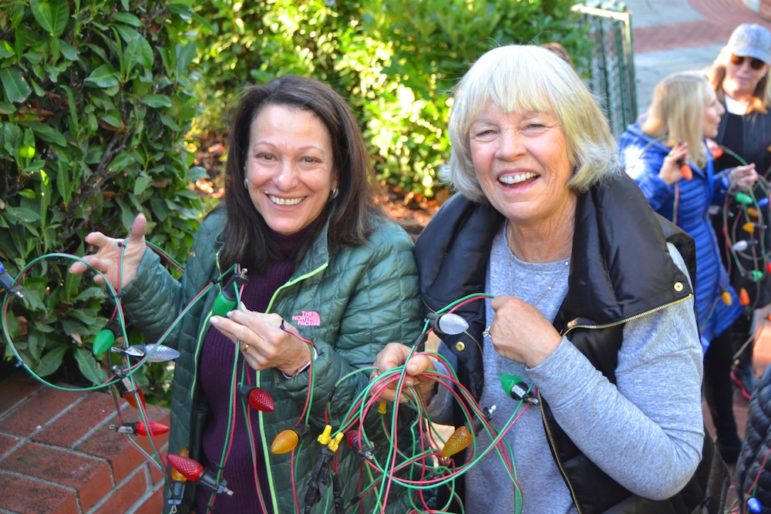 Piedmont Garden Club's Roxanne Gault, who was directing the wellspring of enthusiastic volunteers and strand after strand of lights, said, "Santa's due in tomorrow, and we need to light his way — so I whistled and called in some elves to help."
Andrea Swenson, Lori Adams, Lisa Tuck

PBF President Patty Siskind
The tree-lighting event is hosted by Piedmont Beautification Foundation (PBF) every year. PBF president Patty Siskind coordinates with the city to make sure the night's festivities please young and old alike. The event kicks off at 7:00 pm and features caroling from the Troubadours, Piedmont High School's a cappella choral group, Cub Scouts passing out candy canes and cookies, and hot apple cider donated by Piedmont Grocery.
Make-A-Wish Greater Bay Area will have a letter-writing table for the annual Macy's Believe campaign. During the campaign, Macy's donates $1 to Make-A-Wish for every letter written. These letters are traditionally marketed as letters to Santa but community participants may write letters with wishes to the community and world.
At the appointed hour, special Make-A-Wish guest, eleven year old Tony Slocumb, visiting with his parents, Natalie and Danny, will have the important job of flipping the switch to light the tree. The other guest of honor, Santa himself, will be on hand to greet the crowd, and meet with youngsters in the Hall for photos.
Photos, except where noted, by Sharon Hom
(Editor's note: An earlier version of this story referred to the tree as a "pine" not the Coast Redwood that it is.)